'Christina on the Coast' Star Christina Anstead Posts Pics of Son Brayden with Newborn Baby Hudson
Christina Anstead reveals pictures of newborn son, Hudson. She shares with fans the how her son, Braydon, is adjusting to his baby brother.
After giving birth to her son almost a week ago, the star of HGTV's "Flip or Flop" and "Christina on the Coast" is finally taking a break to enjoy her maternity leave.
Before he was born, Anstead had previously shown fans on social media her bohemian style nursery for her son, Hudson London Anstead. Shortly after she shared pictures of Hudson meeting his siblings in the hospital.
Anstead, has two children from her previously marriage to "Flip or Flop" co-host, Tarek El Moussa, Taylor and Braydon. Her husband, "Wheeler Dealers" star, Ant Anstaed, also two children from a previous relationship, Amelie and Archie. Hudson is the couple's first child together. Speaking to Entertainment Tonight about her blended family she says:
"The kids are such different ages, but they get along so well. It's been super fun traveling and spending time together and we are looking forward to welcoming this new baby."
Sharing pictures of Hudson on her Instagram story, she shows Hudson sleeping in his bassinet.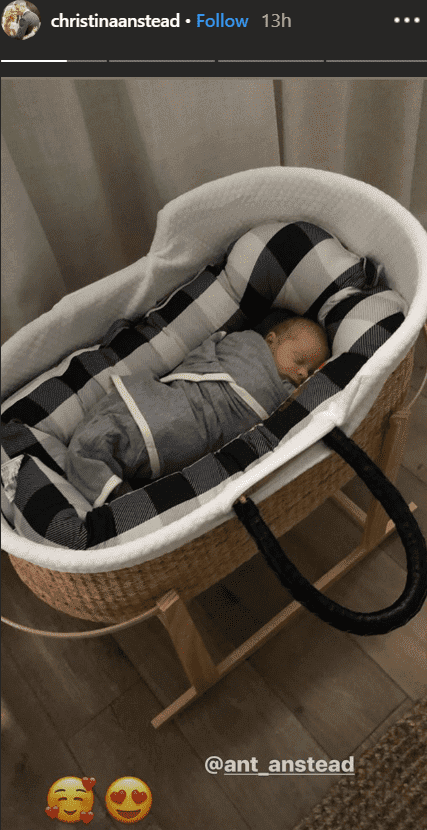 Wrapped tightly in a grey blanket, the neutral colors of the sleep nest and the mosses-style basinet reflect the bohemian style incorporated throughout her home.
Anstead shows an attentive Braydon checking up on Hudson, she shares:
"Bray checking every 5 minutes to see if his loudness woke up Hudson."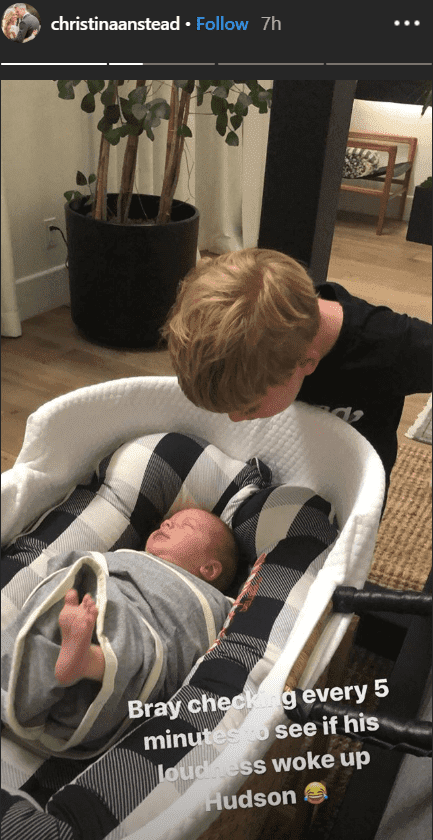 Posting another picture on her, she jokes:
"Loud crash…nope Bray- he's still asleep."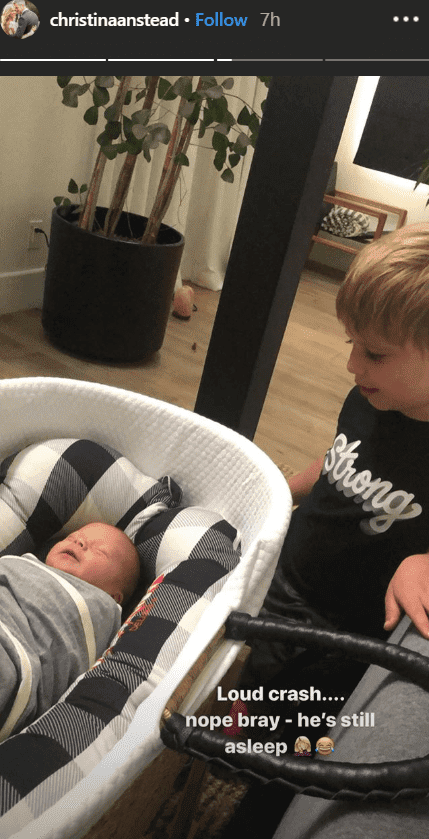 In a final picture, she shows Braydon holding a pacifier in his hand, looking into the basinet at Hudson, who is awake and crying, Anstead writes:
"Ok I guess that will wake him," she adds another comment, possibley for the momshamers watching her, "don't worry I washed the paci."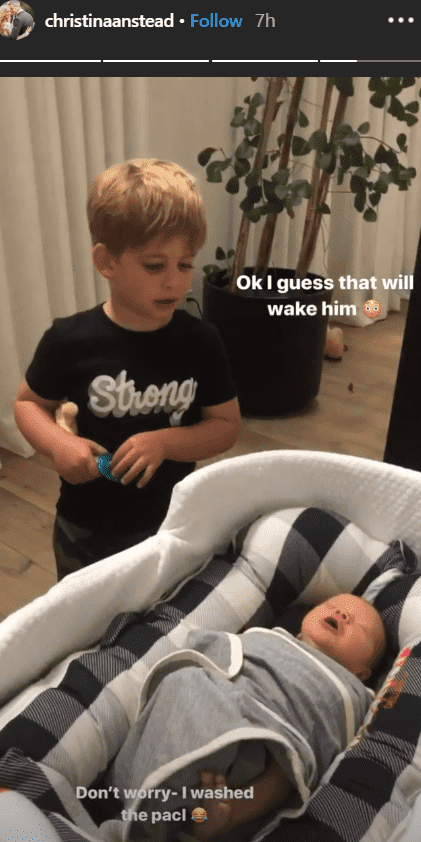 It looks like Hudson is fitting right in with family and big brother Braydon has establishing a strong bond with the newborn.
Anstead had initially announced her maternity leave early on in her pregnancy, but when it was announced that her hit show "Christina on the Coast" had been renewed for a second season, she quickly backtracked and returned to work.
The new season is expected to premiere in early 2020. Until them, Anstead is taking some much needed time off to be with her family.