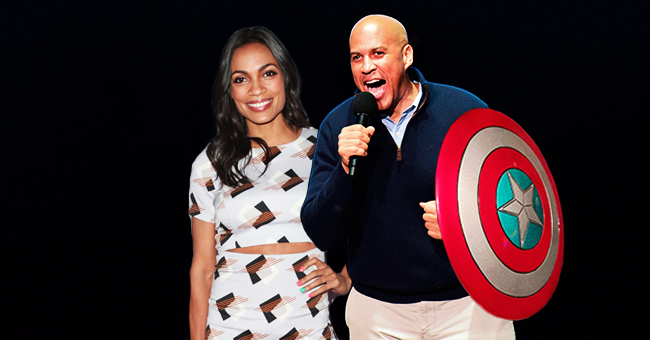 Shutterstock.com GettyImages
Actress Rosario Dawson on Double Standards of Dating 'Captain America' 2020 Candidate Cory Booker
Rosario Dawson's real life is bearing an eery resemblance to the fiction she stars in.
Rosario Dawson stars in an upcoming series "Briarpatch" in which she plays an ambitious young investigator who is dating a Senator.
In real life, Rosario is dating an ambitious young Senator who is aspiring to become the Democratic candidate for the 2020 Presidential election, 50-year-old Cory Booker.
THE PRESSURE OF DATING A CANDIDATE
Rosario has gotten a lot of heat from Cory's supporters for not "standing by her man" at every single rally and event he participates in.
Of course, no-one is taking into account that she is a woman with a hectic professional schedule and the single mother to a young daughter. But for Rosario, that knife has two edges and she makes no bones about it.
"He's hoping to make the 'Zombieland' premiere, but I'm curious to see if he doesn't if he's going to get the same amount of press being like 'why aren't you supporting your women. I've been getting all this press like 'Why aren't you at your man's side' when I've made it really clear that it's okay to be a working mom," she said.
Rosario has made it clear that she won't be backing any particular candidate for the upcoming elections
"I'M DATING CAPTAIN AMERICA"
Rosario compares dating a man with Cory's empathic character and commitment to justice and his country to having a relationship with Marvel's superhero, "Captain America."
"I feel like I'm dating Captain America, I mean he's just such an amazing, brilliant, kind, empathetic, beautiful, loving human being — Cory — and then this character has that as his sort of face,"she said.
CORY BOOKER IS NOTHING LIKE "BRIARPATCH'S" SENATOR
As far as Rosario's love interest in "Briarpatch" goes, the actress is quick to deny any similarity to Cory. Her lover in the series in an ambitious married senator with his finger in every dirty deal in Washington politics.
"He's a senator, he's got his eyes on the presidency and he's someone I work with, and we're having an affair — otherwise there's no similarities whatsoever," Rosario said.
ROSARIO DAWSON IN THE WHITE HOUSE?
Rosario has made it clear that she won't be backing any particular candidate for the upcoming elections. Her focus is on getting every elector to cast his or her vote.
"This election is really really critical. A lot of the themes that are touched on [in 'Briarpatch'] are really, narratively critical for us to be talking about in a wider space so that people can come to the table and see where their position is and see where they can be active…We need all hands on decks," she said.
She's right, the coming elections are crucial to America's stability and every voice must be heard.
Of course, it Cory Booker wins, we could be seeing the dazzling Rosario Dawson at the Inaugural Ball, and we are sure she won't miss that event...
Does anyone know...Has there ever been a wedding at the White House?
ROSARIO DAWSON DENIES CORY BOOKER BREAK-UP RUMORS
The first time Rosario Dawson missed making an appearance at one of boyfriend Senator Cory Booker's campaign events, the rumors started spreading that the relationship was in trouble.
Rosario categorically denies the allegations and points out that she is a professional woman with a hectic filming schedule and a teenage daughter.
Unlike most of the other candidate's partners, Rosario hasn't set everything aside to stand at rallies looking pretty and waving at the crowds.
Rosario did join Booker on the campaign trail over the Fourth of July, and the Senator showed up to support her at the Essence Festival. Quid pro quo sounds good.
Rosario is also mom to a teen, Lola, 16, whom she adopted in 2014, and she's managing all her obligations beautifully, as a mother, girlfriend, and professional.
Well done, Rosario!
Please fill in your e-mail so we can share with you our top stories!