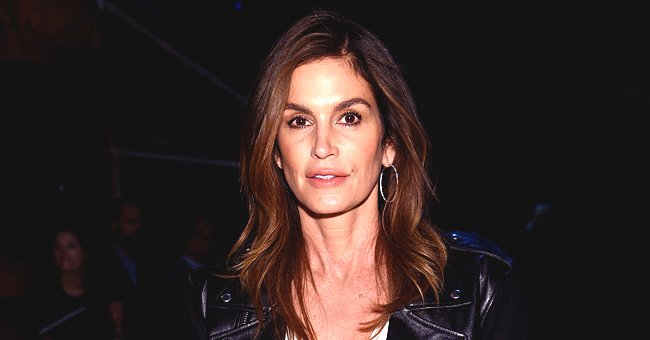 Getty Images
Supermodel Cindy Crawford Shows Her Beauty after Falling Asleep with Wet Hair and Makeup
Cindy Crawford looked gorgeous waking up after falling asleep with wet hair and makeup.
The supermodel wowed her legions of fans when she posted her "woke up like this" photo, which she captioned:
"When you fall asleep with wet hair and didn't take off all your eye makeup."
Her post quickly drew more than a hundred thousand likes and dozens of adoring comments.
"And still gorgeous!" one user commented. Another wrote, "Still so pretty!"
As of September 12, 2019, the supermodel has 4.3 million followers Instagram, making her an influential figure in the modeling industry despite the arrival of younger supermodels.
"As far as being a mother of two young people going into fashion, of course, I worry."
BUSY WEEK
Cindy likely forgot to dry her hair and fully remove her makeup due to exhaustion after attending several events during the New York Fashion Week.
She had also been busy celebrating her daughter's 18th birthday. Her daughter Kaia Gerber threw a birthday party at New York's The Edition Hotel.
Kaia turned heads with her striking resemblance to her famous mother. She arrived at the party wearing a leather dominatrix-inspired Versace ensemble. Her look was inspired by her mother's look at the 9th Annual MTV Video Music Awards in 1992.
Kaia has surpassed her mother's following on Instagram, with 4.6 followers. She flaunts her looks from various runway events and magazine covers on the image-sharing platform.
The day after the glamourous party, Cindy dined out again with her equally stunning daughter. At one point, Cindy tripped in the cobbled street but quickly regained her composure.
The mother-and-daughter duo had dinner with the younger model's friends at Lure Fishbar in Manhattan.
FOLLOWING IN HER FOOTSTEPS
Aside from Kaia, Cindy also has a handsome son, Presley Gerber, who works as a model. The three were spotted enjoying each other's company in the Coachella Arts and Music Festival.
Cindy had opened up about her feelings about her children's decision to follow in her footsteps.
"I'm really lucky because I don't have a #MeToo story. As far as being a mother of two young people going into fashion, of course, I worry. But let's be honest, my kids are blessed in that business because they aren't coming in as unknowns. People will know I will come after them if they mess with my kids," she said.
Please fill in your e-mail so we can share with you our top stories!