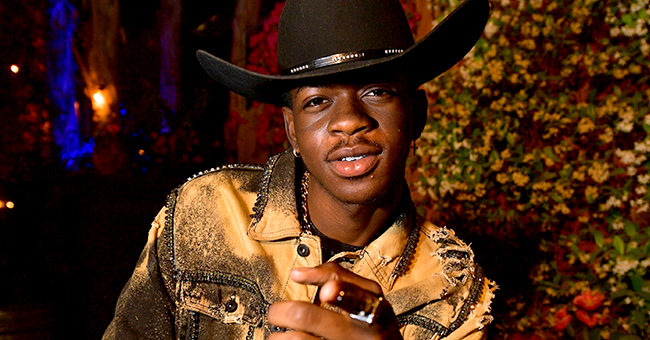 Getty Images
'Old Town Road' Rapper Lil Nas X Pays Surprise Visit to His Georgia High School, Performs 'Panini'
Students of Lil Nas X's former high school went wild when the 20-year-old made a surprise appearance during a school assembly and entertained them with his latest hit. A clip was shared by the rapper.
Lil Nas X took a trip down memory lane and showed up at his old high school, surprising the students there with an impromptu performance.
On his Instagram, Nas shared a clip from his appearance at Lithia Springs High School in Georgia revealing how the student body went wild as he serenaded them with his song, "Panini."
Immaculately dressed in an all-white ensemble, Nas stood at the center of the school's gymnasium and entertained his audience who sang along to his tune.
It wasn't too long ago when the 20-year-old rapper was a member of that student body having only graduated from high school in 2017. He proceeded to college but dropped out after a year.
Nas has been bringing smiles to children's faces lately. In fact, earlier this week, he surprised the kids at Children's Healthcare in Atlanta by showing up and spending time with them. In partnership with the Ryan Seacrest Foundation, the "Old Town Road" performer put on his cowboy hat and posed for photos with several young patients.
Meanwhile, a high school in Michigan went viral after posting a clip of its parody of Nas's "Old Town Road," a collaboration with Billy Ray Cyrus. The clip which had been viewed over160,000 times was used to kick off the new school year and featured students and teachers participating in a music video.
"Old Town Road," is proving to be quite a popular song. It broke records recently by securing Billboard's number one spot for 19 consecutive weeks, toppling Mariah Carey and Justin Beiber's record of 17 weeks.
Nas also made headlines due to his surprise admission that he was gay in time for World Pride Day. Having only come out to his parents in June, Nas decided it was time to share the news to the world via Twitter. He asked his fans to listen to the lyrics of his song, "c7osure" where his message was ingrained.
It's no surprise that Nas is giving back and making others happy with the kind of success he's reaping today and the freedom he now holds for being out in the open.
The youth can learn a thing or two from this young talent whose world is so much brighter because of his music, his honesty, and his compassion.
Please fill in your e-mail so we can share with you our top stories!