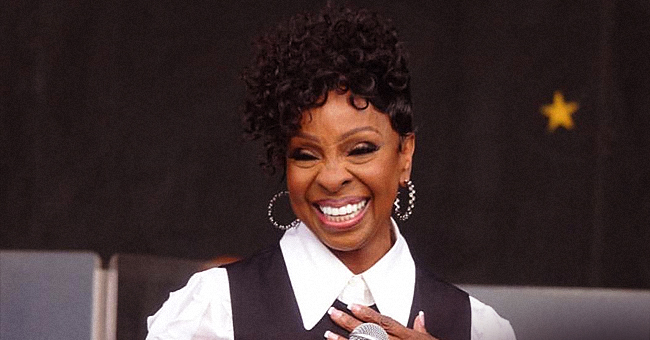 Instagram/msgladysknight
Soul Singer Gladys Knight Poses with Much Younger Husband William McDowell and R&B Singer Major

Gladys Knight shares a photo with her husband and soul singer Major.
At 74 Gladys Knight is still the uncontested Empress of Soul, but that doesn't mean she isn't still trying new things, experimenting with new sounds.
She recently posted a photo on Instagram of herself with her husband William McDowell, and 35-year-old R&B singer Major, whose songs she sometimes includes in her lineups.
"I've been singing your song "Why I Love You" in my show for a while now since my hubby hipped me to your music, and it's so great to finally meet you @nowthatsmajor! Thank you for your incredible music. Y'all know I LOVE a good love song. ❤️" Gladys Knight
GLADYS KNIGHT'S MUCH YOUNGER HUSBAND KEEPS HER "HIP"
Gladys reveals in her caption that she got to know and love Major's music through her 45-year-old husband, whom, she claims, keeps her hip.
Gladys has been doing her own rendition of Major's inspiring love song "Why I Love You" in her shows, and was delighted to finally meet him.
Even after 3 failed marriages Gladys still believed in love and found it with William.
18 YEARS OF MARRIAGE TO A MUCH YOUNGER MAN
Gladys married William in 2001, and the marriage so many had doubts about because of the couple's 29-year difference has proven to be rock solid and enduring.
GLADYS KNIGHT'S TURBULENT LOVE LIFE
Gladys had been married three times before she met William. She married her first husband James "Jimmy" Newman in 1960 when she was just 16, but he had substance abuse problems and abandoned her with 2 children when she was 20 years old.
GLADYS KNIGHT: "LOVE MAKES THE WORLD GO AROUND"
But Gladys never gave up on love. In 1974, she married Barry Hankerson with whom she has a son, Shanga.
When that marriage fell apart, Gladys married motivational speaker Les Brown, whom she divorced in 1997.
Even after 3 failed marriages Gladys still believed in love and found it with William. They live in North Carolina, and though they have no children together they share 17 grandchildren and 10 great-grandchildren.
"Love is what makes the world go around. I know it's a big cliche to use, but it is the absolute truth. There is nothing else like it. I know that is what everybody is striving to feel, in relationships, in brother- and sisterhood and in all of the things that we aspire to have in our lives," she said.
Gladys Knight never gave up on love, and love didn't give up on her.
GLADYS KNIGHT AND WILLIAM MCDOWELL LEAD COMMUNITY PROJECT
Gladys Knight grew up in Atlanta, but when she married William McDowell and moved with him to North Carolina, she has given the state and its people her heart.
Gladys and William bought the crumbling Reynolds High School in Canton's Gibsontown neighborhood which he once attended and have been raising funds to recuperate the old school into a community center.
Gladys and William have announced that the community center will be opening soon, and they hope that it will become the heart of the community, for both old and young.
Please fill in your e-mail so we can share with you our top stories!