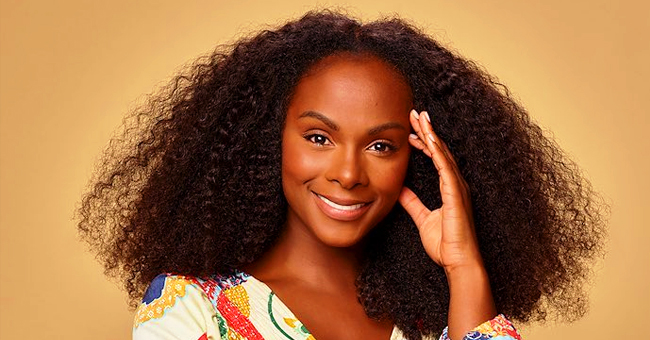 Instagram/tikasumpter
HAHN's Tika Sumpter Shares Sweet Photos and Video of Daughter Ella Who Looks Just like Her Mom
Tika Sumpter shared an adorable series of photos and a video with daughter Ella-Loren as part of the charitable Baby2Baby back to school campaign.
This post is a rare instance as this amazing actress rarely shares photos of her family life.
"Ella-Loren is my most exhilarating and exhausting bff. She has changed my life and my schedule. She has touched my soul in which no one else can." Tika Sumpter
ELLA-LAUREN - A BEAUTY LIKE MOM
The photos Tika shared show her and Ella sitting peacefully on a garden bench. Mom is wearing blued jeans, a grey top, and a white hat, while her baby girl wears blue shorts, a blue and white striped top, and bright pink sneakers.
Other close-up shows Ella's sweet face and mop of golden curls, which she got from her dad, James. The vid shows Ella eating her breakfast with a filter that simulates big eyeglasses make her look like a cute animated character.
Tika confessed that part of her reluctance in sharing the relationship was the possible fallout from haters.
But Tika's post wasn't only about showing the world how awesomely adorable her daughter is, it had a much more serious and worthy intent.
"Today is #theawesomechallenge. For every post @baby2baby will donate an entire back-to-school outfit to a child in need. I nominate @yayadacosta @tiamowry and @tamronhall . Love you @kellyrowland. Dear community I nominate you too!" she wrote.T
TIKA SUMPTER SUPPORTS BABY2 BABY
Tika is supporting Baby2Baby organization, and calling on fellow celebrities and moms Yaya DaCosta, Tia Mowry, Tamron Hall, and Kelly Rowland to do the same. Baby2Baby provides children in need from birth to the age of 12 with all the basic necessities, including diapers, school supplies, and clothing.
TIKA SUMPTER'S SECRETIVE PRIVATE LIFE
It would be months before she revealed that her baby's father was Nick James. Tika confessed that part of her reluctance in sharing the relationship was the possible fallout from haters.
Sadly, Tika was right, and the couple was the target for a lot of criticism for being interracial, with the actress taking the brunt of it for dating a white man.
TIKA SUMPTER DEALS WITH THE TROLLS
But Tika handled it all with enviable cool.
"Don't come after my dude like that," she said.
And when a more imaginative troll posted a photo of an unfortunate looking young man, suggesting he was the gorgeous Nick, Tika handled it with humor.
She posted a photo of herself with her to-die-for fiancée, and captioned it:
"Nope. Fixed it. PS. The kid in pic looks super sweet. Do better."
Please fill in your e-mail so we can share with you our top stories!