LHHATL Star Momma Dee Shows off Flat Tummy in New Photo with Rapper 50 Cent While in Las Vegas
African American onscreen star, Momma Dee, does not intend to hide her fit body as she flaunts it in shiny attire posing close to the rap icon, 50 Cent.
"Love & Hip Hop Atlanta" star went all out to ensure her fans get a sneak peek of her abs in her recent upload. The Instagram post featured her in a glittery long sleeve crop top (which leaves her belly area bare,) paired with matching shining pants and shoes.
Momma crowned her shimmery look with heavy makeup, while 50 rocked a black face cap, a neck chain, a white shirt along with a colorful jacket. The pair wore happy faces while the onscreen diva had one of her thighs firmly held by the artist. 
The caption read:
"@50cent we're back in strive again, Vegas the life I live."
INSIDE MOMMA DEE'S STRIVE LIFE
The reality TV show star does not mind sharing her private business, whether it is her latest hangouts or her relationship with her man, Ernest. 
Ernest has been sober for more than a decade but fell prey to his demons again.
Back in 2018, Momma confessed to her buddy, KK in an episode of the show how she had been faring in her love life with her beau who was starting to become a burden. She detailed how his habits and addiction was taking a toll on their marriage, describing her husband as a "momma's boy." 
In the episode, her friend tried to be comforting and advised her to fight for her man; it appeared that the "Love and Hip Hop" star was overwhelmed with frustrations as she signified her fear in her man's surrender to his addictions.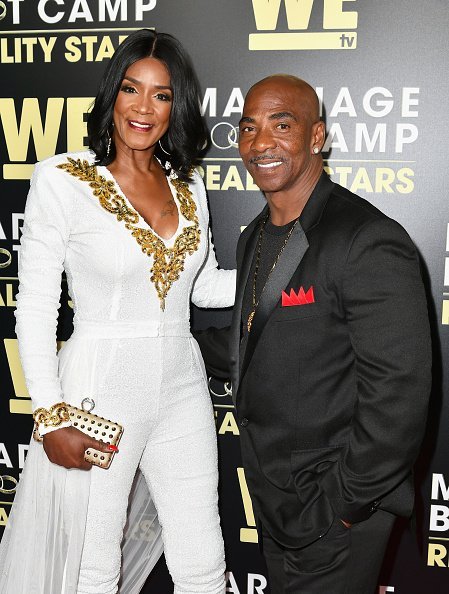 "I thought Ernest had beat those demons, but obviously he's succumbed to them once again."
While Momma tried to handle her man's excesses, it may seem that he is not ready for a change. In the course of a feud between the couple, the onscreen diva opened yet another can of worms.
She shared how lackadaisical Ernest is, and how much of a cry baby he can be, threatening to leave for his mom's whenever there is a disagreement.
MOMMA'S HUSBAND'S ALSO FRUSTRATED
The couple does not mind talking about their discord on camera, and while Momma has condemned her man behind the shutters, Ernest doesn't mind doing the same.
In an episode of "Marriage Boot Camp: Reality Stars," the duo were at loggerheads, they employed both their mouths and fists in the dispute. Momma's husband seemed frustrated with his partner's choice of a male friend and went ahead to tell his wife that she was losing the spark in their marriage.
Ernest admitted that he wanted to split from his wife, but was dissuaded by Dr. Ish. Many fans also rooted for the couples, as they commended their resolve to stay.
50'S EITHER FRIENDLY OR NOT
While Momma may have a strive buddy to lean on, the rap icon can sometimes draw the line for certain African American TV stars. 
Both 50 and Wendy William have been at loggerheads for a while. Recently after an interview where the "Wendy William" talk show was put to the test to commend the musician, the 'Power" producer took to his Instagram to throw shades at the host.
He uploaded an image of himself with a microphone curled up in Wendy's embrace; in his caption, he addressed her as a "bitch." The post read:
"First I hate you, but now I love you 50, yeah I know but chill out bitch."
While the producer can be all smiles and fun to hang around, he is also an individual who is ready to take on any attack from any media personality.