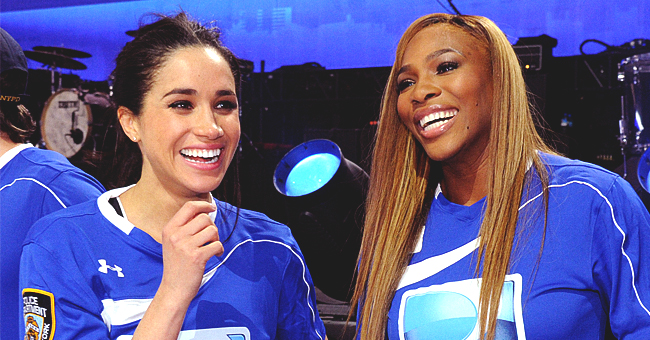 GettyImages
The Duchess and the Tennis Superstar: A Look into Serena Williams and Meghan Markle's Friendship
Serena Williams and Meghan Markle have one of the most envied friendships in the world. They met before Markle became part of the Royal family, and their bond has only strengthened through the years.
Although theirs seem to be an unlikely friendship, Serena Williams and Meghan Markle's bong is going on nine years and its stronger than ever.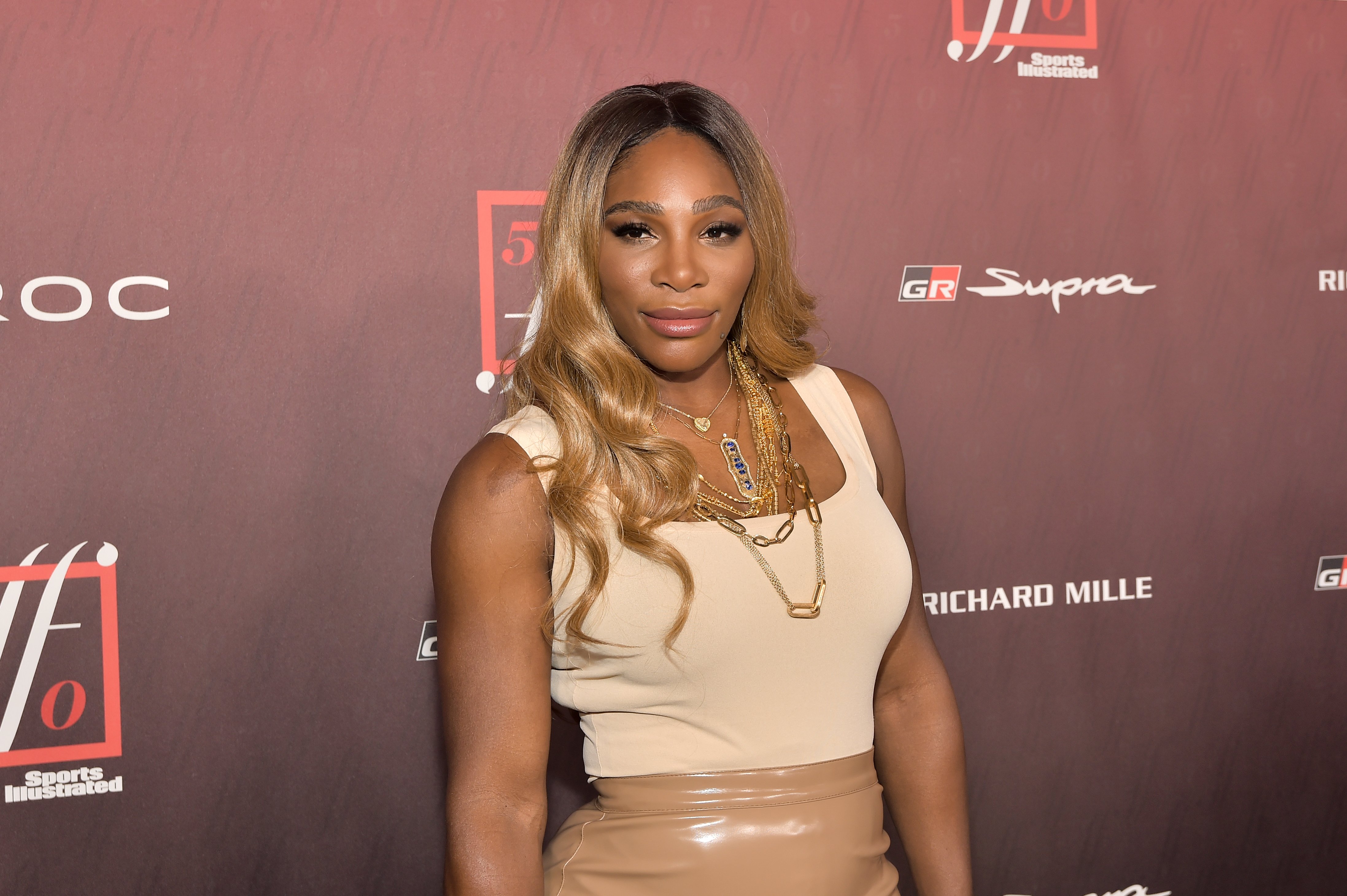 Serena Williams attends Sports Illustrated Fashionable 50 2019 at Sunset Room Hollywood on July 18, 2019 | Photo: GettyImages
Continually scrutinized by the media and fans, they are two of the most talked-about women in the world: one for her tennis achievements—and sometimes lack of them— and the other for marrying a Prince, severing ties with family, and breaking protocol rules all over the place.
That media attention has served as the glue in Serena and Meghan's friendship, as they both know what it's like to be in the eye of the hurricane.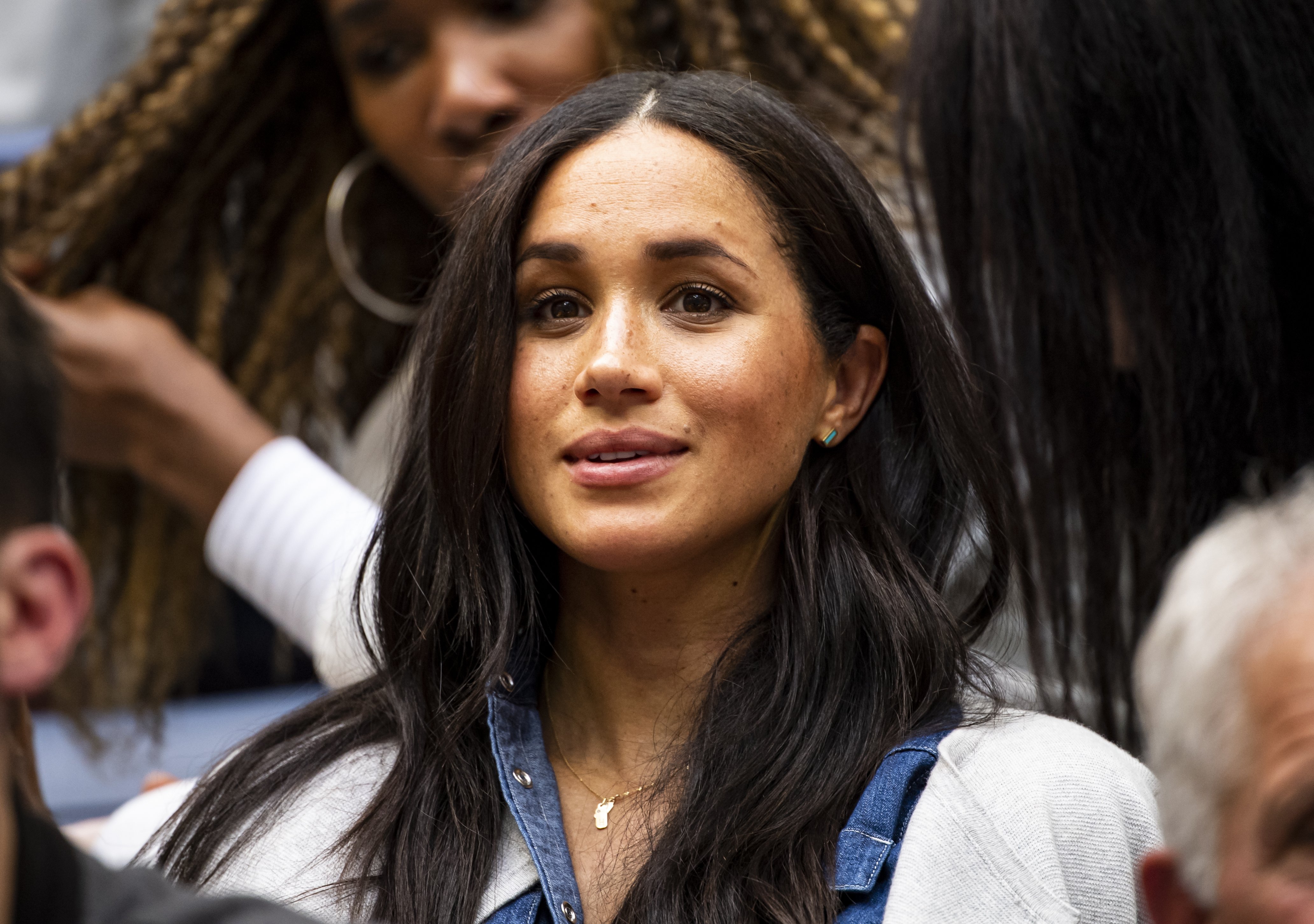 Megan Markle watches Serena Williams against Bianca Andreescu at US Open on September 07, 2019 | Photo: GettyImages
But how did they meet?
WHAT SPORTS UNITED…
Williams and Markle first met at a Super Bowl party back in 2010, way before Meghan met her now-royal husband.
At the time, they had a brief interaction but clicked with each other. However, it was four years later that they really started to build a relationship.
The pair had a second encounter at a pre-Super Bowl celebrity flag football game organized by DirecTV in New York City.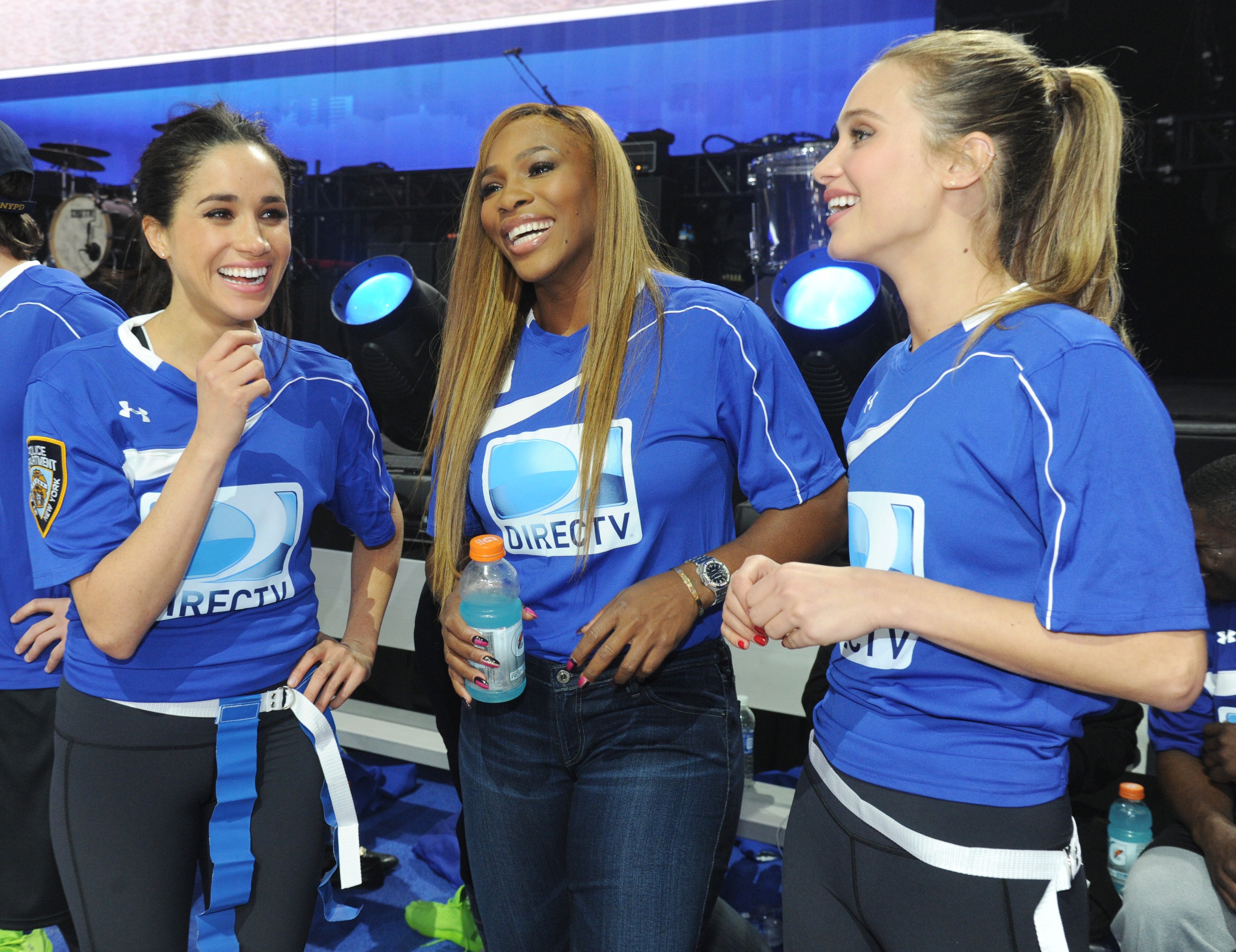 Meghan Markle, Serena Williams and Hannah Davis participate in the DirecTV Beach Bowl at Pier 40 on February 1, 2014 | Photo: GettyImages
Meghan and Serena were on the same team alongside Hannah Davis, Nina Agdal, and Shay Mitchell. They won the tournament.
After the game, Markle wrote a blog entry on her now-defunct page The Tig to gush about Williams:
"We hit it off immediately, taking pictures, laughing through the flag football game we were both playing in, and chatting not about tennis or acting, but about all the good old fashioned girly stuff."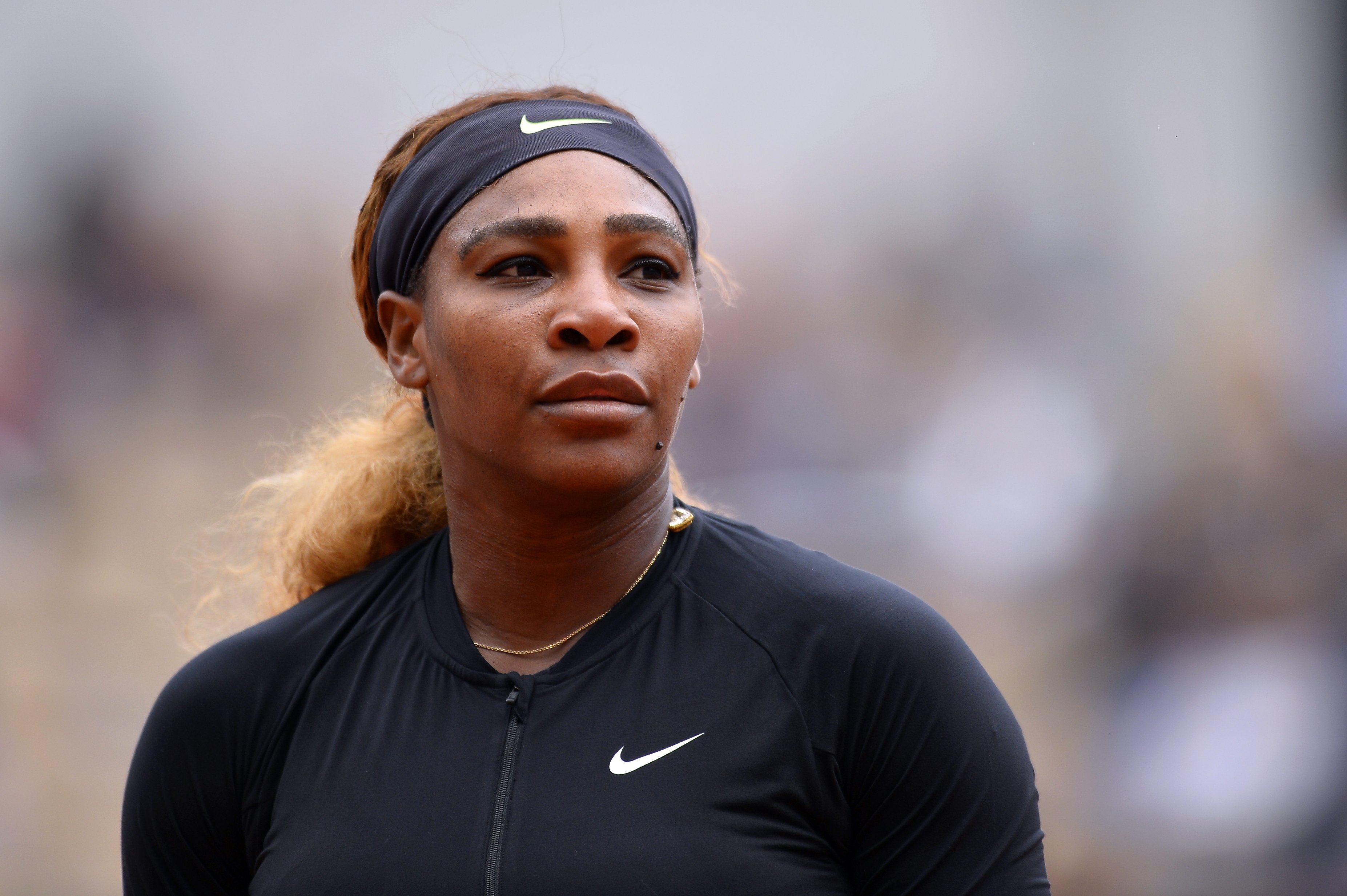 Serena Williams at the 2019 French Open at Roland Garros on May 30, 2019 | Photo: GettyImages
"So began our friendship," Meghan added.
SUPPORTING EACH OTHER
Since then, the two boss ladies became an item.
Markle would support Williams at her tennis matches every chance she got, often cheering for her in the stands and then posting sweet pics to her now-deleted Twitter and Instagram accounts.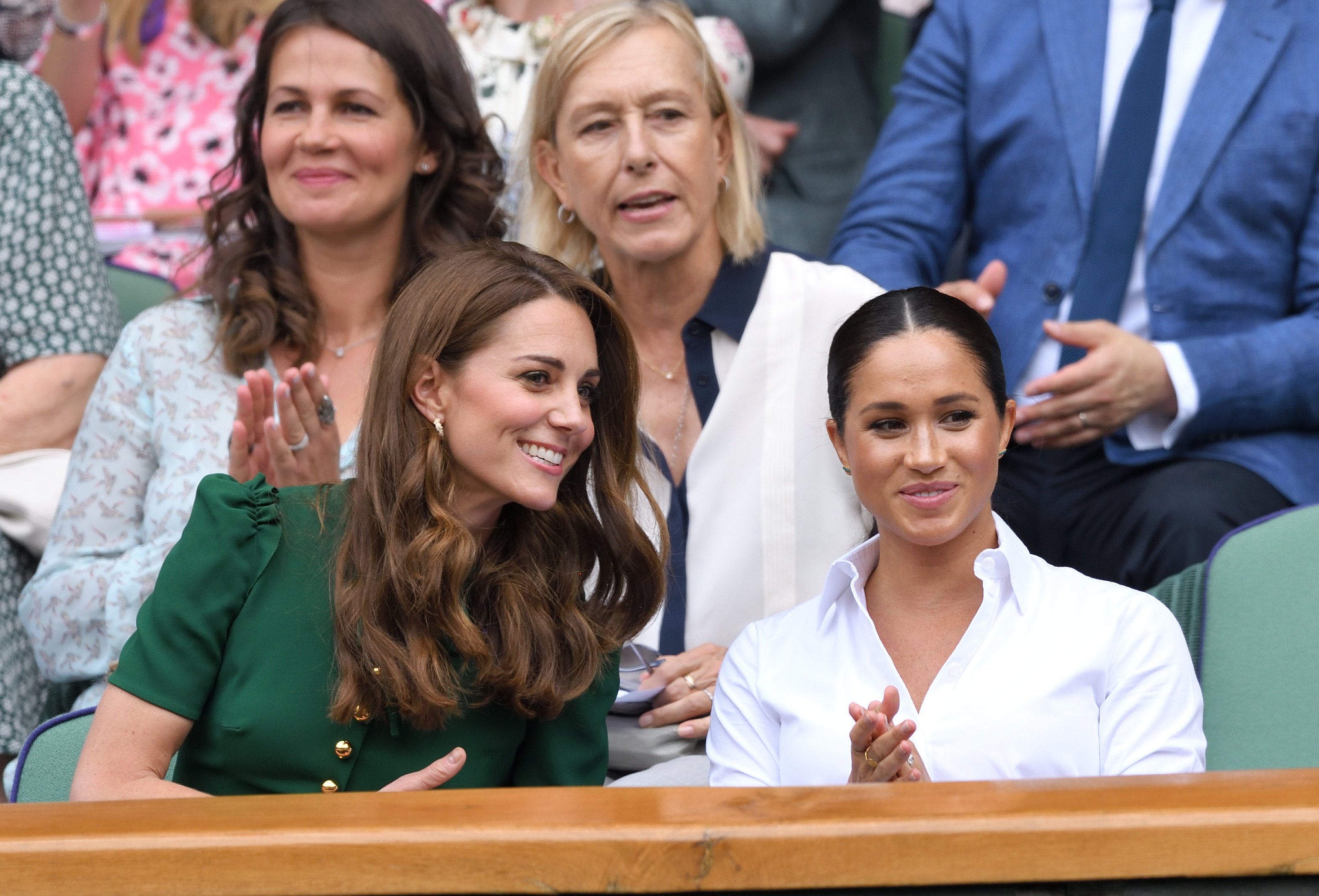 Kate Middleton and Meghan Markle at the Wimbledon Tennis Championship on July 13, 2019 | Photo: GettyImages
In one opportunity, after Serena launched her first clothing line during New York Fashion Week show in September 2016, Meghan shared a pic backstage with the tennis star and added in the caption:
"My eyes are closed, but my heart is so open! So proud of your new collection @serenawilliams Happy I could be there to support you xx #NYFW."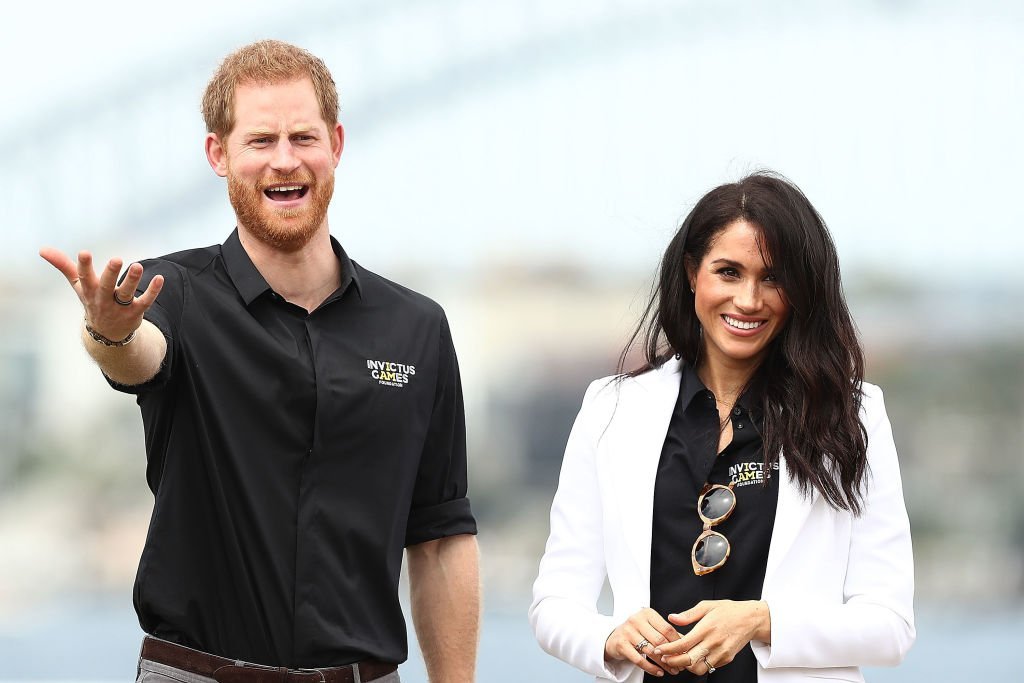 Prince Harry and Meghan Markle at the JLR Drive Day at Cockatoo Island on October 20, 2018 | Photo: GettyImages
The following year, after news of Meghan and Prince Harry's relationship hit the headlines, the now Duchess of Sussex asked Williams for advice on how to handle the paparazzi and the constant harassment.
"I told her, 'You've got to be who you are, Meghan. You can't hide,'" Williams recalled in a profile Vanity Fair did of Markle in September 2017.
THE ROYAL WEDDING
Serena and Meghan's friendship was proven to be real—at least in the eyes of media—when the 23-times Grand Slam winner, alongside her husband Alexis Ohanian, was one of the selected guests at the Royal Wedding between Markle and Prince Harry.
Williams documented herself getting ready for the event on Instagram, as she told her fans: "So my friend is getting married today, and I'm up super early...I've known her for so many years, and I'm so happy for her."
The 37-year-old also gushed about the ceremony in an interview with Australian's show "The Sunday Project," saying:
"To have such a monumental moment in England, nonetheless of all the places, I felt like we were literally watching history. I feel like in a few years we are going to look back at that moment and it's going to be so historic. It's going to be something that people never forget."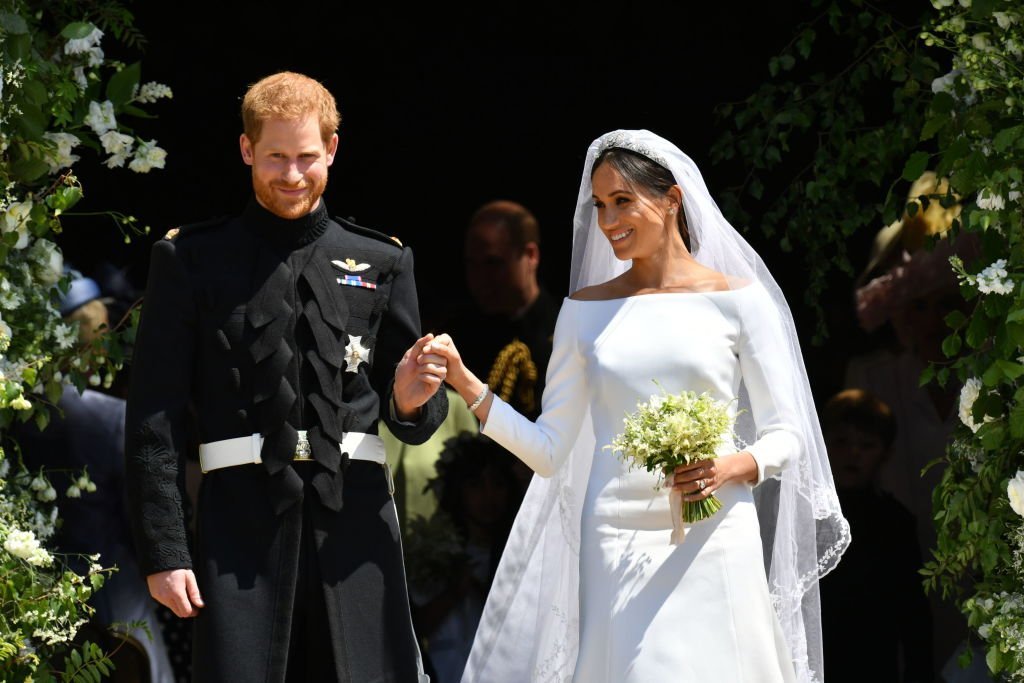 Prince Harry and Meghan Markle leave St George's Chapel after their wedding on May 19, 2018 | Photo: GettyImages
But above all, Serena said she just wanted to "see my friend be happy. And I think that's what happened."
U.S OPEN OUTBURST
A few months later, Williams relied on Markle after her controversial U.S open match against Naomi Osaka, which was tainted by Williams' outburst against umpire Carlos Ramos, pushed her into the spotlight and not in a flattering way.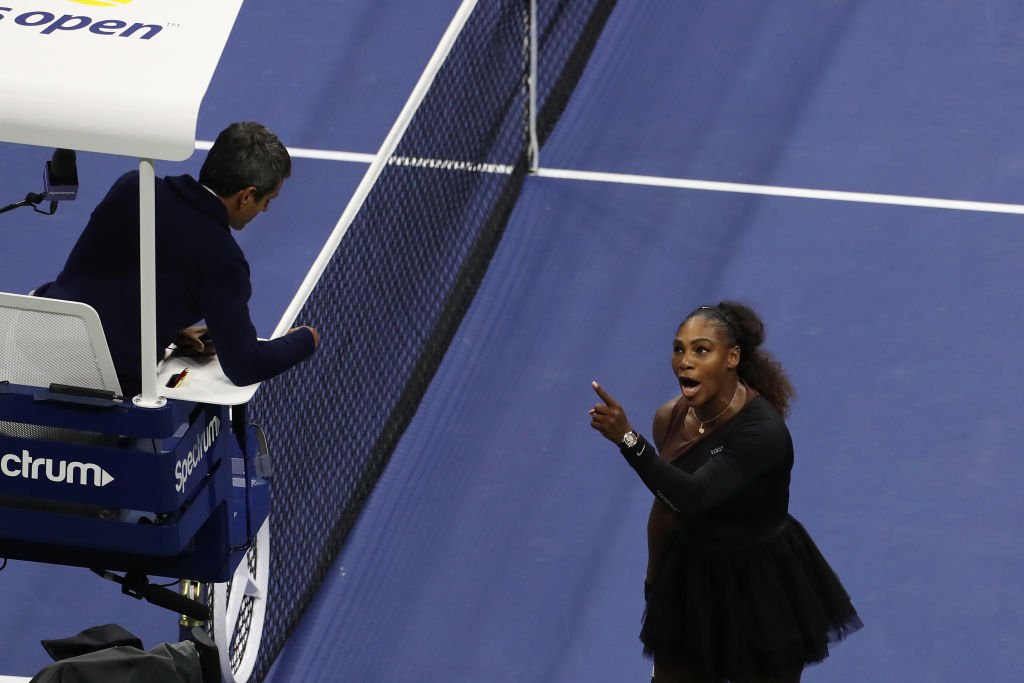 Serena Williams argues with umpire Carlos Ramos during the 2018 US Open on September 8, 2018 | Photo: GettyImages
After admitting on the show that she and her friend were, undoubtedly, the talk of the world that year, Serena revealed that: "We were actually just texting each other this morning. We have known each other for a long time, but we really are relying on each other a lot recently."
BABY SHOWER IN NEW YORK
Three months before Markle gave birth to her first child with Prince Harry, Williams threw the Duchess a private baby shower at the penthouse of Mark Hotel on Manhattan's Upper East Side.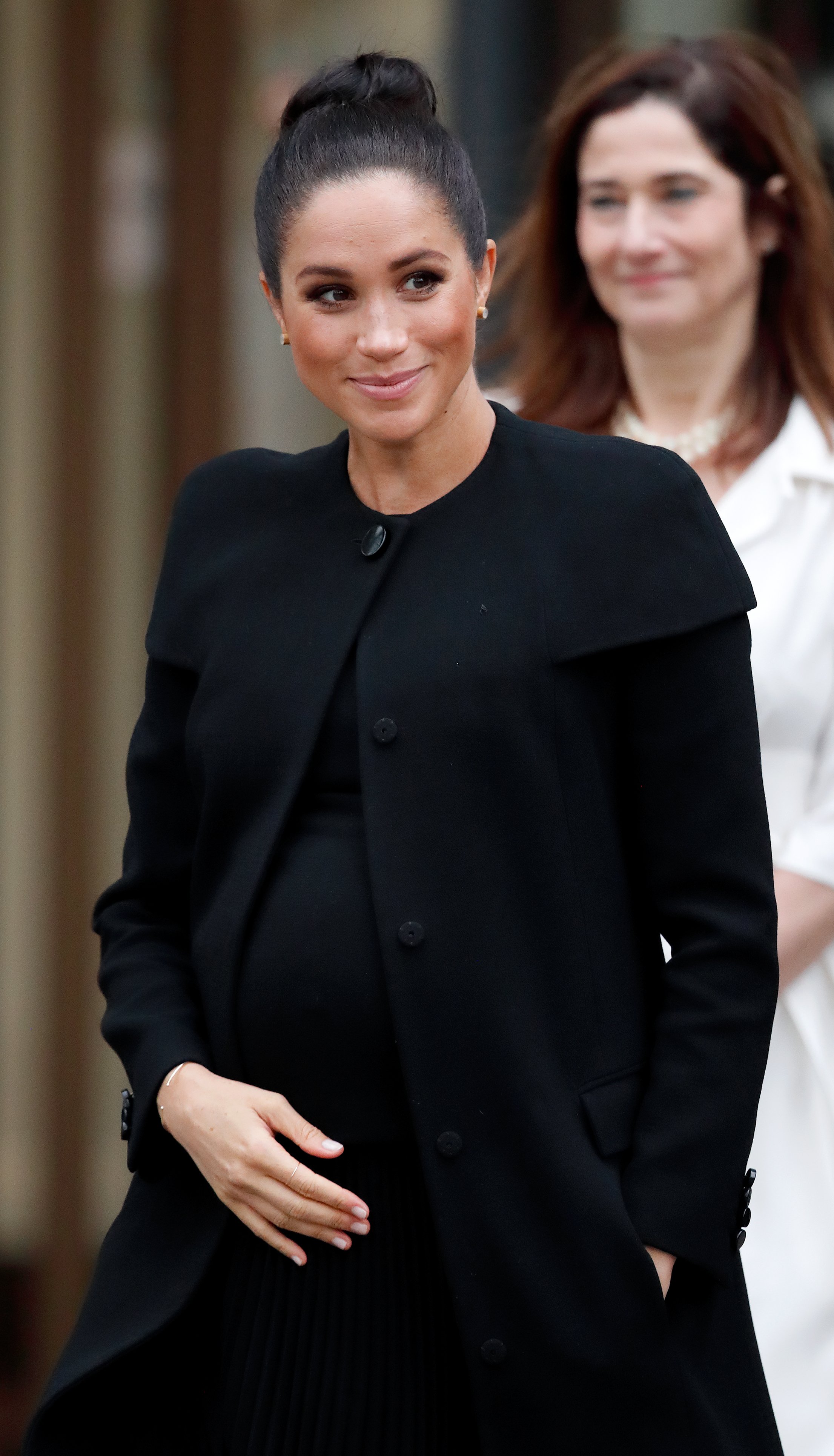 Meghan Markle at City, University of London on January 31, 2019 | Photo: GettyImages
Markle flew across the world to attend the event, which earned her criticism from royal fans and British citizens, considering that baby showers are, allegedly, a more American tradition.
Still, the women enjoyed a fancy night alongside some of Meghan's closest friends in the U.S like Amal Clooney, Misha Nonoo, Jessica Mulroney, and Abigail Spencer.
ONLY WORDS OF PRAISE FOR EACH OTHER
Just a few weeks ago, Markle flew to the U.S one more time to support Serena at the final match of the U.S Open, which she lost against Canadian Bianca Andreescu.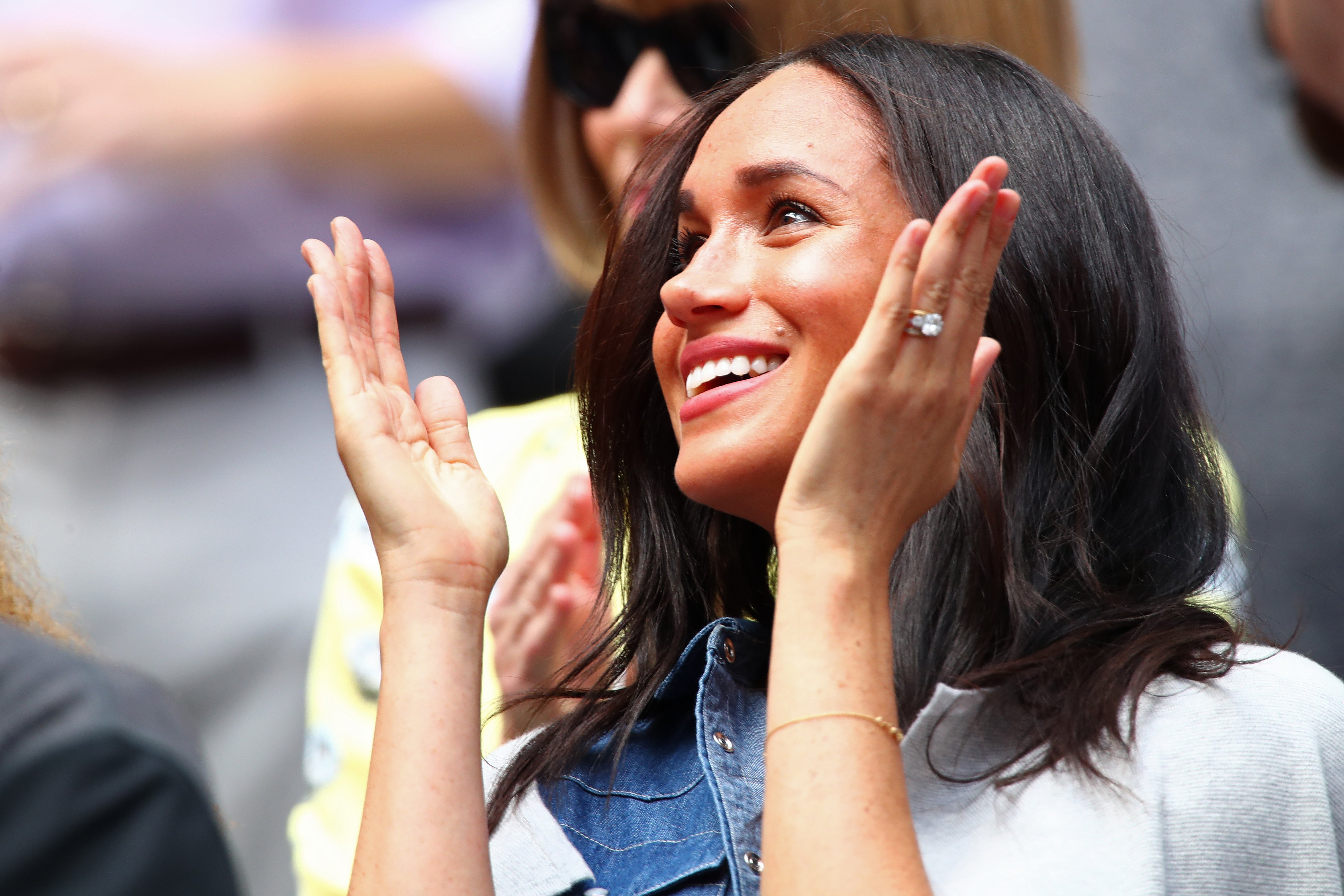 Megan Markle watches Serena Williams against Bianca Andreescu at US Open on September 07, 2019 | Photo: GettyImages
Talking to E! News a few days later, Serena praised her friend for being so supportive.
"Meghan is amazing," she said. "She literally flew across the seas just to support for a few hours with a newborn baby."
And continued:
"She is the most positive, amazing human that I know. Everyone needs to know how amazing she is. I don't know if I could have done that with my daughter at that age. But she did it. And that shows the kind of person that she is."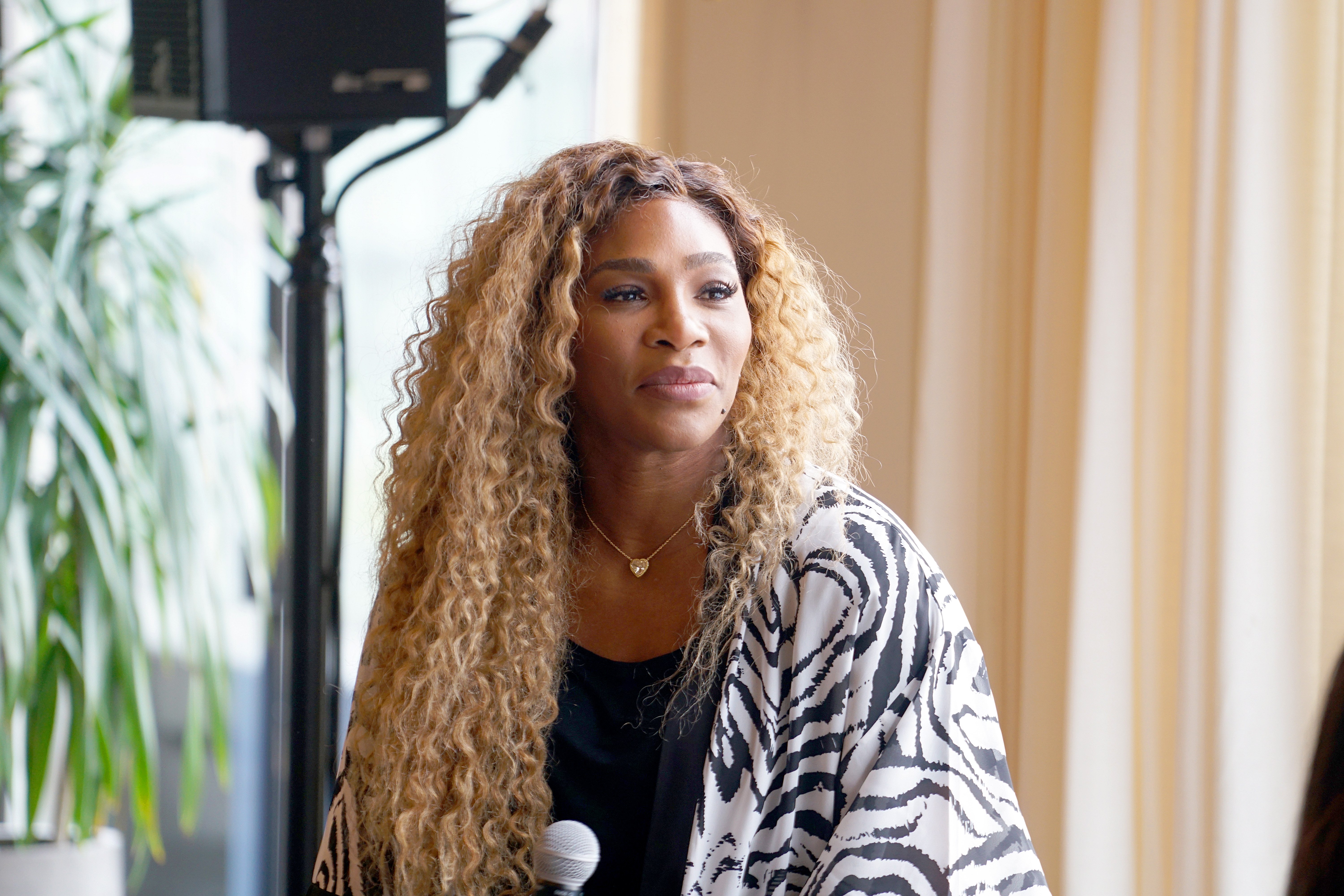 Serena Williams during New York Fashion Week: The Shows on September 09, 2019 | Photo: GettyImages
Markle had similar words about Williams, which she wrote in The Tig a couple of years ago.
"She quickly became a confidante I would text when I was traveling, the friend I would rally around for her tennis matches, and the down to earth chick I was able to grab lunch with just a couple weeks ago in Toronto," Markle wrote, according to E!.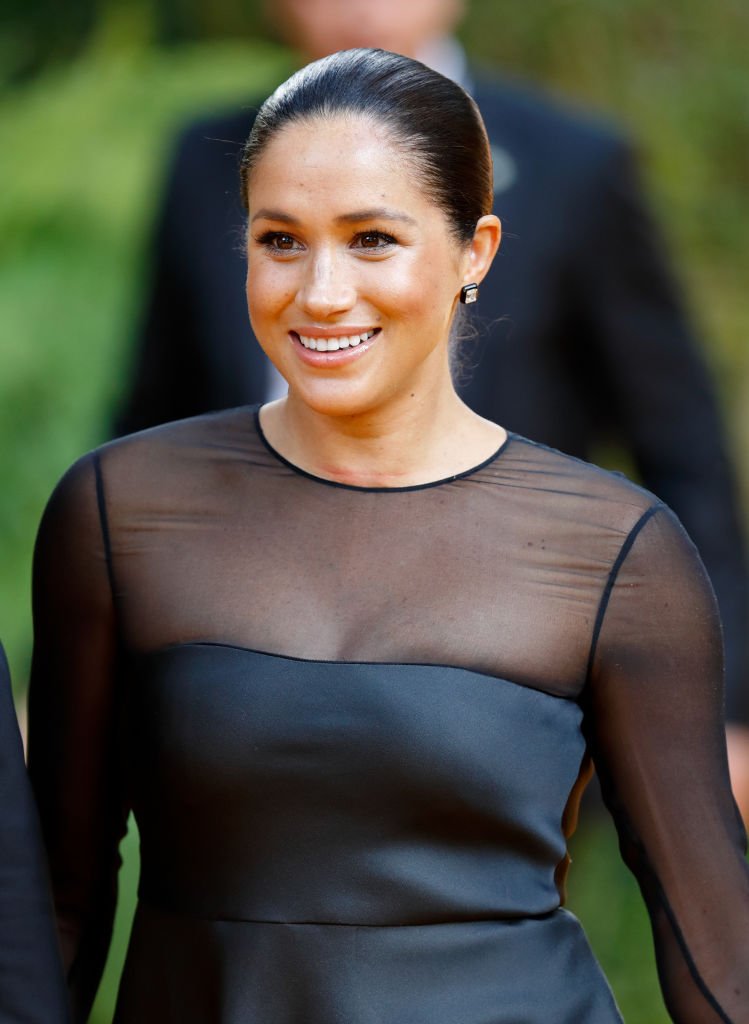 Meghan, Duchess of Sussex attends "The Lion King" European Premiere at Leicester Square on July 14, 2019 | Photo: GettyImages
And continued, "We are both the same age, have a penchant for hot sauces, and adore fashion, but what connects us more than those things is perhaps our belief in exceeding expectations–our endless ambition."
There's no doubt why fans have dubbed Serena and Meghan's friendship as "ultimate goals."
Please fill in your e-mail so we can share with you our top stories!