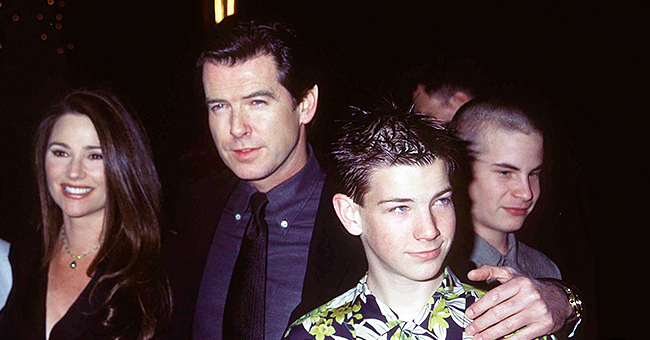 Getty Images
'James Bond' Actor Pierce Brosnan Sends Birthday Wishes to 'Dearest' Son Sean with Photo Tribute
The former James Bond, Pierce Brosnan, sends birthday wishes to her dear son on his birthday. The father posted a heartwarming picture grid on Instagram on the occasion.
Pierce Brosnan took to Instagram to post a sweet photo grid of his son, Sean Brosnan, on his special day.
The post featured a series of small pictures of Sean and his father through Sean's childhood and current life.
BROSNAN'S TRIBUTE TO SEAN
Agent 007 had one mission on Sean's birthday, to make his day a special one. The father uploaded two posts on Instagram.
The pictured featured Sean as a child in the arms of his parents, some holiday pictures, and the father-son duo attending events together.
"Happy birthday dearest Sean," he wrote on the post. "[Love] forever and the day my Love. Dad xx"
The second post made by Brosnan was of Sean holding his nameplate and smiling at the camera. The young man was studying to become a therapist, and Brosnan lent his words to Sean.
"Happy birthday dear Sean, congratulations on your studies, you will make a great therapist, you can do it all," he wrote.
SEAN WENT THROUGH HIS SHARE OF TROUBLES
Sean had his fair share of troubles since he was in school. He made an appearance on "Inner Space with Dr. Barbara Van Dahlen" podcast and shared how he got addicted to drugs and alcohol.
Sean, 35, lost his mother, Cassandra Harris, to Ovarian Cancer when he was just eight years old. "I remember the day my dad told me she passed, and it was a few days after Christmas," he recalled during the show.
He revealed that his father started crying, but he comforted his father instead. However, the pain remained with him and transitioned into anger six months after her passing.
"It wasn't until maybe six months later where I was in school and realized while I was walking to class, she is never coming back," he recalled. "That is when it transitioned into anger."
DRUG ABUSE AND RECOVERY
The actor quickly fell into the spiral of experimenting with different drugs and got addicted soon after.
"I was a drug connoisseur, I never really stuck with anything — just with one substance. Kind of whatever you had, I would take. Alcohol was what stayed with me," he said.
The actor turned his life around through love when he met and married actress and producer Sanja Banic.
Please fill in your e-mail so we can share with you our top stories!