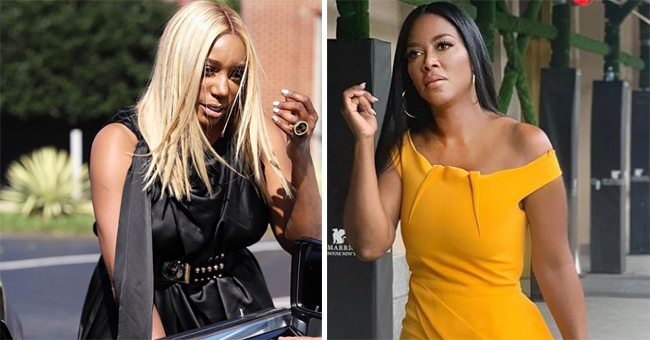 instagram.com/neneleakes instagram.com/thekenyamoore
NeNe Leakes Shades Kenya Moore When Wendy Williams Asks about Her RHOA Return

NeNe Leakes threw heavy shade at Kenya Moore when she was asked about the new mother's return to RHOA.
There's no putting down NeNe Leakes, and when that lady holds a grudge, watch out!
The star of Real Housewives of Atlanta guested on the "Wendy Williams Show" on September 17, 2019, and Wendy, always eager to stir the pot asked her about Kenya Moore...
WENDY WILLIAMS QUESTIONS NENE LEAKES ABOUT KENYA MOORE
Things got interesting when Wendy put NeNe in the Hot Seat and asked her how she felt about her old nemesis Kenya Moore's return to RHOA.
The response was a classical NeNe come-back, accompanied by a sardonic side-eye.
"Who's that now?", NeNe asked coolly.
Kenya and Bravo have confirmed her return to RHOA in May
WENDY WILLIAMS: PUTTING OUT THE FIRE WITH GASOLINE
But Wendy certainly set a match to the kindling when she commented:
"Kenya's back and she's stirring the pot. It seems like she's coming after a NeNe-sized check to be the NeNe of 'Atlanta Housewives.'"
KENYA MOORE WILL BE BACK FOR SEASON 12
Judging by NeNe's response to Wendy's teasing, the sparks are going to fly when Kenya walks back onto that RHOA set for the filming of Season 12. At Wendy's insinuation that Kenya wanted to be the "new" NeNe, she grated out:
"Good luck with that!"
SEASON 12 PROMISES TO BE STEAMY
The last time the two ladies were face-to-face was in 2018 at a party organized by Cynthia Bailey's - and NeNe hadn't known she'd be present. The expected scene ensued, with NeNe calling the pregnant Kenya "a monster."
Kenya and Bravo have confirmed her return to RHOA in May. The reality star is eager to return to the limelight, after giving birth to her daughter, Brooklyn Daly.
We are sure that NeNe and Kenya alone will produce enough drama to keep the show high in the ratings, and the fans glued to their screens.
Just like Wendy Williams, we just can't wait for the re-match...
GREGG LEAKES IS CANCER FREE
NeNe brought her husband along to the "Wendy Williams Show," and he confirmed the wonderful news: he is officially cancer-free.
"You look great. You look wonderful, and congratulations on being cancer-free," Wendy said to Gregg.
Gregg, who has valiantly battled stage 3 colon cancer, had surgery in June to have his port removed after he was declared clear of the dread disease.
Congratulations, Gregg!
Please fill in your e-mail so we can share with you our top stories!