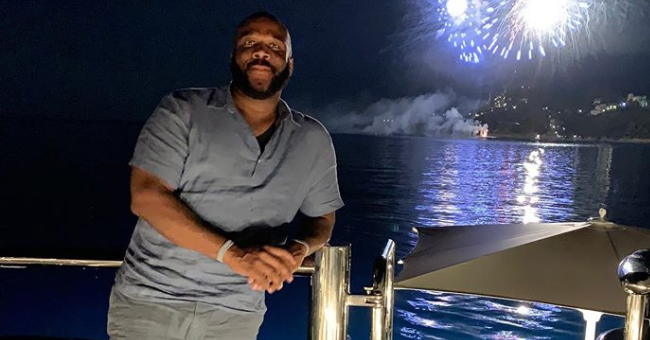 instagram.com/tylerperry
'Madea Family Funeral' Actor Tyler Perry Shared Pic of the Sunrise on His 50th Birthday

Born Emmitt Perry Jr., the name "Tyler Perry" rings a bell at the slightest mention of it. This time, he's in a celebratory mood as he shares a photo to celebrate his 50th birthday.
The celebrant has never looked happier as he welcomed his "Golden Jubilee" year, a few days ago. He shared some nice pictures on social media to celebrate his birthday.
The Hollywood actor uploaded a picture on his Instagram page with the caption:
"My first sunrise at 50."
The American actor is seen in a relaxed and peaceful mood, enjoying the chilling breeze from the waters. While sitting on a chair in the ship, the popular playwright and comedian is pictured staring at the beautiful view of the mountains, while the sun warmly rises.
The Louisiana born son of a carpenter changed his name from Emmitt to Tyler when he was just 16. He did so to stay away from his father, who was abusive.
Due to the constant domestic abuse, little Perry once contemplated suicide to escape his harsh father. It was his mom who took him to church each week, where he had a feeling of refuge, love, and compassion.
The father of one has also shown to be kind-hearted and a giver; this can be attributed to his mum's moral teachings and also from his Christian upbringing when he was young.
Recently, he made a kind gesture by sending relief materials to the people of Bahamas who had lost their means of livelihood due to hurricane Dorian with his personal plane.
With this, he also sent a big message to the victims of the disaster that they are not forgotten, and he thinks about them.
Despite the fact that he was born in penury and raised in a house full of abuse, Perry was once named by Forbes as the highest-paid entertainer. He has a handful of TV series to his credit.
One of such is the mega-deal the American playwright and filmmaker struck with Oprah Winfrey. The philanthropist has also acted in movies that were not produced or directed by him. In the popular movie (Star Trek), Perry acted as Admiral Barnet.
The "birthday boy" has shown the world his sense of humility, responsibility, and love for other people. Also, he has proved his worth in the movie industry, which has made him a "heavyweight" in Hollywood.
Perry, who has been active in the movie scene since the early 1990s has a partner, Gelila Bekele, and together, they have a 5-yr-old son (Aman Tyler Perry.)
Please fill in your e-mail so we can share with you our top stories!