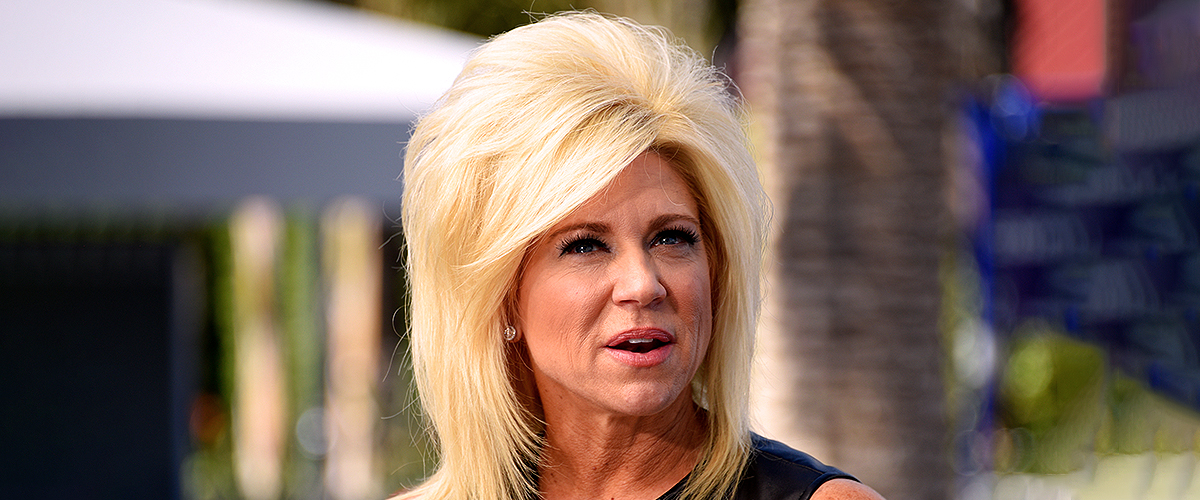 Getty Images
Inside the Life of Larry Jr., the Son of 'Long Island Medium' Star Theresa Caputo
Theresa Caputo, best known for the TLC reality show "Long Island Medium," has two children. Larry Jr., her son, shared his thoughts on living with a medium.
Even though several people believe that having Theresa's gift is a blessing, some others think that they are better off without it. Sometimes, Larry Jr. has considered the second option as the best one.
"There's nothing more annoying at first when your mother interrupts somebody's day with personal questions"
Theresa and Larry Caputo's relationship
Larry Jr. is the only son that Theresa and Larry Caputo Sr. had during their almost 30-year-long marriage. The couple tied the knot in 1989, and their son was born in 1993. Victoria, their daughter, was born in 1994.
Unfortunately, the former couple announced their separation after 28 years in December 2017. One year later, the medium and Larry Sr. announced that the divorce process had been finalized.
Larry Jr.'s thoughts on his mother's gift
In March 2014, Larry Jr. appeared in front of the TLC cameras during the premier of the show's fifth season and answered some of the questions sent by "Long Island Medium" fans.
One of them wondered how he felt when Theresa starts reading strangers. Without hesitation, Larry Jr. said that it was embarrassing.
"There's nothing more annoying at first when your mother interrupts somebody's day with personal questions," he added.
However, he pointed out that the reactions that people experience so much joy when Theresa Caputo finishes her reading session.
A second fan asked if his friends were scared about the fact that Theresa talks to dead people. He said that they have grown up knowing that she does that and that, if they are afraid, they have never told him.
Finally, Larry Jr. revealed that when he has asked Theresa about his future, she doesn't give him "medium advice" but "mom advice," proving that he lives pretty much a normal life even though his mother communicates with dead people.
Larry Jr.'s career
Another aspect of his life that proves he is an ordinary person is that he went to college. As shown on his LinkedIn page, he graduated from the College of Mount Saint Vincent in the Bronx, New York.
Larry Jr. got a bachelor's degree in communication and media studies and works nowadays as a Visiting Scheduling Supervisor at MSG Networks Inc and Manager of Studio Operations at Madison Square Garden Networks.
During his time in school, he was the captain of the lacrosse team, served as the treasurer of the Media Club, and the Vice President of the Communication Honors Society.
His girlfriend
Apart from that, he has been dating Leah Munch for a long time already. Judging by her LinkedIn page, they met at college as she got her bachelor's degree in communication and media studies in the same period that Larry Jr. did.
In 2018, she got her MBA. She has been working as a Director for Public Relations, Marketing, and Program Development at the same college.
So far, Larry Jr. and Leah have not tied the knot. However, the photos they share on social media prove that they are taking their relationship to the next level.
Larry Jr. and Victoria disappeared from the show
One of the things that the "Long Island Medium" fans have noticed is that neither Larry Jr. nor Victoria has been shown in the series as often as in the past. Theresa pointed out that it happened because her children grew up.
"When we started Long Island Medium, little Larry just graduated college, Victoria just graduated high school. You know, they're growing up. Larry lives in the city now. Victoria now too," she added.
Apart from that, Theresa Caputo said that both of her children were still dealing with their parent's divorce and that it has been "uncomfortable" and "hard" for them.
For that reason, she and Larry Sr. gave them the option to approach them to talk about their decision if they want to, but the decision was in "their hands."
At the moment, Victoria, who went to a beauty school, is a balayage specialist who works in New York. She runs a Facebook page called Hair by Victoria Caputo wherein she offers her makeup services for private sessions, groups, weddings, and special occasions.
Apart from that, she is engaged to Michael Mastrandrea, who has been her partner since 2017.
Please fill in your e-mail so we can share with you our top stories!