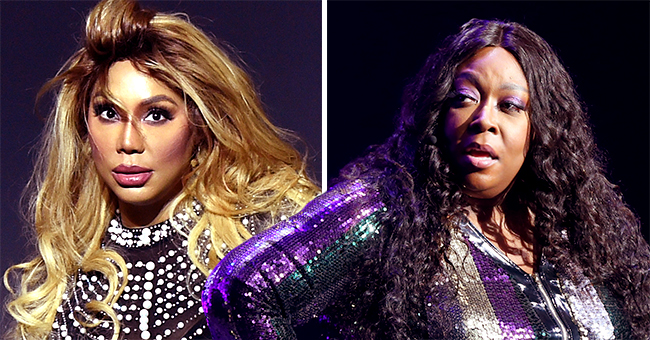 Getty images
BFV Star Tamar Braxton Posts, Deletes Old 'Queen's Court' Clip Fat-Shaming 'Real' Co-Host Loni Love

The heat is on again between Tamar Braxton and the ladies of "The Real" after the singer spoke about getting fired on the "Wendy Williams Show."
The "Wendy Williams Show" has barely started its new season, and already the fur is flying.
Wendy's first show featured her former sparring partner, NeNe Leakes, and it looks as though those two have patched things up. Now her most recent guest, Tamar Braxton, is ready to stir her old feud with her former "The Real" co-hosts back to white heat.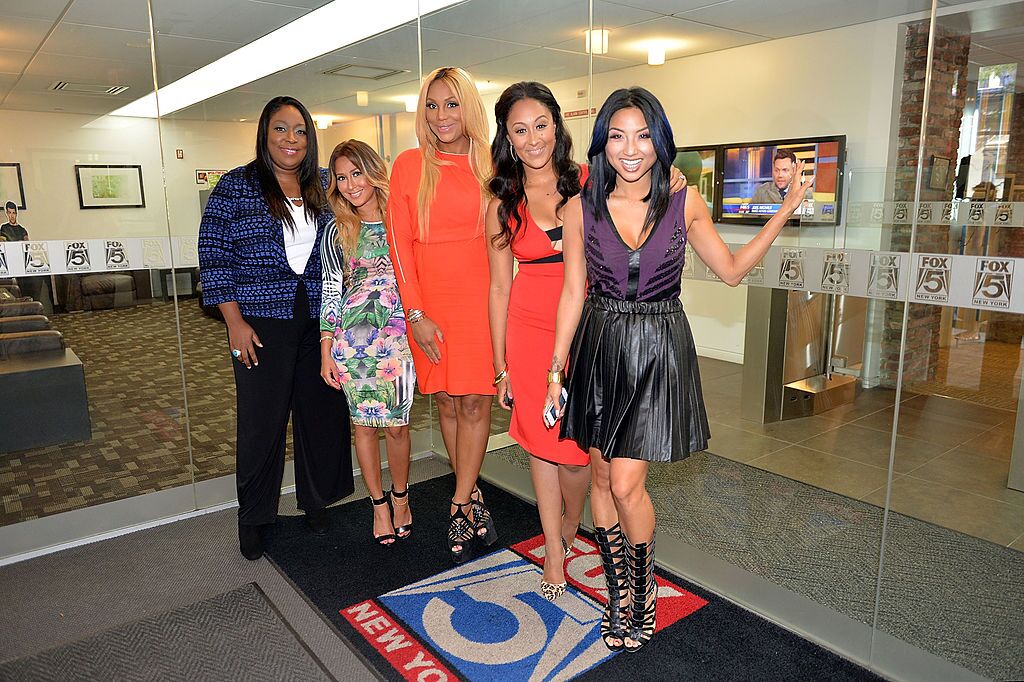 Tamar Braxton with the ladies of "The Real" in 2016/ Source: Getty Images
TAMAR BRAXTON ACCUSES "THE REAL" LADIES OF "CATTINESS"
The slumbering feud lept back into raging fire when Tamar responded to Wendy's question about the possibility of her returning to "The Real" after being fired.
Tamar bluntly told Wendy she'd been in a "toxic" situation, and that being on "The Real" had prevented her from rising to her true potential. She also claimed she wouldn't be "anybody's marketing tool."
"What if I was in a situation where I was doing the Braxtons and it's very stressful and then I'm doing this other show where people are being catty behind my back? (...) I wouldn't be ready for my transformation. I wouldn't be ready for my elevation, and that's why I got to go, I got to be on the up and up and up," she said.
Loni refuted Tamar's accusations that she had sent the network letters demanding her dismissal.
THE HOSTILITIES BEGIN
Adrienne Houghton, Loni Love, Tamera Mowry–Housley and Jeannie Mai heard Tamar's comments and decided to set things straight during their "Girl Chat" segment.
"The show has reached out to her. Tamar, nobody's trying to use you as a marketing tool, sweetie," Loni said.
TAMAR BRINGS OUT THE BIG, FAT-SHAMING GUNS
Tamar took things to a new level by sharing an old video from "The Queen's Court" - which she later deleted - in which TS Madison and rapper Khia talk about Loni being overweight and accuse her of being petty to Tamar. She added the caption:
"Sorry I only go on shows with ratings, plus you do enough talking about me," Tamar wrote.
LONO LOVE TAKES THE HIGH ROAD
Loni spoke instead of the apology Tamar had posted on Instagram in June, in which she referenced her former co.hosts.
"From my sisters, the ladies of the real, Iyanla, old and new Friends and whomever else I've EVER hurt, from being hurt. Please forgive me," Tamar had written.
This apology, Tamar had explained, had been made under the influence of her boyfriend David Adfeso who had pointed out to the singer that she lashed out at others out of her own pain and insecurity.
LONI LOVE RESPONDS
Loni denied all and any involvement in Tamar being fired from "The Real" which seems to be the songstress' real gripe against her and extended the olive branch.
"I know you are scared Tamar…but if you are going to accuse me of something do it to my face…but you can't handle the truth," Loni commented on the fat-shaming clip.
Loni stated that she had considered Tamar's apology sincere, which is why she had invited her to guest on the show, not to use her as a "marketing tool."
Loni refuted Tamar's accusations that she had sent the network letters demanding her dismissal.
"We as Black women have to stick together. We as women have to stick together. Okay? It's no cattiness, it's just we need to have you come here so we can close the circle. You apologized, we opened it up to you, and it's still there and it will always be there," Loni said.
After this exchange, Tamar deleted the offensive clip, so let's hope the ladies will get together and make up their differences. Loni is right. Sisters should stick together.
Please fill in your e-mail so we can share with you our top stories!