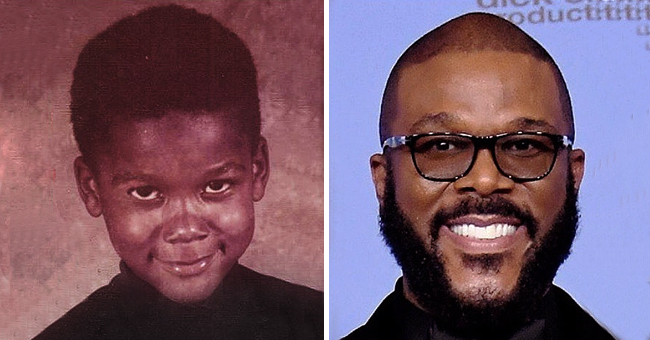 Instagram/tylerperry
Media Mogul Tyler Perry Shares Childhood Photo and Emotional Message to His Younger Self
Award-winning producer and actor, Tyler Perry recently celebrated another huge milestone in his life. This time, he took his time to pen down a heartwarming message to his toddler self.
The "Haves and Haves Not" series creator just clocked 50, and he memorably marked his birthday. The 50-year-old took to his Instagram page to share with his followers a side by side image of himself now and his 5-year-old self.
Alongside the image, Perry wrote a touching message commending his younger self on how far he has come. The "Madea" character revealed to his audience that as a 5-year-old boy, he was strong mentally.
He further explained that with the help of God, he was able to surmount all the hurdles in life. He wrote,
"Dear 5 year old me, May I just say, "Thank you" to the little boy that I was. Thank you for all you went through to allow me to be the man I am today. I love you, and I am so thankful to God that you survived. Even when I didn't want to, your pureness and innocence ushered me here. Thank you for these 50 years. I love you. We made it."
The actor's fans were quick to wish him a happy birthday with many sharing how much the Madea star has inspired them. This is not the first time Tyler Perry would be scripting a letter of gratitude to himself and his loved ones.
The actor once thanked his mother, who he opined supported him through his journey to success. In a Facebook post, the "Diary of a Mad Black Woman" star detailed how his mother instilled the right morals in him, and how her annual birthday songs to him made him feel special.
He stated that even after losing her for seven years, he still reaches for his phone to listen to her messages. The 50-year-old explained that listening to a happy birthday song often reminds him of his mother, and it brings a feeling of sadness.
Like many wealthy people today, Tyler Perry also has a grass to grace story. Many may not know this, but Perry was not only born into poverty, he was also subjected to abuse as a young boy.
However, the "Madea" actor found strength in his pain, persevered and strived until he became the well-acclaimed actor that he is now.
Most of his "becoming" story is thanks to his writing skills, which he has managed to build a formidable career out of. Perry ventured into his acting career in 1999, by stealing the hearts of his audience with the character "Madea," (a strict African American woman) in the film, "I Can Do Bad All By Myself."
He continued to grow and feature in his productions as a cast. In 2014, Forbes listed him as the "highest-paid male actor." The Atlanta bred movie maker has created different series and films, and his "The Haves and Haves Not" earned him a deal with Oprah Winfrey Network.
The series holds a record of being the highest-rated series on the network from its inception to date. Tyler's writings gave him a sense of purpose, and his passion for it is still navigating him through his successes. No wonder he took to writing himself on his birthday!
Please fill in your e-mail so we can share with you our top stories!