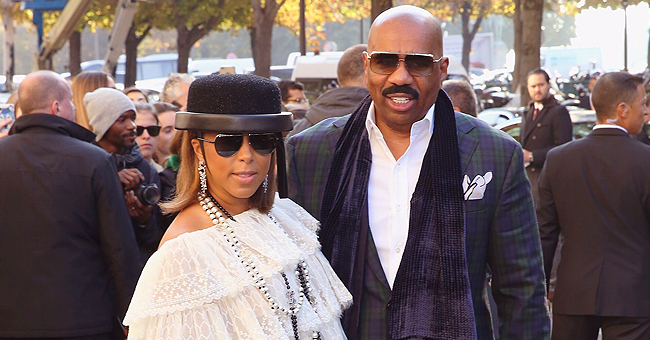 GettyImages
Steve Harvey's Wife Marjorie Enjoys 'Nana Duties' in New Photo with Their 3 Grandchildren
Proud grandmother, Marjorie takes to social media to share a snap of herself enjoying a relaxed day out with three of her five grandchildren. The three siblings are the offsprings of her one biological son, Jason.
Just recently, the Harvey matriarch shared an adorable picture of herself taking a stroll out with her young grandchildren, Rose, Noah, and little Ezra. In the photo, the group of four are seen dressed in a laid back manner.
Marjorie kept things simple in an all-black ensemble while the three siblings, products of her stepson, Broderick Harvey's marriage, wore colorful outfits. Rose looked very adorable wearing a pink tee, white leggings and matching pink boots while Noah kept to an all-yellow Gucci ensemble.
Little Ezra, the youngest of the three children, is belted into the stroller while Marjorie stands smiling. He is in an all-red ensemble including a long-sleeved shirt, shorts and a pair of black Gucci shoes.
The youngster looked so cute as he peeked curiously at the camera while the rest of the group smiled brightly posing for the picture. The picture is heartwarming, and Marjorie couldn't be more proud as she dripped of happiness standing between her fast-growing babies.
"Sunday afternoon stroll with Rose, Noah, and Ezra. #nanaduties #grandchildren," the socialite wrote alongside three heart emojis.
Not even a day old, the picture has already amassed over 30,000 likes proving how loved the Harvey clan is.
"They are sooo cute and growing," one fan, @goudyrobin commented.
A noticeable number of the comments point out the striking resemblance between Rose and Marjorie as well as that between baby Ezra and Steve Harvey.
Marjorie is best known as the famous American talk show host Steve Harvey's wife. The pair are widely recognized as a power couple. Fans love to keep up with their personal lives just as much as their time on screen, and Marjorie is more than happy to oblige them.
Steve and Marjorie have a total of five grandchildren, most of who seem to bear a resemblance to them on close scrutiny. Fans can't get enough of baby Ezra whose striking green eyes and chubby cheeks have won the hearts of many.
The internet is littered with numerous pictures of the Harvey family's youngest members, and it is all thanks to proud grandma Marjorie who delights in showing them off. Steve, on the other hand, is more reserved when it comes to his grandkids.
On his famous talk show, "The Steve Harvey Show," he said:
"I've been waiting years for my kids to get out of my house. I want to be an empty nester. Now they come back to the house, and they got more people with them."
The statement was a joke, although it is quite sure that it holds a grain of truth. If nothing else, Harvey's dedication to his duties as a family man is a well-known fact, and it has endeared many people to him.
Please fill in your e-mail so we can share with you our top stories!