Prince Harry's Wife Meghan Markle Dazzles in Striped Maxi Dress She Last Wore during Her Pregnancy
Prince Harry's wife wears her favorite "pregnancy" outfit again while on the family's tour to Africa.
The royal tour has been fun and exciting for the Duke and Duchess of Sussex. The 38-year-old is seen wearing a striped gown she wore while pregnant with her 4-month old baby, Archie.
While attending a youth reception at the British High Commissioner's residence in South Africa, Meghan, and Harry are seen wearing beautiful smiles holding hands, joking and laughing with other guests at the event.
Omid Scobie, a London journalist, shared a video on Twitter of the royalties interacting with some guests.
Meghan and Harry chat (and share a quick Cinderella moment!) with Jade Bothma, who started charity @OceanoReddentes at just 12 years old. Her mission? Save the ocean — one piece of plastic at a time... and create "eco-bricks" with the waste to build homes for the homeless♻️ pic.twitter.com/6l8RUNhtek

— Omid Scobie (@scobie) September 24, 2019
On their arrival, Meghan appears simple; rocking her hair styled over her shoulder to her back on her glowing skin. She complimented her look adorning her ears with black earrings and wearing the Australian designed sleeveless gown she earlier wore while she was pregnant.
Harry is dressed in an ash suit with a light blue undershirt, a brown belt, and suede shoes. At the reception, the Royals met with Marlene le Roux, a South African Disability and Women's Rights Activist.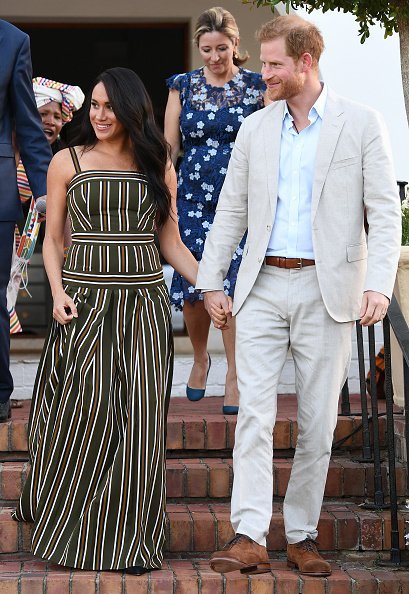 RECYCLING HER WARDROBE ISN'T NEW
The mother of one previously wore the same dress, while on tour in Australia with her husband in 2018.
After the reception, the "Suits" actress changed into another memorable outfit. She stunned in a blue shirt dress she previously wore while visiting Tonga, a week after she disclosed she was with a child.
Still maintaining a simple look, she kept her hair loose with the same black espadrilles, matching it with black ponytail wedges. She wore simple makeup on her pretty face to compliment her simplicity.
Meghan's style of wearing the same dress has proven that she is a simple, classy woman. Her sister-in-law, Kate Middleton, is also known for repeating her dresses.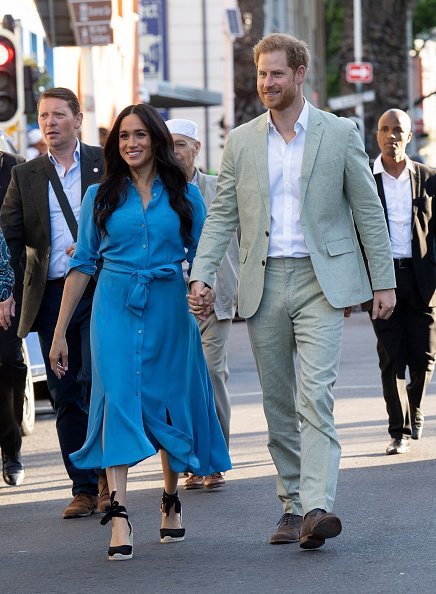 STILL ON THE AFRICAN TOUR
The power couple will conclude their tour early next month. However, they will have to separate for a few days, as Harry would be away on work visits to some other countries like Malawi, Botswana, and Angola.
The visit to the continent is official, as it is planned to evaluate the interests and contributions of the UK government in the selected countries to be visited by the Sussex royalties.
Both Harry and his wife, Meghan, are attending functions on tour without their son, Archie, who is with a nanny. It's still uncertain if young Archie would be spotted in public before the tour ends.