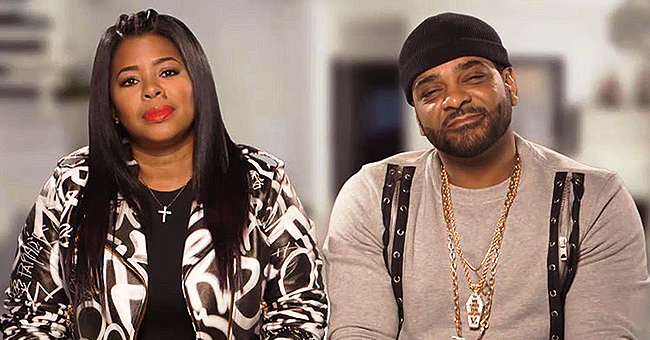 Youtube/WEtvPR
Bossip: LHHNY Stars Jim Jones & Chrissy Lampkin's NJ Mansion Foreclosed and Auctioned off for $100

Rapper Jim Jones and Chrissy Lampkin's New Jersey mansion was sold at auction for $100.
Things don't seem to be going so well for rapper Jim Jones and his long-time love Chrissy Lampkin.
The couple, who star in the reality show "Love & Hip Hop New York" came face to face with the harsh reality of an unpaid mortgage.
A DECADE WITHOUT PAYING THE MORTGAGE
It is every home owner's nightmare, not being able to make the payments, and fearing the loss of their home, but Jones didn't default on just one or two payments.
The U.S. National Bank Association took Jones to court for defaulting on the mortgage of his New Jersey mansion for nearly 10 years.
Yet another "Love & Hip Hop" star is on the verge of losing his home, just like Jim Jones.
A MANSION FOR $100
In 2018, Jones and the bank had come to an agreement and the rapper promised to make monthly payments of $4,467. When he defaulted on his promise, the bank foreclosed, and the $742,000 home went under the hammer and sold for $100. Quite a bargain.
A LAVISH LIFESTYLE AND A MASSIVE DEBT
Even though they no longer own the house, Jones and Lampkin, who have always displayed a lavish lifestyle, are still in debt to the bank for a breathtaking $1,240,017, which includes interest, real estate taxes, advances, and homeowners insurance.
THE MANSION FEATURED IN "LOVE & HIP HOP NEW YORK"
The lovely house which the bank snatched up for $100 has five-bedroom, three-bathrooms and will be familiar "Love & Hip Hop: New York" fans.
Even though they've lost their home, Jones and Lampkin don't seem discouraged. She recently shared a photo of a gorgeous house on Instagram and captioned it:
"I want it I claim it it shall be mine . Light work but beautiful nonetheless."
Hopefully, Jones and Lampkin will be able to work out their financial problems and find themselves a new home.
JUELZ SANTANA IS ABOUT TO LOSE HIS HOME
Yet another "Love & Hip Hop" star is on the verge of losing his home, just like Jim Jones.
This time it is rapper Juelz Santana, who is being sued by his bank for defaulting on his mortgage on his New Jersey condo.
Santana, who is currently serving time in federal prison for carrying a loaded gun into an airport, may find himself homeless when he is released in 2021.
The bank has filed papers with the court requesting a foreclosure on the property, and an auction in a Sherriff's Sale, which will leave his reality star wife Kimballa and their children without a home.
Please fill in your e-mail so we can share with you our top stories!