'Kominsky Method' Star Michael Douglas Shares Wedding Pic of Catherine Zeta-Jones as She Turns 50
Michael Douglas shared a photo from his wedding to his wife, as he celebrates her 50th birthday with heartfelt words, which includes, "I love you so much."
Michael Douglas wife, Catherine Zeta-Jones, is 50! The actor took to Instagram to mark the day with a photo from their wedding day, and heartfelt words.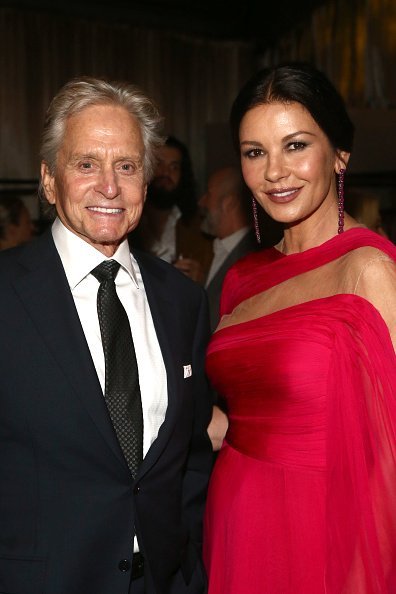 The couple laughed heartily in the snap from their wedding reception, and the actor wrote as the caption,
"Happy birthday, my Darling. I love you so much; I cannot wait to celebrate our special day together." 
Interestingly, Douglas and Zeta-Jones share the same birthday, and on her Instagram account, the actress shared a unique video she made for her man.
In the caption, she wrote, "Happy birthday to me,"three times, before adding,
"[Happy birthday to] my husband, Michael Douglas, and anyone else who was conceived around Christmas, and New Year's. Happy birthday to all."
The two celebrants have been together for nearly two decades, and their love and affection for each other has not waned. They are famous for showing PDA and always appear so much in love.
At the BAFTA Tea Party ahead of the just concluded 2019 Emmy Awards, the actor who got nominated for Best Actor in a Comedy Series told reporters that Zeta-Jones still gives him butterflies despite the years they've spent together. He said, 
"She does give me butterflies, She cleans up pretty good.
The couple who are parents to a son, Dylan, and daughter, Carys, with the actress being a step-mom to Douglas's son, Cameron, from his first marriage to Diandra Lukes, met for the first time in '96. At the time, they were both attending the Deauville Film Festival, France.
In a 2001 interview, Zeta-Jones told CNN's Larry King that she was nervous about meeting the dad-of-three for the first time. She said,
"I had been told Michael Douglas wanted to meet me. I was a little nervous because I didn't quite know what he wanted to meet me about."
The two, who have a 25-year age gap between them, later met at the premiere of "The Legend of Zorro," where "The Kominsky Method," star told the then-young actress,
"I am going to be the father of your children."
Those words came through although the "Chicago" star took a while to admit it to herself. The rest is now history, and as Douglas and Zeta-Jones celebrate their birthdays together, they are happy, and more in love than ever.