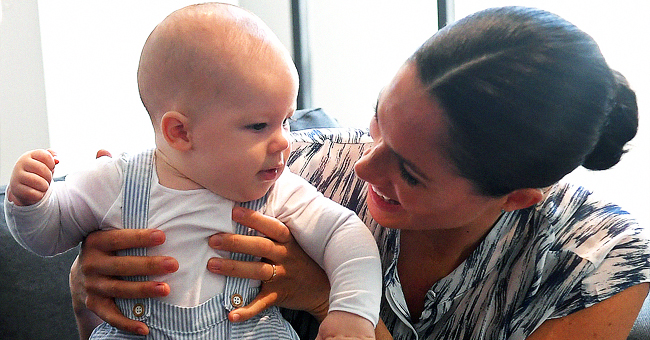 Getty Images
Meghan Markle Reveals Baby Archie's Sweet Nickname While Visiting Archbishop Tutu in South Africa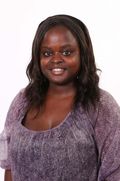 During Prince Harry and Meghan Markle's visit with Archbishop Desmond Tutu, the Duchess reveals her son, Prince Archie's nickname.
Prince Harry and Meghan Markle finally made the long awaited reveal of 5-months-old Archie Harrison Mountbatten-Windsor, enjoying Africa. Making his first royal engagement, the young prince joined his parents during a visit with Nobel Prize winner, Archbishop Desmond Tutu.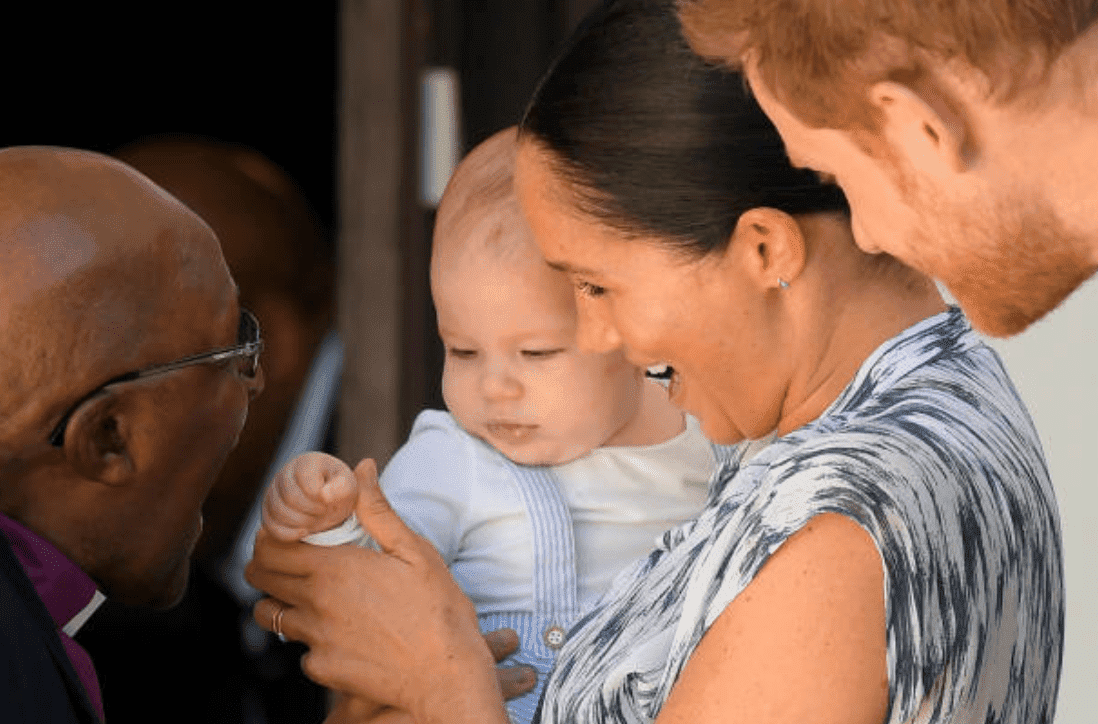 During their Africa tour, Prince Harry, Meghan Markle and Archie Mountbatten-Windsor meet Archbishop Desmond Tutu at the Legacy Foundation, on September 25, 2019, in Cape Town, South Africa | Getty Images
On the Sussex Royal Instagram page, the couple showed a video of themselves walking through the corridor of the "Legacy Foundation."
With a play on words their caption "Arch meets Archie," reveals the Archbishop's famous nickname. Also in the video Meghan can be heard calling a smiling Archie his nickname too, she says:
"Bubba."
Holding Archie's hand, Meghan says his nickname a few times, as he smiles back at her. Doting dad, Harry who walks by her side, with his arm gently resting on Meghan's back.
The royal family are all smiles as they are lead up to the Archbishop, who stands waiting for them by this office entrance. They were joined by the Archbishop's wife, Nomalizo Leah Tutu and his daughter, Thandeka Tutu.
During their 30-minute sit down with the Tutu family, Archie sat smiling on Meghan's lap and makes several attempts to stand up. Holding him towards her hosts, she says:
"Say hello! Hello, hi."
After noticing a bit a drool coming from his mouth Harry proceeds to whip it off, when he is assisted by Meghan, who pulls out a burp cloth and calls out his nickname as he wipes his mouth, saying:
"Oh, Bubba!"
All eyes were on Archie during the visit with the Tutu's, he entertained his hosts with his calm and cheerful demeanor. Letting out little chuckle during the meeting, Thandeka teased him by asking "Is that funny?" Laughing along with him, Harry responded:
"I think he knows exactly what's going on."
"Bubba" isn't the only name that was revealed to have been given to Archie. In May, one of the charity's included on the royals programme, the "Justice Desk" announced that they had given Archie an African name. In A message they reveal:
"As a proudly South African gift to baby Archie we want to give him the name 'Ntsika.'"
The "Justice Desk" is a human rights non-profit organisation, which aims to promote the awareness and education of human rights, in South African communities.
The organizations revealed that that they chose the name "Ntsika" because is derived from the meaning of his name, Archie. Archie means, "bravery and strength." So they chose the name "Ntsika," because it means "pillar of strengthen," in Xhosa, one of the local South African languages.
Please fill in your e-mail so we can share with you our top stories!