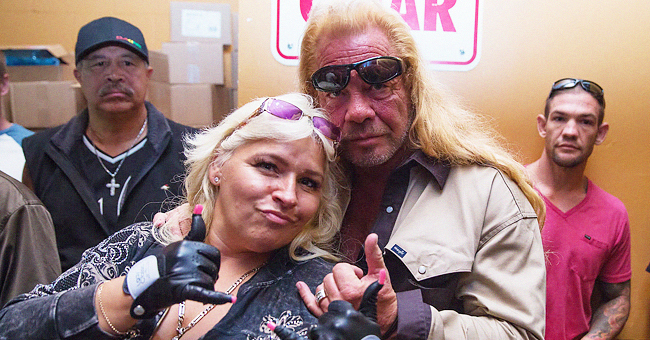 Getty Images
'Dog's Most Wanted:' Duane Chapman Recalls Moment He Learned Beth Might Not Survive Cancer Battle
As Duane "Dog" Chapman continues to mourn the death of his wife, Beth Chapman, he reveals details about the moment doctors told him that she would not recover from her battle with cancer.
In an exclusive preview of the upcoming episode for WGN's hit reality show, "Dog's Most Wanted," the clip reveals the weeks leading up to Beth Chapman's death.
Beth died on June 26, 2019 after a long battle with throat cancer. Before her death she made the decision to continue filming the reality show.
After her death, the show aired, capturing the last few months of her life. In an upcoming episode, Beth is in the hospital. Dealing with her the uncertainty of her recovery. In a phone call, Duane "Dog" Chapman confides in Beth's best friend Rainy Robinson, saying:
"She's supposed to have a doctor's appointment in six minutes and I don't think she's going. I don't think they're going to give her the good news she wants to hear. I don't think they'll go, 'Oh the other doctor that you're seeing, it's all shrinking and it's really good."
Beth had initially made the decision to undergo chemotherapy but after suffering from severe side effects, she eventually stopped the cancer treatment.
In an episode of "Dog's Most Wanted," Beth admits that she has accepted her fate but feared that "Dog" was in denial about the grim possibilities surrounding her health.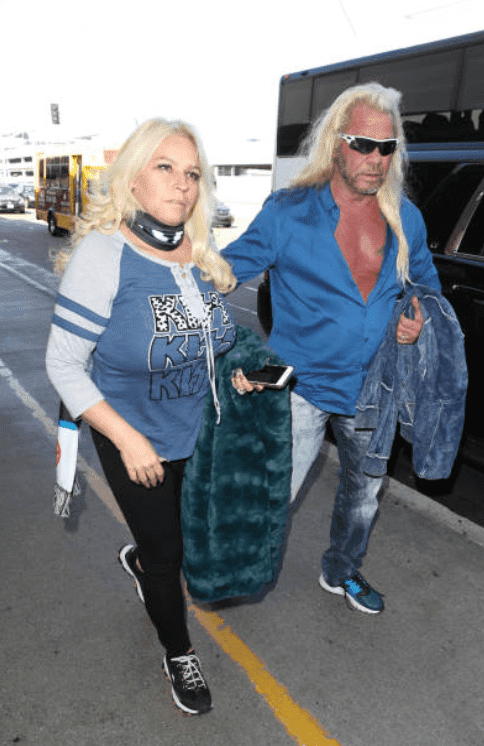 After surgery for her throat cancer, Duane "Dog" Chapman and Beth Chapman at LAX airport, on September 28, 2017, Los Angeles | Getty Images
Understanding her personal struggle with the ups and downs she has endured with her health, Rainy responds to "Dog's" concern"s about Beth"s condition, explaining:
"It's very hard for her to trust this whole process because of all the shenanigans that started in the very, very beginning rather than just telling her right upfront."
Sharing that Beth is semi-conscious and unable to talk, "Dog" explains that the doctors gave him bad news about her condition, he reveals:
"The doctor came to me and goes, 'I'm not sure she's going to pull out of this. We've been trying to wake her up, she's been in and out of consciousness, she may slip into a coma."
"I did my test and I took a blank piece of paper and I laid it on her chest with a pen. I shook her head and go, 'Honey I want you to sign that and she went like this, (puts up middle finger), and the doctor says, 'She's alright," he shares with Rainy.
While promoting the show after Beth's death, "Dog" admitted that he could not take part of the editing process for this season because it was too difficult for him.
The fearless bounty hunter has had a tough time coping without his wife. A few weeks ago, he was rushed to hospital for severe chest pains, which were thought to a heart attack. In an interview he gave an update on health saying that he is recovering at suspects his health care was more psychological, like the pain of a broken heart.
Please fill in your e-mail so we can share with you our top stories!