Meghan Markle Carries Archie as He Gets Kiss from Archbishop Tutu During Royal Tour of South Africa
Baby Archie made his debut appearance on the Sussexes' royal tour of Africa, and the little one was smothered with kisses from Archbishop Desmond Tutu.
Yesterday was a memorable time for royal fans all over the world as they go to see baby Archie in all his glorious cuteness.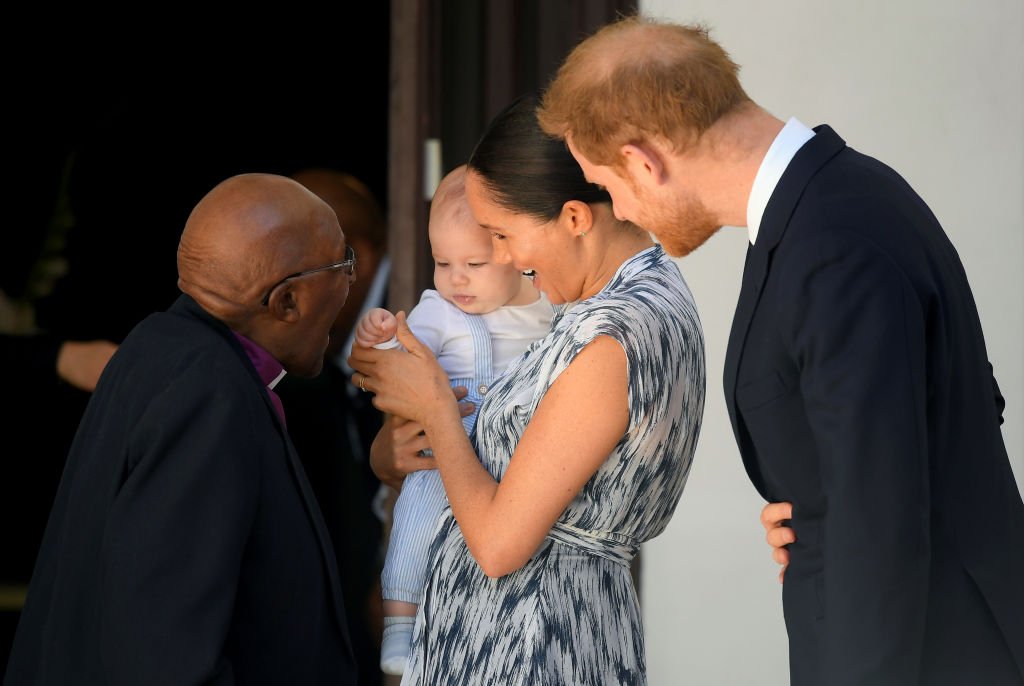 The almost 5-month-old royal made his first appearance during his parents' 10-day tour of Southern Africa, which kicked off on Monday, to meet Archbishop Desmond Tutu and his daughter, Thandeka Tutu-Gxashe.
The little royal stole the spotlight in cute blue dungarees and white socks as he met the legendary anti-apartheid hero, as reported by The Sun.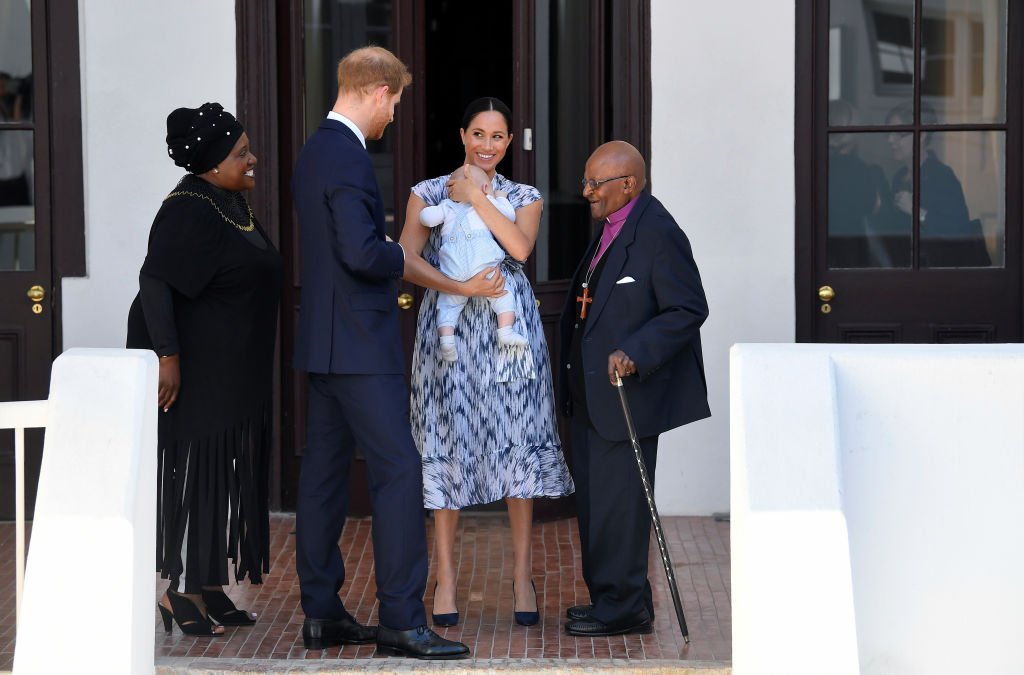 On meeting the young royal, the 87-year-old couldn't resist Archie's charm as he smothered him with kisses.
After the engagement, the Sussexes shared a candid black-and-white photo of Archbishop Tutu planting a kiss on Archie's forehead while his mother carried him in her hands and watched on with joy in her eyes.
The sweet picture was accompanied by a heartwarming caption that read:
"Thank you, Archbishop Tutu, for your incredibly warm hospitality, Archie loved meeting you!' - The Duke and Duchess."
Another photo shared on the Sussexes' Instagram page showed the anti-apartheid hero reaching out to hold Archie while he rested on his mother's chest.
The meeting with the Tutus was nothing short of fun as seen in a behind-the-scenes video of Archie visit uploaded.
The adorable clip showed Archie having a swell time as he gave Archbishop Tutu a high five and danced on his mother's lap.
The Archbishop wasn't the only one who fell under Archie's spell as his daughter Thandeka fell heels in love with him.
As reported by PEOPLE, Harry and Meghan's mini-me chuckled when Thandeka laughed, which prompted her to point out that Archie already understands what is going on around him.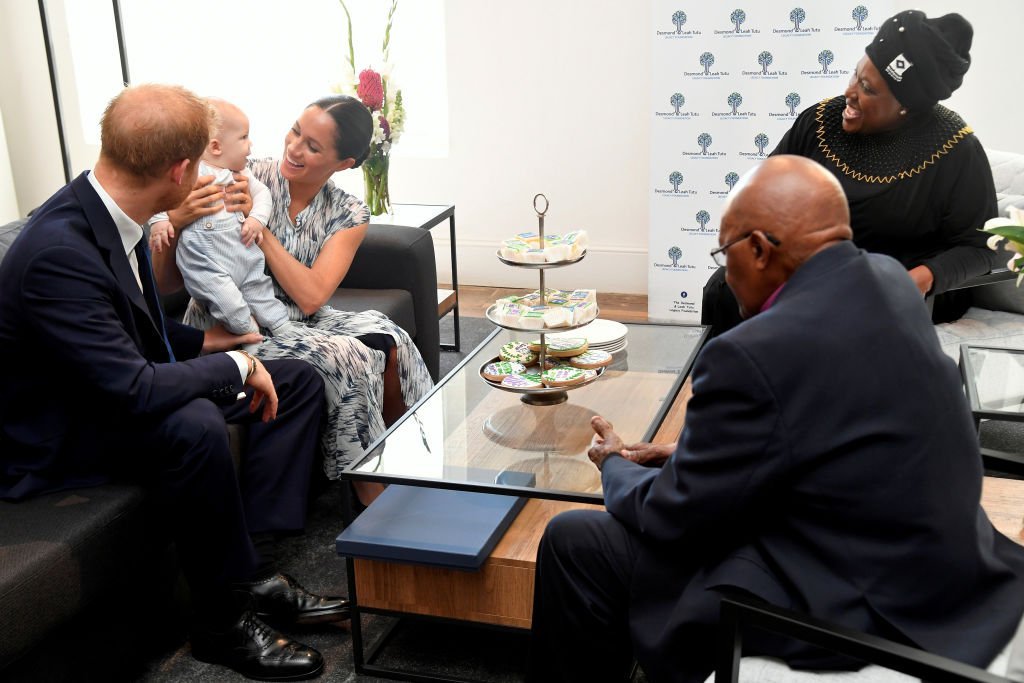 Looking at him, she said:
"You like me best, yes! Oh, you like the ladies better, yeah."
This was when his mother interjected and revealed that her son "likes to flirt."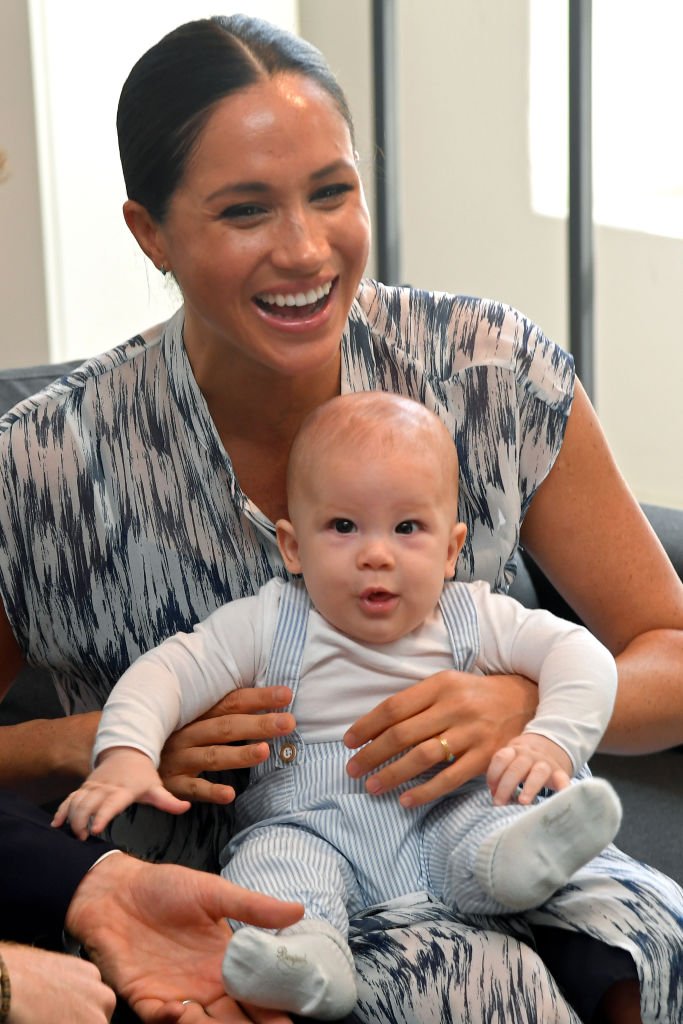 She also disclosed that the 4-month-old loves to explore and is "so busy, constantly wanting to stand."
The visit to the Tutu and Leah Legacy Foundation also gave fans an insight into the sweet bond Meghan shares with her son, and the adorable nickname she calls him.
Harry and Meghan excitedly brought little Archie with them to the @TutuLegacy Foundation at one of Cape Town's oldest building, The Old Granary. They were greeted by @TheDesmondTutu and daughter Thandeka. pic.twitter.com/XXHTKEChhg

— Omid Scobie (@scobie) September 25, 2019
As seen in a video from the visit, the duchess lovingly called her son 'Bubba' as they walked down the corridor to meet Archbishop Tutu.