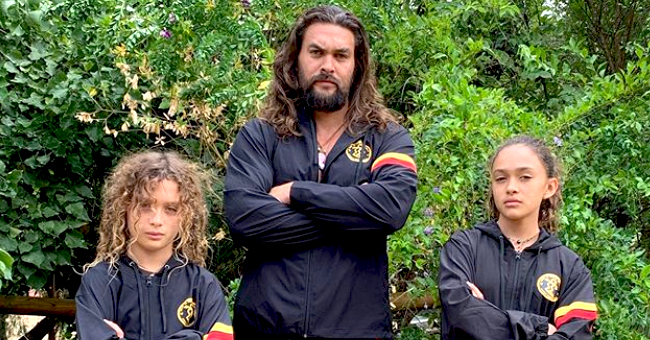 instagram.com/prideofgypsies
'Aquaman' Actor Jason Momoa Shares Cute Photos with His and Wife Lisa Bonet's Kids
Jason Momoa takes to social media to promote his new clothing line, but it is his two gorgeous children, a perfect mix of him and actress wife, Lisa Bonet, that have all the attention.
The "Aquaman" star shared a series of pictures via his official Instagram page. The images are a total of six in number and feature Momoa and his two children, Lola and Nakoa-Wolf posing for pictures in similar outfits.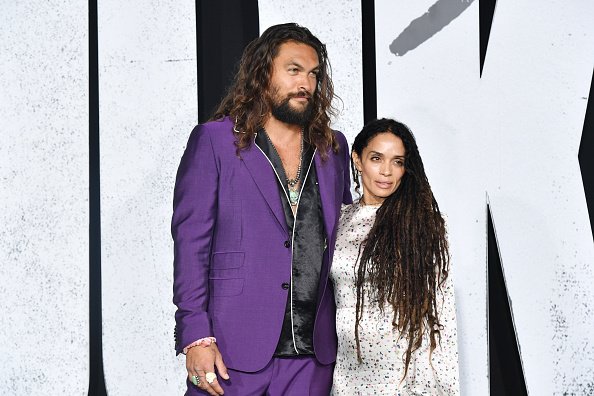 Jason Momoa and Lisa Bonet at the premiere of Warner Bros Pictures "Joker" in Hollywood, California.| Photo: Getty Images.
LOLA AND NAKOA-WOLF WEAR MATCHING OUTFITS WITH THEIR BURLY FATHER
The beautiful trio wore black hoodies and shorts which are of a similar design. They couldn't be more perfect models for the clothes as they posed barefooted for the snaps which were all taken outdoors.
The first picture features the trio making a proud stance with their arms folded against their chests. Momoa stands tall with his face bearing a stern expression.
Nakoa-Wolf and Lola looked no less domineering as they made an expression similar to that of their hunky father.
The other photos have the trio turning around to show off the bright logo imprinted on their black hoodies.
One of the snaps captures the intimate bond between the three as the little children stood in a half embrace with Momoa.
What is, however, much more eye-catching about Lola and Nakoa-Wolf than their adorable looks — they look so much like their famous parents.
Lola, who is 12 years old bears a striking resemblance to Momoa so much that she has his signature eyebrow raise as seen in the pictures.
On the other hand, ten-year-old Nakoa-Wolf has a facial structure much like their famous mom, Lisa Bonet even though he has his hair grown to a length like his father's.
Momoa couldn't be more proud of the duo as he captioned the post with a string of words from his native Hawaiian language.
It was also via his caption that he shared the message that he has a new line coming out very soon.
"Making a new line I got some new pants and shorts coming out soon stay tuned. Everyone wants the jailbird pants I GOT STRIPES coming soon. Collab with @dahuiofficial for life. Aloha J," Momoa wrote.
NETIZENS REACT TO THE STRIKING RESEMBLANCE BETWEEN THE KIDS AND THEIR POWER COUPLE PARENTS
Despite the promise of new merchandise, it is Momoa's beautiful children that have all the attention. One fan, @janismdeboon wrote:
"Wow does your daughter ever look like you. She even has the eyebrow! And your son looks so much like his mama! Nice looking bunch :)"
While another, @helenesandholt implored Momoa and his wife to make more children:
"You need to make more babies! Your kids are awesome."
Another user, @mandywestisbest, pointed out the intimate bond between the trio in the picture:
"Yes. You are a beautiful sight. But your kids oh man. As a mother of three boys ... I can see the love you have for yours️. Great pictures!!"
There are many more pictures from Momoa, and it can be argued that the adorable snaps are one of the reasons he is as popular as he is online.
Lola and Nakoa-Wolf are the only two biological children born to Momoa and Benet.
The actor is also the stepfather of "Divergent" star, Zoe Kravitz who is the product of Bonet's previous relationship with legendary singer, Lenny Kravitz.
Despite their many differences, Momoa and Bonet have managed to keep their family strong, which fans particularly find admirable.
Please fill in your e-mail so we can share with you our top stories!