Miranda Lambert's Husband Brendan Helps Put on Her Boots before a Concert on 'Roadside Bars and Pink Guitars' Tour
Miranda Lambert and husband Brendan McLoughlin have the internet in awe as the former takes to social media to share a clip of the NYPD cop helping her get ready backstage. 
Lambert was getting dressed for a performance when she got stuck and couldn't get her boots on. Thankfully, she had her macho husband present to assist her.
Via her official Instagram, @mirandalambert, the singer flaunted the intimate exchange between her and her loving husband before the public. The clip is only one out of the funny series of videos which Lambert shared on Sunday via the platform's Stories feature. 
The acclaimed country singer revealed the problem, albeit a minor one, she encountered before heading on stage for her Roadside Bars and Pink Guitars tour.
Lambert wrote to caption the first clip along with three laughing-crying emojis and the hashtag #tightbritches:
"Pre-show problems! Being pretty ain't pretty."
McLoughlin, who is reportedly a police officer, can be heard volunteering to help the 35-year-old get dressed. He said as his wife points towards her black shoes,
"I will help you put your boots on if you can grab them."
Unfortunately, Lambert isn't able to reach them, and she adorably whines that they are too far away from her. As if it wasn't already obvious, McLoughlin curiously asks,
"Why can't you grab them?"
Lambert says while laughing, "Because it's tight."
McLoughlin asks,
"Are your pants gonna rip?"
"Yeah, possibly."
The pair can then be seen laughing hysterically as McLoughlin struggles to put Lambert's feet inside the shoes. Can they be any more adorable!? 
Lambert and McLoughlin have defied all odds when it comes to their relationship. Not only is Lambert eight years older than McLoughlin, but it is also reported that the pair had a "whirlwind romance."
The pair tied the knot earlier this year after dating for just a little over two months! Also, the marriage came amidst great turbulence in McLoughlin's love life as he struggled with his previous relationships.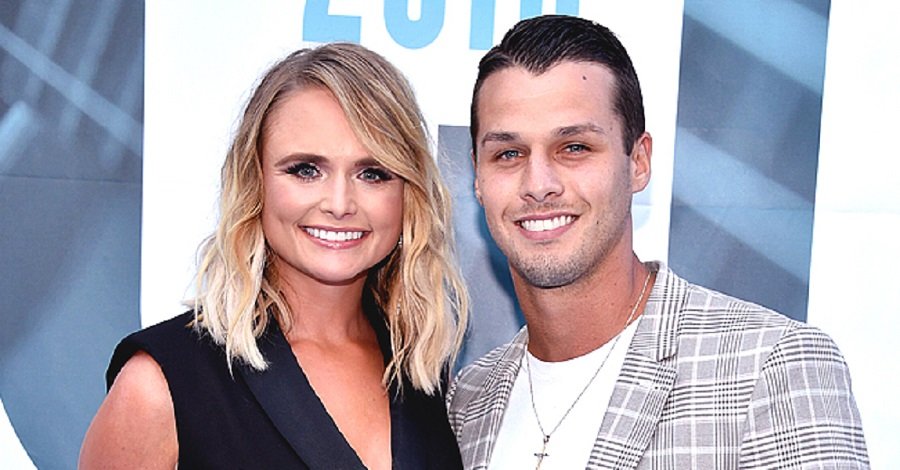 His somewhat scandalous past is like history long gone as he appears head over heels in love with Lambert, who was formerly married to Blake Shelton. McLoughlin and Lambert still have the newlyweds glow about them and always seem so inseparable as they make numerous appearances together. 
That is why it is not surprising to find that McLoughlin, who moved to Tennessee to live with Lambert, has accompanied her on her tour. New reports share that the hunky cop keeps busy being a part of the security team at her shows.