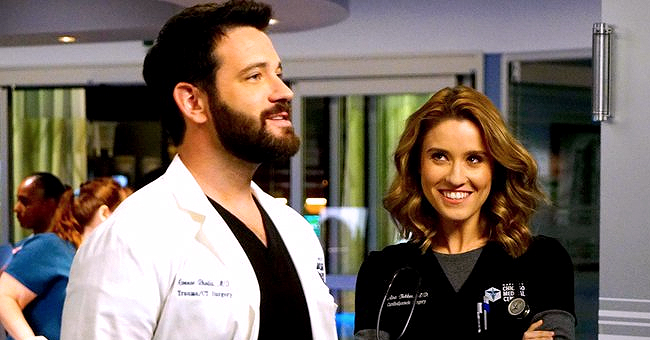 twitter.com/NBCChicagoMed
'Chicago Med's Season 5 Premiere Causes Uproar over Dr Ava Bekker's Exit from the Show
Fans of television medical drama, "Chicago Med" were livid with producers for the way one of the show's characters exited.
The disgruntled fans took to Twitter to air their frustrations over how Dr. Ava Bekker ceased from being a part of "Chicago Med."
After watching the premiere of "Chicago Meds," it seems like fans of the show might end up needing doctors as events in it sent shockwaves down many spines.
This is as a result of the death of Dr. Ava Bekker (played by Norma Kuhling) who killed herself. This made "Chicago Med" fans go ballistic with the Producers over the way she died.
THE FANS REACT ON TWITTER
Some Chicago Med fans took to the social media network to air their views about the death of Dr. Ava Bekker and subsequent departure of her ex, Connor from the hospital.
A Twitter user felt the duo didn't deserve the fate they got,
"AVA BEKKER & NORMA KUHLING DID NOT DESERVE THIS AND THAT'S THE TEA #ChicagoMed"
while another said she would never forgive the producers for Dr. Ava Bekker's characteristics.
"#Chicagomed I will never forgive them for the massive character assassination of Ava Bekker"
A fan who was still shocked as to seeing Dr. Ava take her own life felt for Connor who had to witness all of it despite his emotions then.
"#ChicagoMed OMG WT Just happened!?! Ava really did do it & now Connor is going to have to deal with witnessing her suicide....this is to much"
However, some fans weren't too concerned with Dr. Ava's death, though they felt it was greatly exaggerated.
BREAKDOWN ON DR. AVA BEKKER AND CONNOR'S DEPARTURE FROM THE SHOW
NBC announced in April that Dr. Ava Bekker and Connor Rhodes, played by Colin Donnell, would be exiting the show.
Thus the show's fans would have been confused when the season four's finale ended with them unsure about each character's status.
All that changed with the premiere of season five, as fans were made to witness Ava take her own life in front of Connor.
Before taking her life, Ava revealed to Connor that it was her who killed her father, a deed done to save their (Ava and Connor) relationship.
After Ava's death, the greatly disturbed Connor announced that he was leaving the hospital, thus effectively bringing to fruition the April announcement by NBC.
The show's producers are not perturbed by the adverse reaction of some fans to the death of Dr. Ava, as they believe her tragic ending was perfect for her character.
Two of the show's bosses, executive producers, Andy Schneider, and Diane Frolov spoke to Parade.com, shedding more light on Ava's character and why she acted the way she did.
"We also felt that by committing suicide, it did two things for us dramatically," Schneider said. "It gave her the ultimate vengeance on the man who had rejected her, and it sealed the deal for his departure."
The show returns to television on Wednesday at 8 p.m. on NBC.
Please fill in your e-mail so we can share with you our top stories!