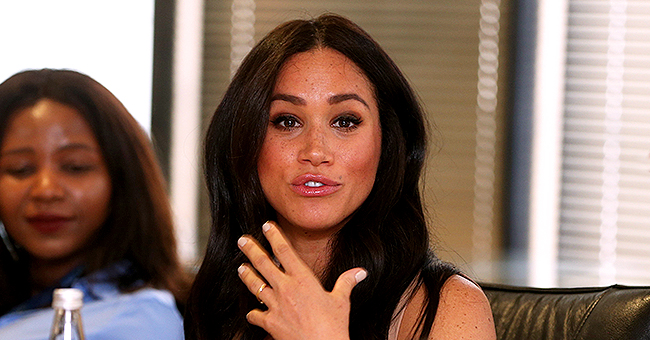 Getty Images
Meghan Markle Says 'I Can't Screw up' as She Glances at Her Notes during Speech at a University in South Africa
Meghan Markle showed that she is just like any ordinary person as she takes a peek at her notes amid her speech on gender equality in education: "My goodness, I can't screw up."
Meghan Markle gave an eloquent speech about gender equality at the University of Johannesburg. But as she was wrapping up, she went a bit off track and took a look at her notecards. She said:
"I will use my note card for this because this last bit, my goodness, I can't screw up."
Those who sat with her at the discussion, as well as everyone else inside the room, laughed in response to the duchesses comedic line. Markle then continued from where she left off:
"The goal here is to have gender equality, to support women as they search for their high education goals."
Markle further emphasized the importance of education in both "economic growth and personal growth." She also encouraged talks about giving scholarship grants and financial aids to students, adding that had the privilege to go to a university because of help as such.
The royal came as a patron of the Association of Commonwealth Universities (ACU) to promote academic collaboration between countries. The 38-year-old mentioned:
"As patron of the ACU, it has been an incredible year now, and we are really working to advocate for what is truly and deeply important to me."
As Markle came to the university, many fans of the former "Suits" actress greeted her with screams of admiration. Susana Glavan, director of the British Council, also anticipated Markle's arrival.
Among those who welcomed her to the institution were vice-chancellor and professor of the university, Tschilidzi Marwala, and secretary-general of the ACU, Dr. Joanna Newman.
As part of her South African tour, Markle also met with female business leaders and founders of tech companies to talk about motherhood, women empowerment, and the role of parents in a male child's formation.
Co-founder of Womhub and WomEng, Naadiya Moosaje commended the royal for speaking well and from the heart during the discussion. She said:
"Her visit in the context of a country that's really grappling with the challenges with the way we treat women is an opportune time of who she is."
Apart from the topics mentioned above, Markle tackled work-life balance and prompted women to fight for their "respect, dignity, and equality."
Please fill in your e-mail so we can share with you our top stories!