Meghan Markle Opts for Short Buttoned Khaki Dress for 2nd Solo Royal Engagement of the Day in South Africa
Meghan Markle stepped out for her second solo engagement in Johannesburg, South Africa, in a short khaki buttoned dress, and she looked stunning.
When it comes to fashion, Meghan Markle goes the simple, but chic way, and ends up looking flawless all the time.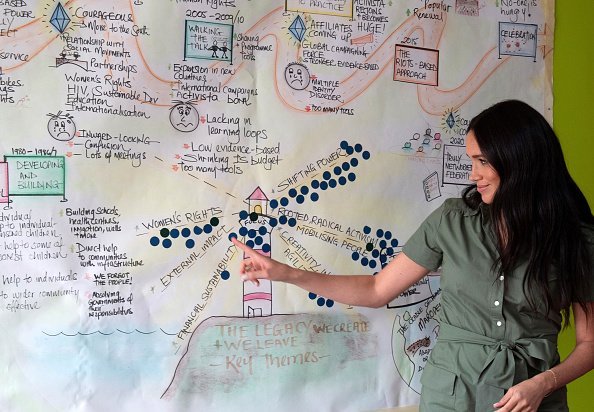 PRETTY DUCHESS
For the Duchess of Sussex's second solo engagement in Johannesburg, South Africa, she chose a short khaki buttoned dress.
The dress is a design of the US clothing brand, "Room 502," and it retails at $456. It features white buttons leading up to the neck, two side slits, a short sleeve, and a fabric belt.
Markle accessorized with statement earrings and wore back stiletto heels.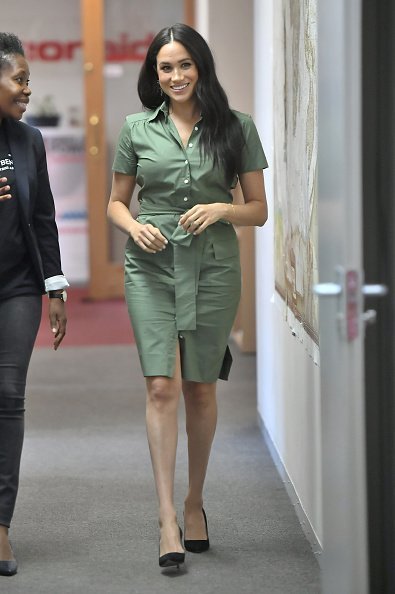 The Duchess, who wore her wavy hair loose with the right side tucked behind her ear, wore the outfit to "ActionAid," a non-profit, sponsored by the UK aid funding.
Rebecca English, of the Daily Mail, shared on Twitter, a 12 seconds clip of the Duchess' arrival.
The Duchess of Sussex has arrived for her second engagement of the day in Johannesburg- a visit to @ActionAid to discuss issues including gender-based violence pic.twitter.com/oALERDgcM9

— Rebecca English (@RE_DailyMail) October 1, 2019
MARKLE IS VOCAL ABOUT GENDER-BASED VIOLENCE
Nondumiso Nsibande, the country director of "ActionAid," welcomed Markle, who was at the charity organization for a discussion on several issues, including gender-based violence.
The mom-of-one, who is touring Africa with Prince Harry, and son Archie, told her audience always to speak out when they become victims of gender-based violence.
Meghan also took part in a round table discussion about gender violence and the issues around it at @ActionAid in Johannesburg pic.twitter.com/Vq7aC1SIHk

— Rebecca English (@RE_DailyMail) October 1, 2019
The former actress noted most victims are shamed into keeping silent and declared South Africa, a crisis state. She equally told the girls at "ActionAid" that she stands with them against gender-based violence.
THE CYCLE MUST BE BROKEN
Equality and fair treatment of women is a topic Markle and Prince Harry are passionate about, and the latter recently pointed out that,
"No man is born to cause harm to women. This is learned behavior and a cycle that needs to be broken."
He added, 
"It's about redefining masculinity. It's about creating your footprints for your children to follow, and so that you can make a positive change in the future."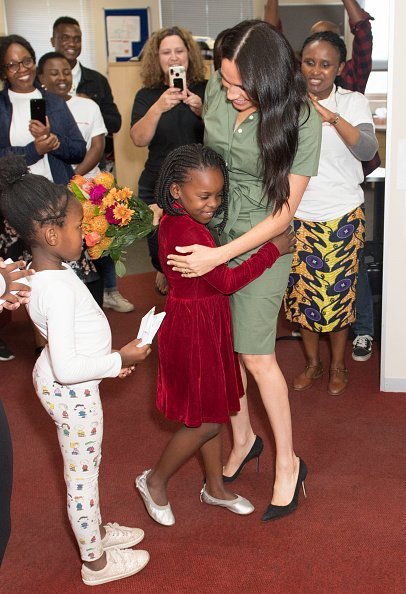 Markle shares this sentiment, and for her first solo engagement, she visited the University of Johannesburg to talk about ways to help the female gender get access to higher education, grants, and scholarships. The Duchess wore a brown sleeveless trench coat to the school, and a cheering crowd greeted her at her arrival.
At the University, Markle, who is a patron of the Association of Commonwealth, reaffirmed her commitment to helping women and will continue playing a decisive role in gender equality, and gender-based violence.