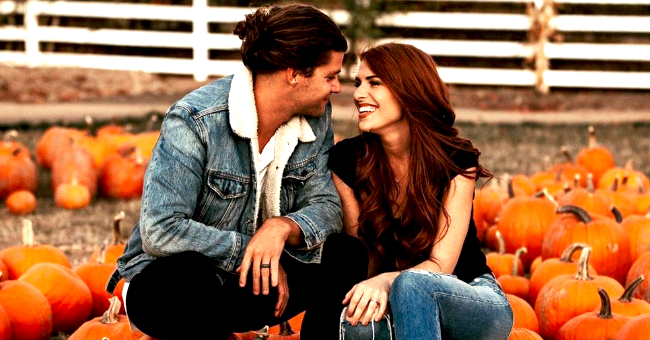 instagram.com/audreyroloff
Ex-LPBW Stars Audrey & Jeremy Roloff Are All Smiles in 'Pumpkin Season' Photo at Roloff Farms
Audrey Roloff and her husband Jeremy looked stunning and happy in new "pumpkin season' pictures as they smiled from ear to ear.
It's finally October and pumpkin season is already here!
To mark the new season, Audrey posted a very "orangey" picture of her and her husband on her Instagram page yesterday.
The former "Little People, Big World" stars were seen seated on pumpkins and surrounded by more pumpkins as they shared loving smiles.
The mother-of-one dedicated the post to expressing how much she loved the month of October. Mentioning it as the month for "cozy sweaters and apple pickings," Audrey eulogized October.
A part of the accompanying caption read:
"My FAVORITE month of the year is finally here!!!!?The month of cozy sweaters, foggy mornings, apple picking, leaves crunching, all the colors, cross country season? cinnamon bark + nutmeg diffusing, more reading, pumpkin season? and fires every night."
She then referenced Anne of Green Gables' "I am so glad I live in a world where there are Octobers," to express how much she and her family loved fall.
To conclude, Audrey revealed that she and Jeremy would be talking about all things fall on their podcast, "Behind The Scenes."
We do not doubt Audrey's love for Octobers, as a similar post was made on the podcast's official Instagram.
The photo showed the 28-year old TLC star and her daughter, Ember looking fabulous. The doting mother stooped to kiss Ember on the lips with her fiery red hair looking gorgeous.
Baby Ember looked cute in grey sweats while her mum was in an all-denim ensemble.
The caption similar to Audrey's post was about the love for the Fall season and the goody of "coziness" it brings with it.
The post attracted positive comments from followers, while some praised the beauty of the post, others added to the list of why Fall was their favorite season too.
This post comes after Audrey gave fans the first glimpse of her burgeoning baby bump on Instagram last week, as reported by PopCulture.
The mom-of-one, who announced her pregnancy in July, enthused about how easy her second pregnancy was going compared to her first.
PEOPLE reports that the pregnant star had admitted in an episode of "LPBW" to developing mastitis five days after Ember was born.
She had not been able to produce enough milk to breastfeed her baby and had to supplement it.
Please fill in your e-mail so we can share with you our top stories!