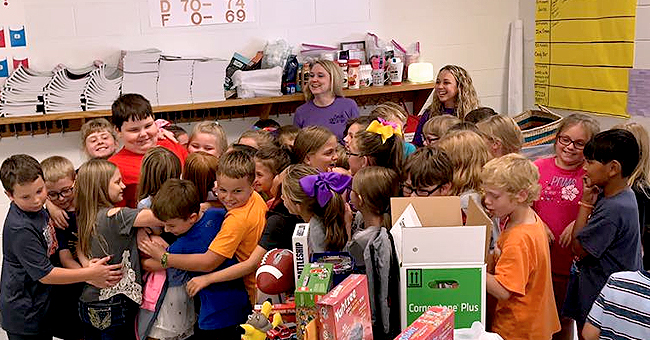 facebook.com/PhiladelphiaElementarySchool
Tennessee 3rd Graders Help Classmate to Replace Toys He Lost during a House Fire

After Daniel Hunt's family lost everything in a fire, his third grader's classmates put together a secret toy drive for him.
The Philadelphia Elementary School took to Facebook recently to share the heartwarming moment a group of third graders surprised Daniel, making him thrilled.
"It was amazing to witness the excitement these third-grade kids had while sneaking in toys."
The elementary school said in a Facebook post:
"Last week, one of our Warriors, Daniel Hunt, lost all of this belongings in a house fire. His 3rd grade teachers and classmates started a secret toy drive for him to replace the toys he lost."
Alongside a few photographs from the special moment, the post continued: "He received the toys today and he was so surprised and thankful! This is certainly one of the #37846Reasons we love PES! #LoveItLiveIt #WarriorNation."
The sweet snaps show Daniel strolling through the classroom door to a table overflowing with new toys, as reported by PEOPLE.
His classmates can be seen standing together with their hands up to greet him.
In an interview with ABC News, Philadelphia Elementary School counselor Kelly Jones said that Daniel is "one of the most positive, happy students I've ever seen."
"It was amazing to witness the excitement these third-grade kids had while sneaking in toys. The entire week, they couldn't love him enough," Jones added.
"People were holding doors for him, getting his pencil ready for him each morning, taking his chair down from the desk for him to sit in and swarming him at recess."
The counselor proceeded with that Daniel was mum for a minute after his classmates yelled, "surprise!"
"He said, 'I love it! Everyone come here,' with his arms open wide and the kids swarmed in for a large group hug," said Jones.
This heartwarming story is similar to the story that took place at LaVergne High School in La Vergne, Tennessee.
A student named Azrael Robinson cried tears of joy after his classmates gave him a gift.
Azrael had struggled in the past with bullies at another school.
His classmates valued him for his compassion towards others, so they decided to make a move and comforted him when they apprehended that he appeared to be somewhat depressed.
Please fill in your e-mail so we can share with you our top stories!