Tori Spelling of BH90210 Fires Back at Internet Trolls after She Was Criticized for Her Kids' Pink Hair
Tori Spelling clapped back at internet trolls who mom-shamed her by criticizing the pink color in her daughters' hair.
When it comes to protecting her children from the attack of internet trolls, Tori Spelling, does not back down. Following criticisms, that her children are too young to have their hair dyed, the actress fired back at her critics.
THE GIRLS CAN BE ANYTHING
Us Weekly caught up with Spelling at the Night of Jack Family and Friends V.I.P. preview night, and addressing her internet trolls, she said:
"First of all, it was Halloween costumes, and it washes out the next day."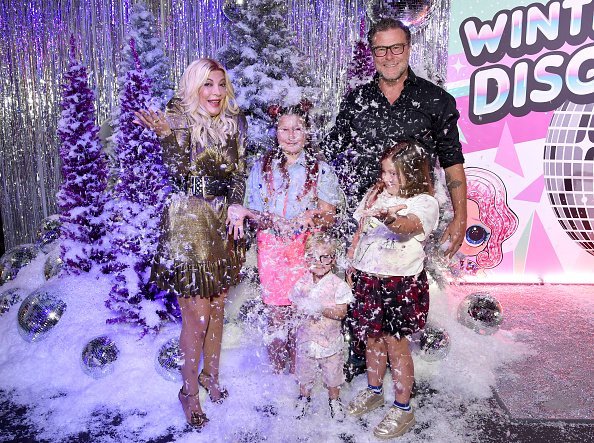 She added:
"It wasn't [hair] dye at all. The party was like, come dressed as your favorite L.O.L. character. It was a costume dress party where the girls can be anything they want to be, and screw the shamers."
Spelling went with three out of the five children she shares with her husband, Dean McDermott, to the L.O.L. Surprise! Winter Disco Launch.
Photos shared on Instagram showed the girls, Stella, and Hattie with pink colors in their hair as well, as glittering lips, and a little blush.
GLITTER, SPARKLE, AND FUN
In the accompanying caption, the "BH90210," star wrote that there was a lot of "Glitter, sparkle, and fun," at the party. She equally added:
"Thanks, @Lolsurprise; I'm officially the coolest mom on the planet to my girls (and Beau)... Thanks for making all my kiddos so happy always, and for empowering young people to be whatever they want to be."
Spelling has always been vocal about protecting her children from internet bullies. In a September interview, the mom-of-five revealed she is already educating her children on how to deal with trolls, and her children understand that people can be harmful.
VACATION WITH FIVE CHILDREN IS NOT FUN
Despite the mom-shaming the actress has experienced, she and McDermott remain dedicated parents to their children. In August, the family-of-seven went on a vacation to Hawaii and got to take part in outdoor activities together.
McDermott later joked on his "Daddy Issues," podcast that going on vacation with five children is not very relaxing. He said:
"Maui is amazing, but going to Maui with five kids is like going to an orgy in your honor with five kids."
Despite those words, Spelling, and her husband love to spend time with their children. They love their family and always put their children first.