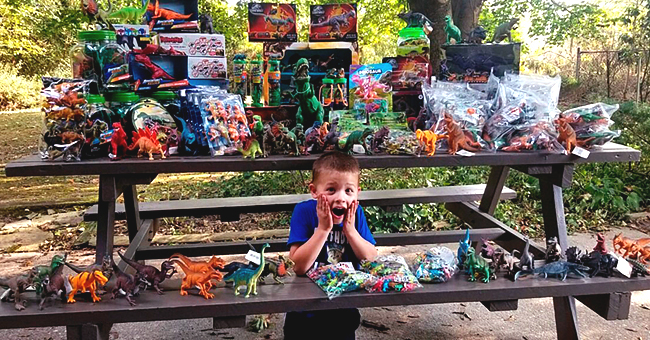 twitter.com/fox6now
5-Year-Old Boy Donates 3,000 Toys to Penn State Children's Hospital Where He Was Treated for Cancer
A 5-year-old has chosen to give other kids at the hospital he was treated for cancer gifts on his birthday rather than have one for himself.
Weston Newswanger is celebrating his birthday and has shown a sense of gratitude, which is quite surprising for someone his age.
Even though some kids will guide and guard their birthday present, Weston would rather give his out. After surviving cancer, the Pennsylvania residence decided to give back to society, using the hospital that saved his life as the stage.
When the toddler's mum, Amy Newswanger, asked what he wanted for his forthcoming birthday, Weston responded, "I don't want anything. I don't need anything."
The kid's mother quickly put forward the idea that they collect "dinosaurs and Play-Doh" for the hospital that treated him for cancer, "PennState Children's Hospital." The Newswangers then informed their relatives and friends what they wanted for his birthday.
The gifts were taken to the hospital's Child Life Initiative (the organization makes things available for children being treated at the facility) last Tuesday. The toys included over 1,200 boxes of Play-Doh and dinosaurs, among other items.
The kid's gesture of donating toys to the hospital and helping other young, sick people seemed to be the best way to celebrate his birthday and two years of being in remission.
Amy, while talking to CNN also disclosed that the hospital to them was like their house. Patients at the clinic became their family, and her son didn't doubt his decision about the generous act.
"We were there just as much if not more than our own house so the people at the hospital became our family."
Three years ago, Weston was diagnosed with Rhabdomyosarcoma- a form of cancer, generally thought to be a childhood disease, as most reported cases happen between people below the age of 18.
According to Mayo Clinic, Rhabdomyosarcoma, also called RMS is an irregular cancer that grows in soft tissues and has a deadly risk of moving to other regions of the body.
Weston spent almost a year receiving treatment for the life-threatening disease, and he has been free from cancer for close to two years now.
Please fill in your e-mail so we can share with you our top stories!