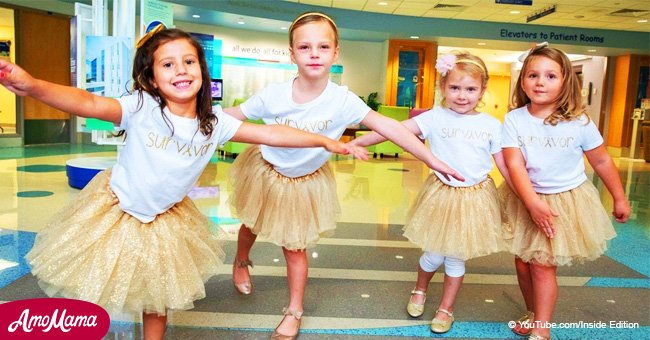 Four little girls share their reunion after fighting off cancer in the same hospital

McKinley, Chloe, Ava, and Lauren were all in treatment for cancer at the Johns Hopkins All Children's Hospital three years ago. They recently reunited for a photo.
Beginning in 2015, the girls went through the most difficult situation in their short lives as they were diagnosed with cancer and were fighting the battle in the previously mentioned Florida hospital.
In the pictures that People uploaded, all four girls were in the lobby of the hospital playing with each other. Alyssa Luciano, Ava's mother, revealed that they were all in active treatment when that picture was taken.
While Chloe suffered from a rare form of lung cancer, McKinley, Ava, and Lauren had acute lymphoblastic leukemia. McKinley revealed that they became friends because their "blood was sick."
THEY HELPED EACH OTHER
Shawna Glynn, Lauren's mother, said that even though being bald at such a young age was not common, the little girls found some sort of normality in each other as they shared that physical feature.
Read more on our Twitter account, @amomama_usa.
THEY WERE NOT ALONE
McKinley's mother, Karen Moore, pointed out that it was always good to see familiar faces as it helped her daughter understand that she was not alone in such a tough journey.
REMISSION
The final member of the camaraderie who completed the treatment was Lauren (September 10). At the moment, the girls, all between the ages of 4 and 5, are in remission.
"It's been an absolute joy to see them grow and to see them outside of the hospital setting, being the kids they should have been all along. This should never have happened to them," said Dr. Charlie Moore, who treated all four girls.
ANOTHER LITTLE GIRL BATTLING CANCER
Phoenix Thompson, two, was diagnosed with acute myeloid leukemia on August 2, 2018. As a way to fight it, she has been undergoing a series of aggressive chemotherapy.
As a way to lift her spirit, her father, Brett Thompson, dressed up to the nines in his best suit and tie and invited his baby for a dance Tim McGraw's song "My Little Girl."
Please fill in your e-mail so we can share with you our top stories!