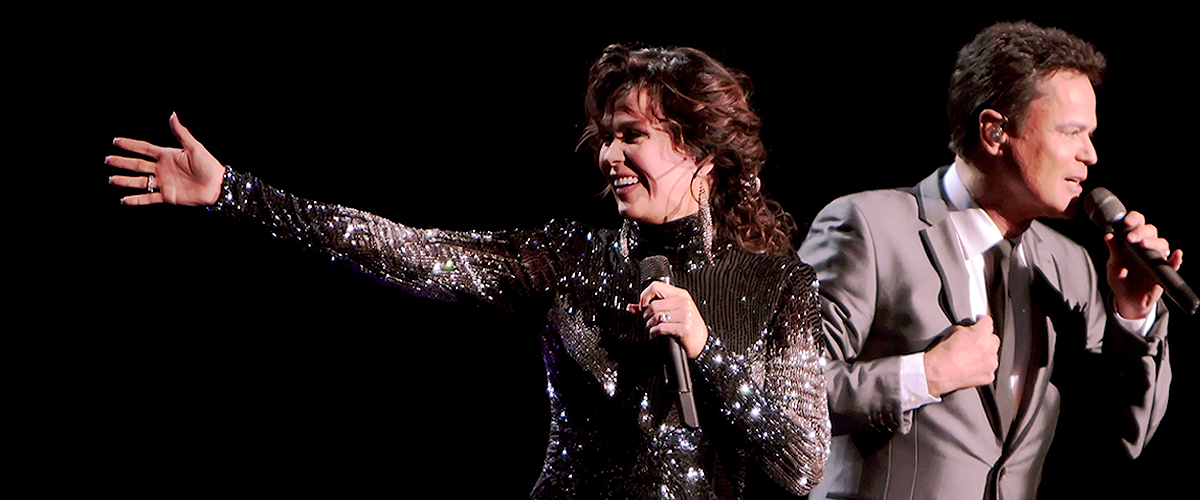 Getty Images
Donny and Marie Osmond's Fans Shower Them with Praise for Receiving a Plaque on the Las Vegas Walk of Stars

Donny Osmond and his sister Marie Osmond kneeled down to receive their star in Vegas after over a decade of residency in the city.
Donny Osmond, 61, and Marie Osmond, 59, are finally ready to throw in the towel after years of performing side by side at the Flamingo Hotel and Casino in Las Vegas, Nevada.
Next month will be the brother-sister duo's final performance following their 11-year run. To honor the pair, they received a plaque on the Las Vegas Walk of Stars over the weekend.
Marie shared snippets of the event as well as a video clip showing how she and Donny reacted to the reveal. She was dressed in a brown midi dress and matching shoes with her hair let loose.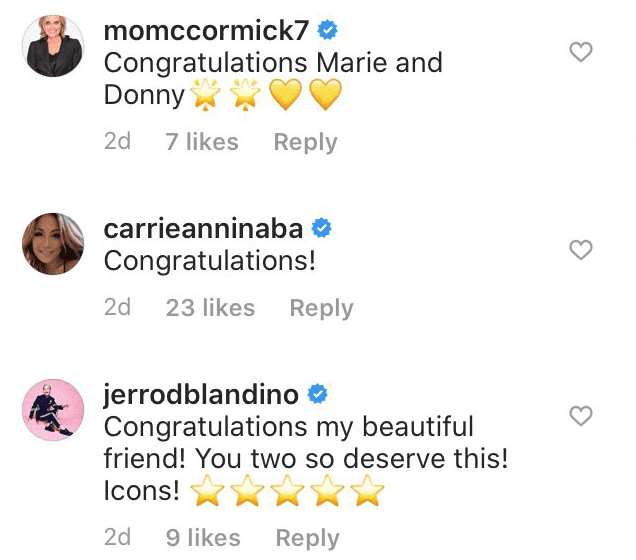 Comments under Marie Osmond's instagram post | Photo: Instagram/ Marie Osmond
Next to her, Donny wore a classic black suit. The first picture showed Marie's mouth agape as she and Donny had just flung off a cloth covering the star.
In the video, they counted down together. When they lifted the cloth, Donny said, "And I get top billing again," referring to the placement of his name first.
A quick-witted Marie responded: "And I get the last word." The crowd cheered on for the beloved couple. In the caption, Marie said that they have the best fans and expressed thanks for the star.
The comment section was littered with praise for the pair. "Thank you and Donny for all the years of entertaining us," wrote one loyal fan. They added two heart emojis to their comment.

User comments underneath Marie Osmond's post | Photo: Instagram/ Marie Osmond
Another said:
"Congratulations I can't imagine anyone that deserve a star more than you two."

One fan comments underneath Marie Osmond's post | Photo: Instagram/ Marie Osmond
Another fan expressed similar sentiments, and added that Donny and Marie have "the best show in Vegas." "So deserved!!" said yet another follower.
Donny and Marie's show is a mixture of dancing and singing. On the side, they've also built their career through acting, variety shows, and talk show appearances.

Another fan's comment on Marie Osmond's post | Photo: Instagram/ Marie Osmond
Marie just replaced Sara Gilbert on "The Talk" after guest-hosting many times over the years. She has also released several albums throughout her career.
Donny has done the same and is preparing to release another album in the future. According to the Daily Mail, Donny and Marie's older brother Alan Osmond was present for the big reveal in Vegas.

Fan comments underneath Marie Osmond's post | Photo: Instagram/ Marie Osmond
The last Donny & Marie show is set to take place on November 16. The pair confirmed the news that they were ending they residency back in March, following rumors proven to be right.
The reason they made the decision is that — for one, Donny's getting old — but also they're ready to go their separate ways and do different things.
It may be particularly good for Marie who recently suffered from bruised knees after doing a show in Vegas. The star updated fans via Instagram with a video that displayed her iced parts.
"Look at my knees!" she said in the clip. She wouldn't be stopped, however, and revealed that she'd be flying in to do a show regardless of the physical setback.
Of course, words of admiration and concern from fans poured in. Hopefully, soon enough Marie won't be enduring such pain and will still be thriving in her career.
Please fill in your e-mail so we can share with you our top stories!