Cardi B Shares Video of Baby Kulture Clad in Chanel While Holding an Edge Brush & Toothbrush
The 26-year-old rap star, Cardi B, is a proud mama and stops at nothing to flaunt her little princess as she recently shared an adorable image of Kulture holding a toothbrush.
The mother of one updated her Instagram with a clip of the adorable 1-year-old, Kulture in a designer outfit and she captioned the image, "Dress by Mommy❤️"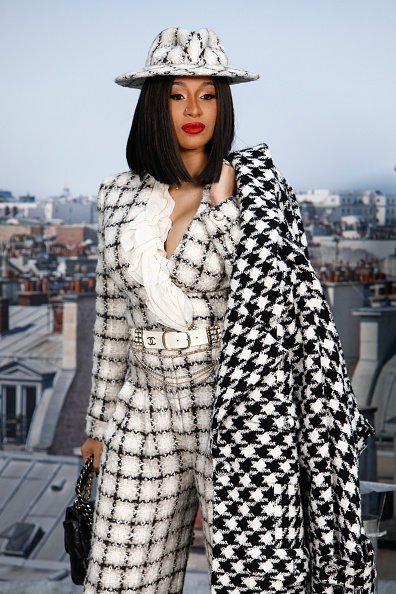 THE RAPPER' S RECENT TONGUE-WAGGING UPLOAD
The "Bodak Yellow" crooner lets her fans and followers in on her parenthood lifestyle, as she continuously posts images and videos of her daughter.
Her current update was a clip  of Kulture doing her thing, with a yellow and white toothbrush and a purple-colored edge brush in her grip.
The toddler's high spirit was not the only thing fans noticed. Many were focused on how Kulture was dressed up by her mom, who took delight in making the young chap adorable in a Chanel check skirt attached to a blue-colored sleeve top.
That was not all; the beautiful youngster rocked a red-colored knitted cap, alongside a Chanel purse that settled in between her thighs as she performed some squats.
Fans were quick to compare the adorable Kulture and her entertainer mother. Some fans stated the resemblance, while others felt their styles are very similar.
CARDI APPRECIATES HER DAUGHTER 
Apart from the similarities in style and looks, Kulture also has the same energy as her mother, and Cardi loves it!
The 26-year-old shared a video of her overjoyed princess clapping and moving her legs, and Cardi revealed how blown away she is to have peculiar similarities with her baby. 
She also mentioned that her daughter's nature is the same as hers; however the attitude she displays is gotten from her father, Offset. In her words:
"It's amazing how God not only gives you a kid that looks like you but with the same energy and personality…My baby is naturally hype, slick and funny and ok yea a little attitude too, but I'm putting that part on her dad part."
OFFSET AND DADDY DUTIES
Cardi isn't the only one who loves to share her feelings concerning her daughter; her baby daddy, Offset is also very much in his daughter's life and sometimes posts about her.
He once took to Instagram to share how much influence Cardi's "I Like It" track has on the 1-year-old. The entertainer informed his fans that he loves his daughter's personality in a clip that showed her dancing to the hit song. 
The proud father also exhibits more patience than the "Please Me" star. In an upload shared by Cardi featuring the whole family, Offset worked patiently while styling his toddler's hair.
The entertainer was also around to watch Kulture take her first few steps, although Cardi expressed her displeasure as she was away in Nebraska.
Both parents try their best to be present for their child and make her happy; no wonder they threw a glamorous birthday party in New York when she turned one.
The award-winning rap star may have been absent during her baby's first steps, but she can't seem to get over her love for little Kulture, whom she flaunts on her social media.