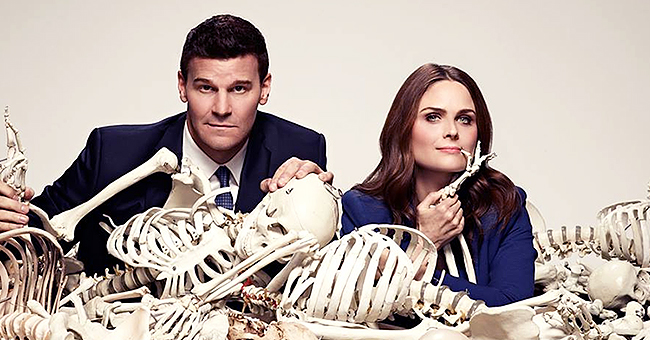 Facebook/Bones
'Bones:' Meet the Cast's Real-Life Spouses

For twelve years, the forensic anthropologist, Dr. Temperance Brennan, and her team solved murders examining little else but "Bones." By the time the series ended in 2017, countless crimes have been solved, and romance had its way.
While love bloomed for several characters onscreen, we took a peek into the popular cast's real-life spousal relationships.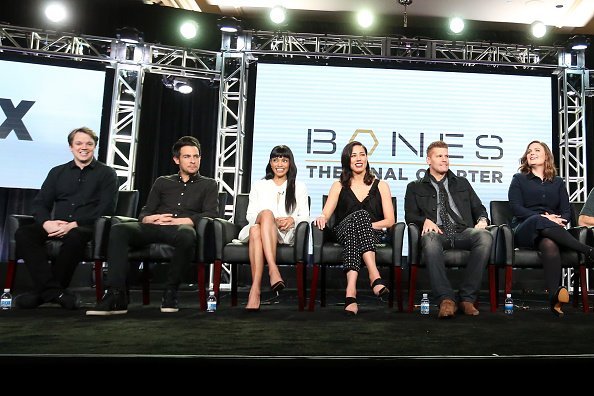 Eric Millegan, John Boyd, Tamara Taylor, Michaela Conlin, David Boreanaz, and Emily Deschanel of the television show 'Bones' speak onstage during the FOX portion of the 2017 Winter Television Critics Association Press Tour at Langham Hotel on January 11, 2017, in Pasadena, California. | Source: Getty Images.
EMILY DESCHANEL: TEMPERANCE BRENNAN
The brilliant but socially inept head of forensic anthropology at the Jeffersonian Institute on "Bones" found lasting love while working closely with the cocky FBI special agent, Seeley Booth.
Offscreen, Emily married the actor/director David Hornsby during a private ceremony on September 25, 2010, in Los Angeles, after three years of dating.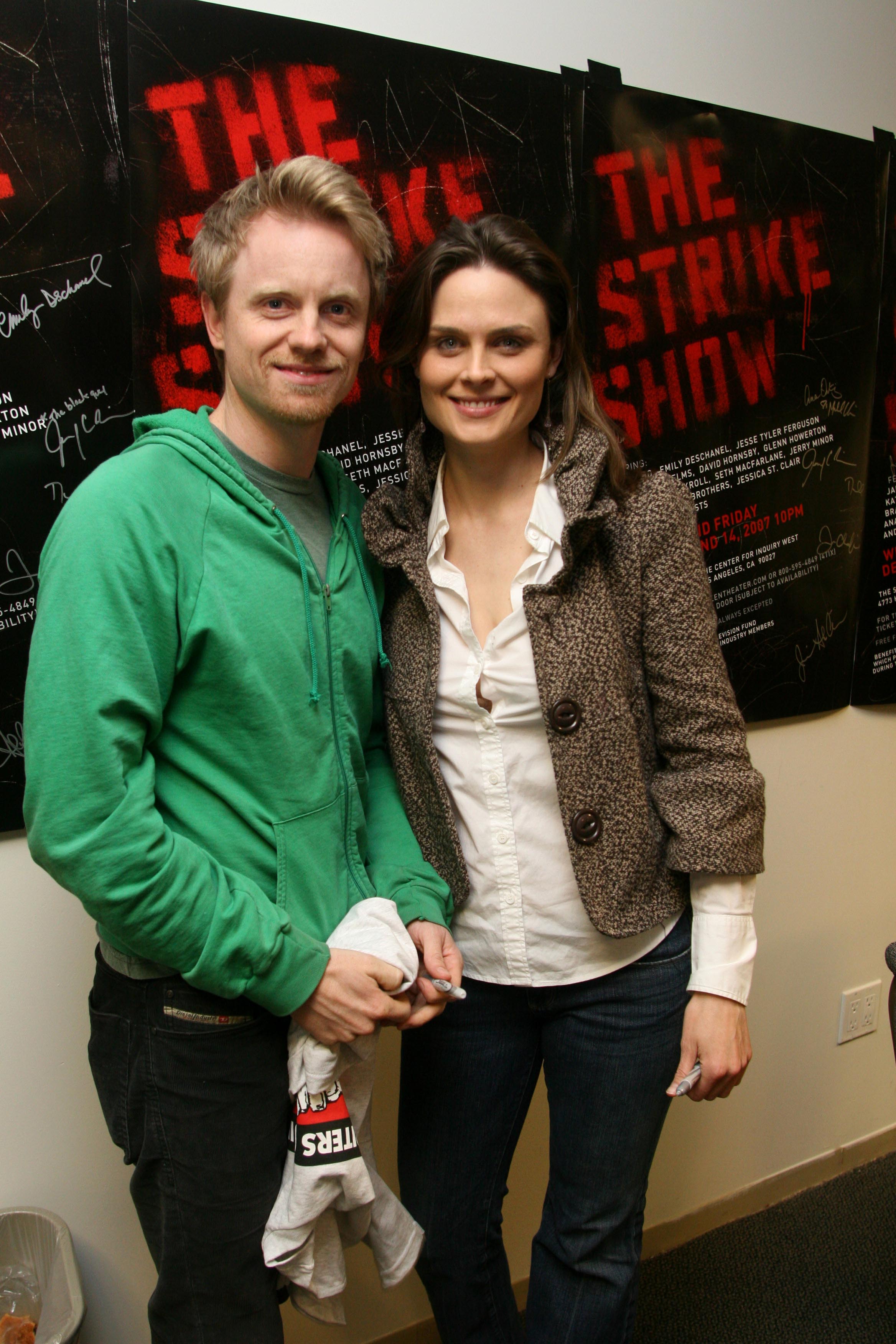 David Hornsby and Emily Deschanel attend The Strike Show to benefit the Motion Picture and Television Fund at the Steve Allen Theatre on December 12, 2007, in Hollywood, California. | Source: Getty Images.
Emily gave birth to their first son, Henry Hornsby, on September 21, 2011, and the actress juggled the demands of acting and motherhood by taking little Henry to work while making use of a full-time nanny while on set.
"I have a wonderful situation where I get to see my baby throughout the day, and I can't imagine leaving him at home at this point. But I know so many of my friends who have regular jobs and can't take their baby to work, so I feel incredibly, incredibly lucky," Emily said.
The couple extended their family with their second son, Calvin Hornsby, born on June 6, 2015. As with Emily's first pregnancy, the second one also got written into the television series.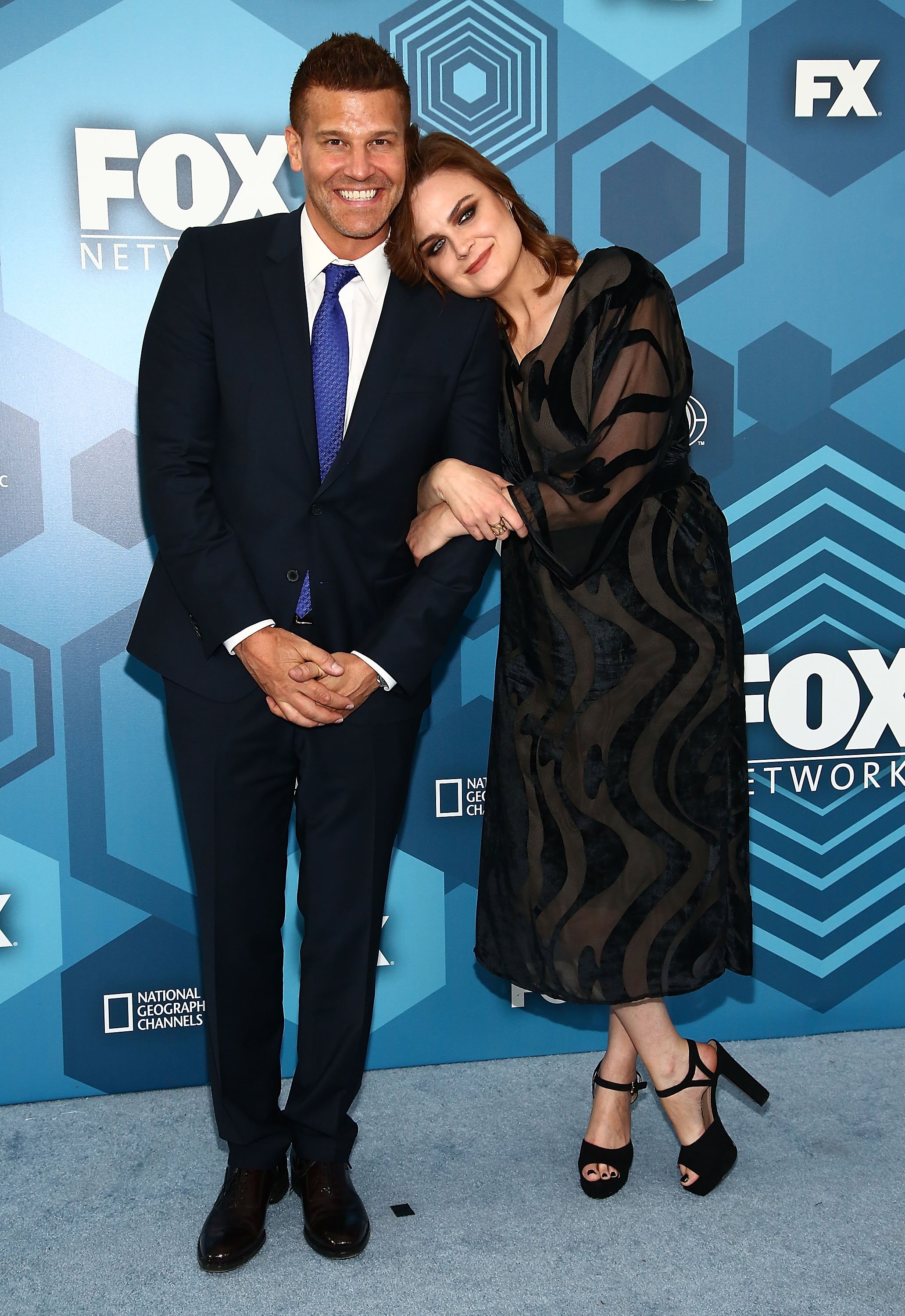 David Boreanaz and Emily Deschanel attend FOX 2016 Upfront Arrivals at Wollman Rink, Central Park on May 16, 2016, in New York City. | Source: Getty Images.
David, on the other hand, became known for his acting role in "It's Always Sunny in Philadelphia," which aired from 2006 until 2018. Most recently, David starred in "The Goldbergs," "Welcome to the Wayne," and "Good Girls."
DAVID BOREANAZ: SEELEY BOOTH
David married the former Playboy Playmate, Jaime Bergman, four years before "Bones" first aired on November 24, 2001, after less than a year of dating.
Also an actress, Jaime gave birth to their first child, Jaden, on May 1, 2002, two years after starring in major films including "Any Given Sunday" and "Daybreak."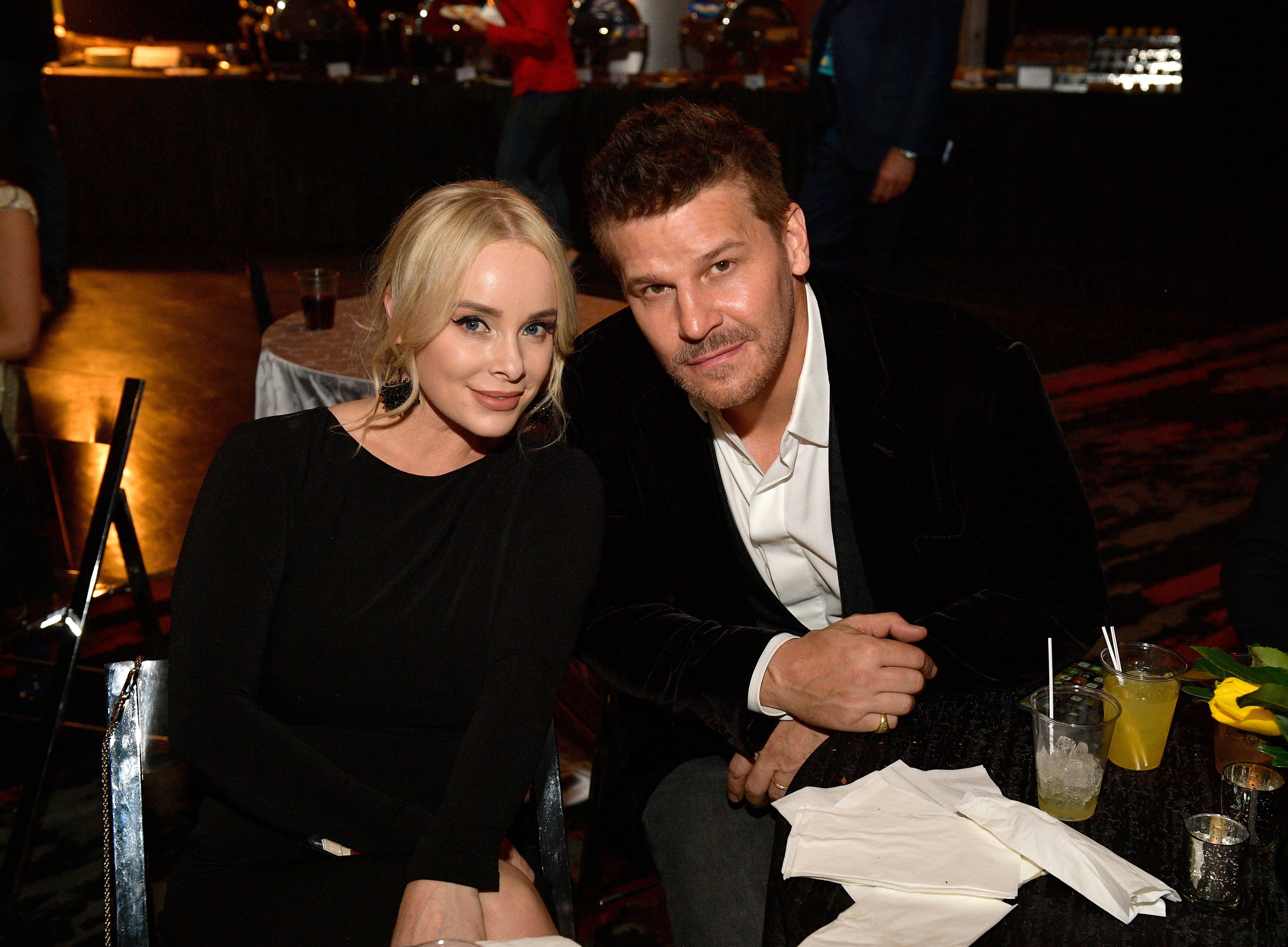 Jaime Bergman and David Boreanaz attend the 53rd Academy of Country Music Awards at MGM Grand Garden Arena on April 15, 2018, in Las Vegas, Nevada. | Source: Getty Images.
The couple welcomed their second child and daughter, Bella, to the world on August 31, 2009. However, the following year, David had a brief affair, but he later noted that it only strengthened his marriage.
"In a sacred ground like marriage, you find yourself out of it at certain times for reasons unknown that can be destructive," David told TV Week (via E! Online). "There could be a demon that kind of comes out and overtakes you."
MICHAELA CONLIN: ANGELA MONTENEGRO
Michaela shared some similarities with her character, Angela. On "Bones," Angela and Temperance Brennan are best friends, as the two are in real life. Also, Michaela's onscreen husband, T.J. Thyne, doubled as her real-life boyfriend for five years before they split.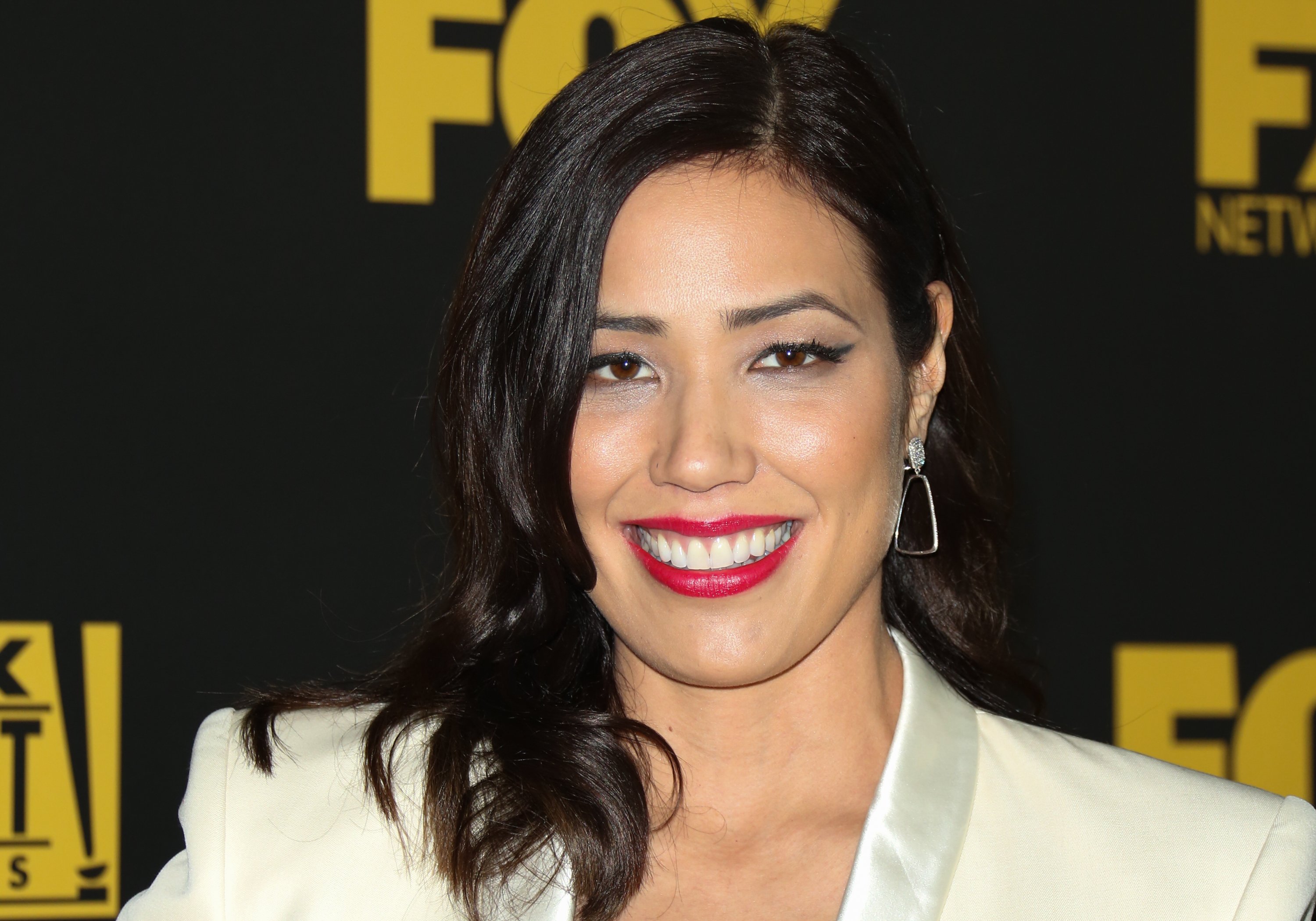 Michaela Conlin attends the Fox and FX's 2016 Golden Globe Awards Party on January 10, 2016, in Beverly Hills, California. | Source: Getty Images.
Then Michaela started dating Arnar Gunnlaugsson, the Icelandic soccer player. However, the actress's value of privacy leaves considerable gaps in the state of her romantic life in later years. But she did become a proud mother when she gave birth to her son Charlie, on March 2, 2019.
ERIC MILLEGAN: DR. ZACK ADDY
Dr. Zack Addy, in "Bones," provided quite a twist when the brilliant graduate student with a doctorate in Applied Engineering and Forensic Anthropology joined Dr. Brennan's team.
Eric is an openly gay actor, who first came out after he starred in a gay role in the 2002 film "On_Line," but it wasn't until he experienced heartbreak that Eric felt sure enough to tell those around him.
"I came out to myself and the people around me in 1993. I had a summer stock job, and I fell in love with a guy, but I still didn't consider myself gay. I thought I was just in love with him. But he really broke my heart, and so I thought to myself, 'Well, maybe you are gay,'" Eric said in 2007.
In 2003, Out named Eric the Hottest Up and Coming Gay Actor, but by then, he had already met his future husband, Charles Michel. The pair had a casual relationship for the first three years before they got serious. Nine years later, the couple exchanged vows in June 2012.
T.J. THYNE: JACK HODGINS
The entomologist with a weakness for conspiracy theories is single in real-life. On December 30, 2013, T.J. popped the question to his girlfriend at the time, Leah Park. The actor dropped down on one knee outside a picturesque German castle and shared their happy news updates with fans over the next few days.
The pair never reached the altar, and with T.J. being private about his personal life, the when and why of their breakup is unclear.
JOHN BOYD: JAMES AUBREY
John joined the cast of "Bones" in season 10 as a junior FBI agent working under Seeley Booth. By then, John had already married the actress Nicole Vicius.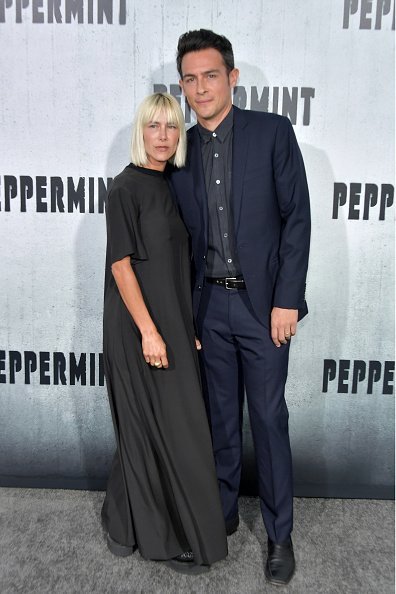 Nicole Vicius (L) and John Boyd attend the premiere of STX Entertainment's "Peppermint" at Regal Cinemas L.A. LIVE Stadium 14 on August 28, 2018, in Los Angeles, California. | Source: Getty Images.
The couple tied the knot in 2012 after Nicole established herself in the industry with roles in the 2006 film "Half Nelson," "Itty Bitty Titty Committee" the following year, and "500 Days of Summer" in 2009.
Fans of crime dramas will soon say goodbye to another long-running hit television show, "Criminal Minds." The series first aired in 2005 and became a staple on television until 2019 when the shows fifteenth and its final season got announced.
However, the final season could have some surprises in store with the return of familiar faces from previous seasons, in ten explosive episodes set to air until 2020.
Please fill in your e-mail so we can share with you our top stories!