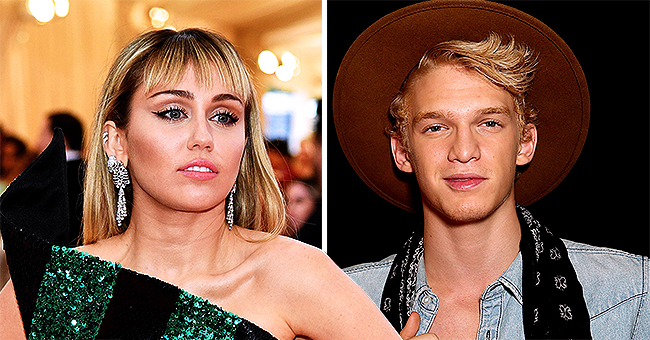 Getty Images
Miley Cyrus' Rumored Boyfriend Cody Simpson Pens Love Poem Amid Reports of New Romance
After a cozy indoor date of snuggles, while enjoying the classic "Blue Hawaii," a romantic poem is penned by Australian singer, Cody Simpson, with his newfound love in Miley Cyrus.
Cody Simpson, a 22-year-old Australian singer, has always been known to be enthusiastic about the art of poetry. His blossoming romance with the former "Hannah Montana" star inspired him to write an original, which he shared online. He wrote:
"We open our curtains to the domesticated world / for a natural hour / spinning Elvis records / and making love / in the soft jeweled morning."
The content of the original artwork seems to describe their recent night out a combination of shared cuddles and kisses while enjoying Elvis' classics in "Ku-U-I-Po" and the film "Blue Hawaii."
HOLLYWOOD NIGHT OUT
While it's true that Simpson and Cyrus have been friends for years, the two have only sparked dating rumors recently, after being seen affectionate around Hollywood.
An eyewitness report highlighted that both were spotted entering the restaurant with hands held, and later on getting much comfortable as they publicly displayed affection through kisses.
This developing love story earned mixed reactions, with some criticizing Cyrus' behavior of swiftly moving past relationships. The former "The Voice" coach recently ended her 7-month relationship with the Australian movie star, Liam Hemsworth.
HER DEFENSE
Cyrus was quick to defend herself, taking her sentiments to social media about how people felt so entitled over her life. In the same thread of tweets, she explained how people have witnessed her grow up through television can't relate to her situation.
Her tweets also resemble some reassurance as she stated:
"But I am grown now and make choices as an adult knowing the truth/details/reality. People only 'know' what they see on the internet."
Nevertheless, continuous adverse reactions won't be new to this dating rumor despite Cyrus' explanations as her ex, Kaitlyn Carter, makes a subtle, though unverified reaction.
In an Instagram post, Carter captured herself during the Veuve Clicquot Polo Classic, captioned with a quote from the 1995 classic, Clueless: "THAT WAS WAY HARSH."
Reactions to the post have seemed to presume the quote was in reaction to Cyrus and Simpson's dating.
Please fill in your e-mail so we can share with you our top stories!