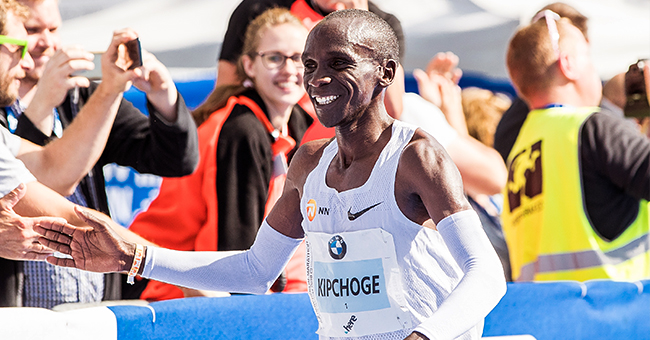 Getty Images
Eliud Kipchoge of Kenya Makes History, Becomes 1st Runner to Finish a Marathon in under 2 Hours
Eliud Kipchoge from Kenya becomes the first runner to finish an entire marathon in under two hours. The Olympic champion and record-holder finished the marathon in just 1:59:40 in Vienna.
Kenya's Olympic champion, Eliud Kipchoge, just became the world's record holder for the fastest sub-two hour marathon, clocking 1:59:40 in Vienna. After the historic run, he rushed to his wife, kids, and coach Patrick Sang before being surrounded by his 41 pacemakers.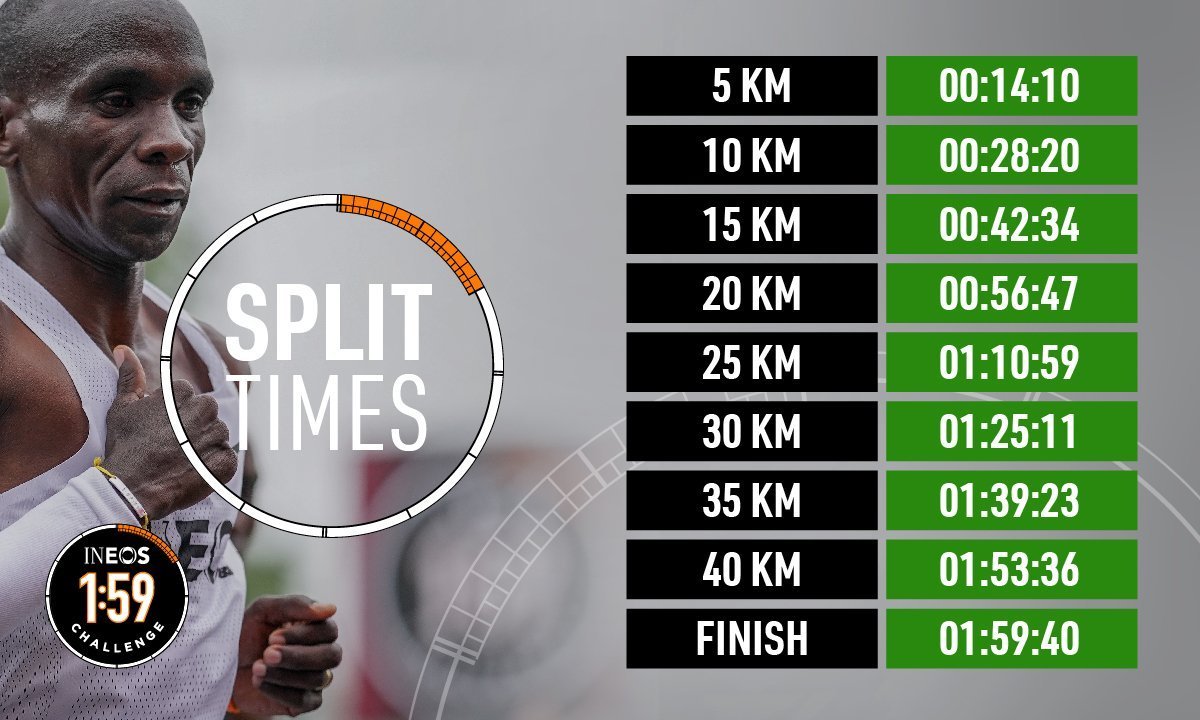 The split times for fastest marathon ever according to INEOS 1:59 Challenge | Source: Twitter/INEOS159
A Beautiful Day in Vienna
It was a beautiful day to make history in Vienna, where Kipchoge and his team were cheered on all throughout the race. The electric atmosphere of those cheering him on motivated him to keep going, and he broke his previous world record of 2:01:39 in Berlin last year.
According to Eliud, his statement in Berlin in September 2018 was to set a world record. However, running in Vienna is something else as he was making history in the world.
"Running Berlin and running Vienna are two different things, Berlin is running and prepping a world record, Vienna is running and making history in this world, like the first man to go to the moon."
His Rise to the Hall of Fame
The record-holder hopes to show the world that no one is limited and that one can rise from whatever circumstance he or she is faced with.
His story began in Kenya, where he was born on a farm and lost his father as a child. He then had to run kilometers just to get to school as a child, and after years of hard work, he achieved something that people thought was once impossible.
After Haile Gebrselassie completed a marathon run at 2:03:59 in Berlin, Eliud became the only person to beat the record, making history twice.
A Record-Making Mother
Meanwhile, another marathon record was broken after Cynthia Arnold, a mother-of-three, ran 26.2 miles while pushing a triple stroller with her kids, ages six, four, and one, in tow.
The full marathon took 4 hours and 6 minutes to complete, setting the new record of running with a triple stroller unofficially. She was pushing a total of 185lbs, the weight of her children combined.
With more and more records being broken, it's great to see a whole lot more athletes working hard not just to claim records and make history, but become healthier and stronger versions of themselves every day.
Please fill in your e-mail so we can share with you our top stories!