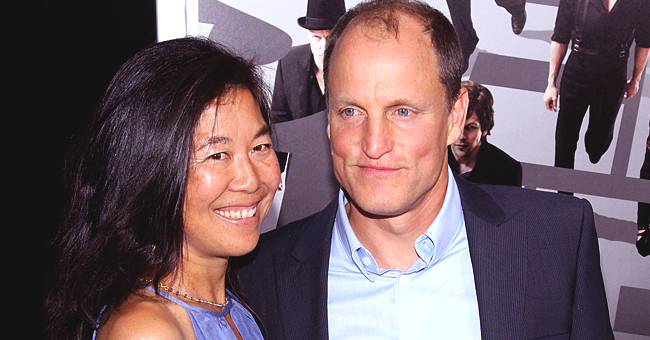 Getty Images.
Woody Harrelson: Inside the 'Cheers' Star's Decade-Long Marriage to Laura Louie

With an impressive acting career spanning over forty years and 30 awards to date, Woody Harrelson is a sought after actor that values the more sustainable life he leads with his wife and children over the glitz and glamour of Hollywood.
Woody's serendipitous meeting of Laura Louie dates back to 1987, while on the set of "Cheers" filming. On that particular day, a media workshop from UCLA came to the set, and someone suggested to Woody that he greet the students during a break.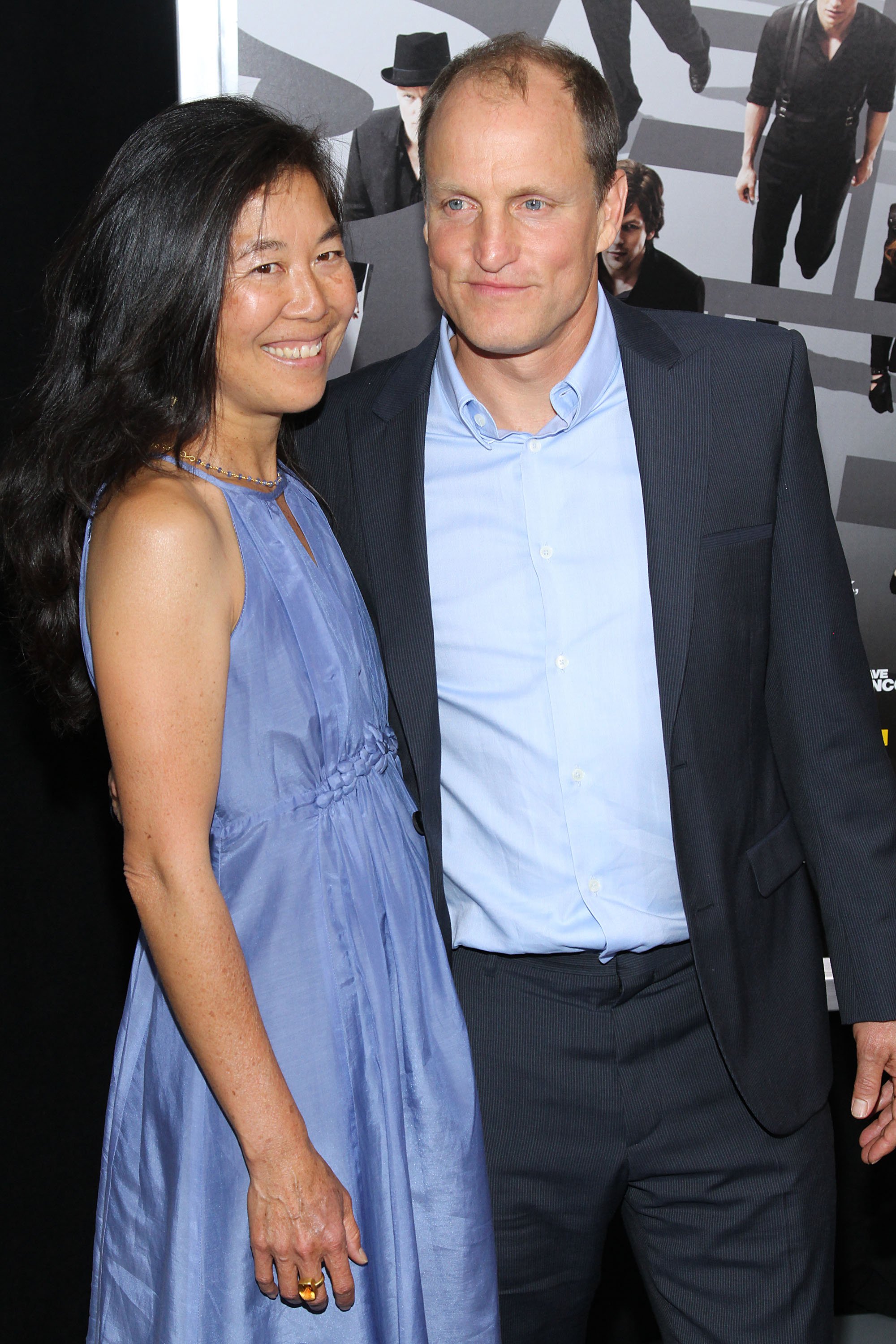 Woody Harrelson and wife Laura Louie attend the "Now You See Me" New York Premiere at AMC Lincoln Square Theater on May 21, 2013, in New York City. | Source: Getty Images.
Laura, who formed part of the media workshop students, only went to fill the spot of someone else who had fallen ill. She wasn't supposed to be there, and Woody had never before randomly greeted visitors.
The couple started dating, and soon, Woody began to landing roles in major feature films such as "White Men Can't Jump" and "Indecent Proposal" towards the end of "Cheers" in 1993.
The following year, Woody starred as Mickey Knox in the epic Quentin Tarantino film, "Natural Born Killers," and followed up on its success with roles in "Money Train," "The Thin Red Line," and "The Hunger Games."
Meanwhile, Woody and Laura decided to make their union official on December 28, 2008, after decades and two children together.
The couple married in front of family and friends, including Willie Nelson, Sean Penn, and Owen Wilson at their Maui home, while Alanis Morissette sang at the ceremony. Since their wedding, the couple added another child to the family to make up what Woody refers to as his "Goddess Trilogy."
The newlyweds didn't splurge on the wedding despite Woody's substantial wealth and opted for the experience of togetherness rather than expensive trappings.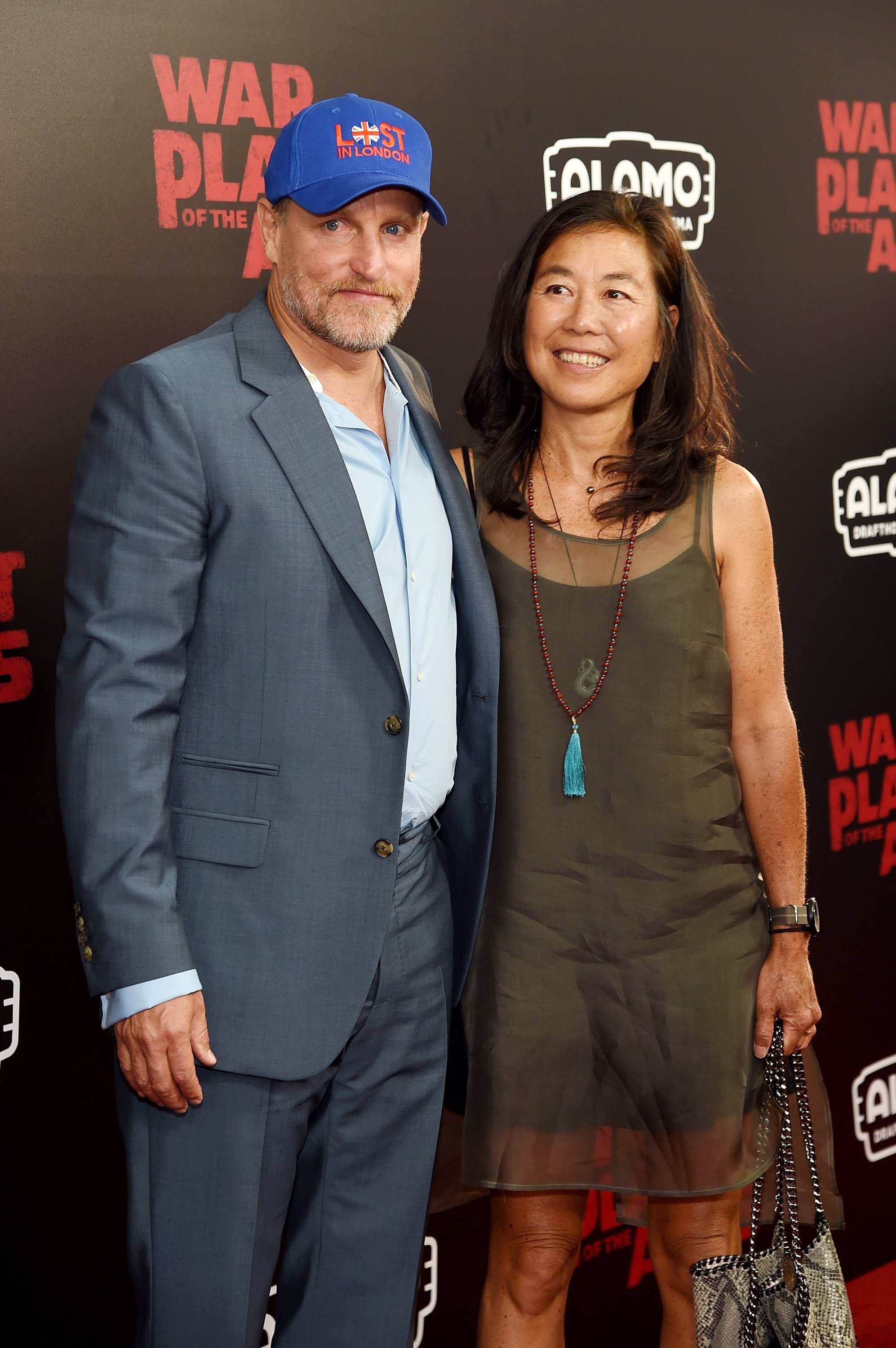 Woody Harrelson and Laura Louie attend "War for the Planet Of The Apes" premiere at SVA Theater on July 10, 2017, in New York City. | Source: Getty Images.
"It was basically just a bunch of good friends getting together in Maui. I paid for some food and drinks, a few hundred bucks, and that was about it. At the end of the day, it isn't about how much it costs — it's about having great people in a beautiful place and just…celebrating. Kool & the Gang would've been proud," Woody shared.
Along with their daughters Denni Montana, Zoe Giordano, and Makani Ravello, the couple has lived in Costa Rica and as part of a sustainable community of around 200 people in Maui, while maintaining their residence in Hana, Maui.
"It's a really beautiful place," Woody said. "Everybody cares about this Earth, and they're all biodynamic farmers and just really cool people. It's really a loving community, and I'm blessed to be a part of it."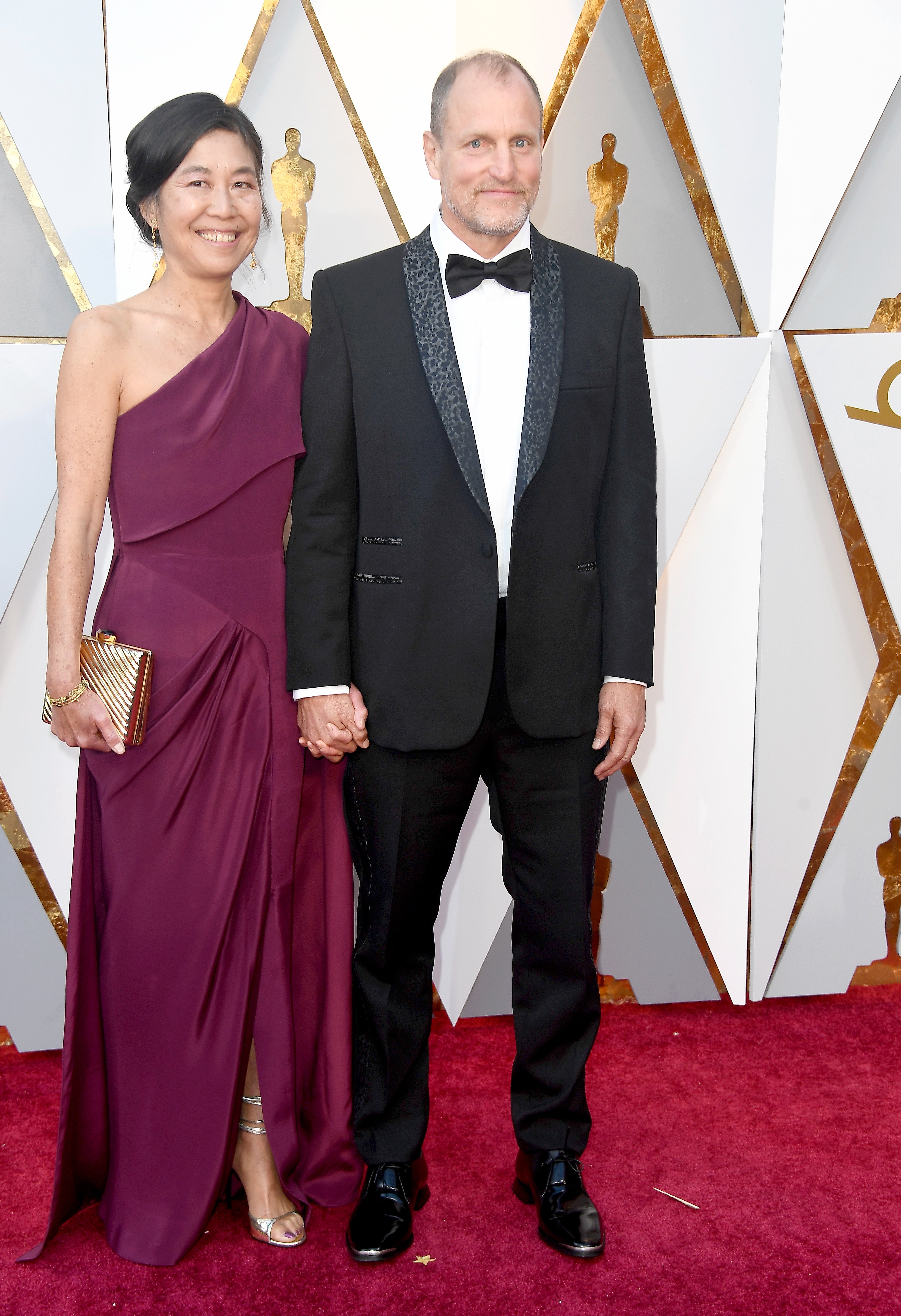 Laura Louie (L) and Woody Harrelson attend the 90th Annual Academy Awards at Hollywood & Highland Center on March 4, 2018, in Hollywood, California. | Source: Getty Images.
Woody grew up counting the pennies, and it's a trait that he kept throughout the years even though his acting career gave him substantial wealth. Nonetheless, the actor does treat himself from time to time while keeping in mind that the most valuable things in his life couldn't be bought with money.
"The most extravagant I've been is when I bought a Tesla not too long ago. I like the way it drives, and I really like the idea of reducing my carbon footprint. But often, I've found the least expensive things can be the most personally rewarding. Take my wedding, for example. The whole event cost a total of $500," Woody added.
Laura worked as Woody's assistant for two years, and the couple regularly promotes sustainable living. In 2001, the pair embarked on a 1,500-mile biking tour of the West Coast to help spread the word and started the website, Voice Yourself, which focuses on eco-friendly product recommendations, healthy eating advice, and sustainable living tips the same year.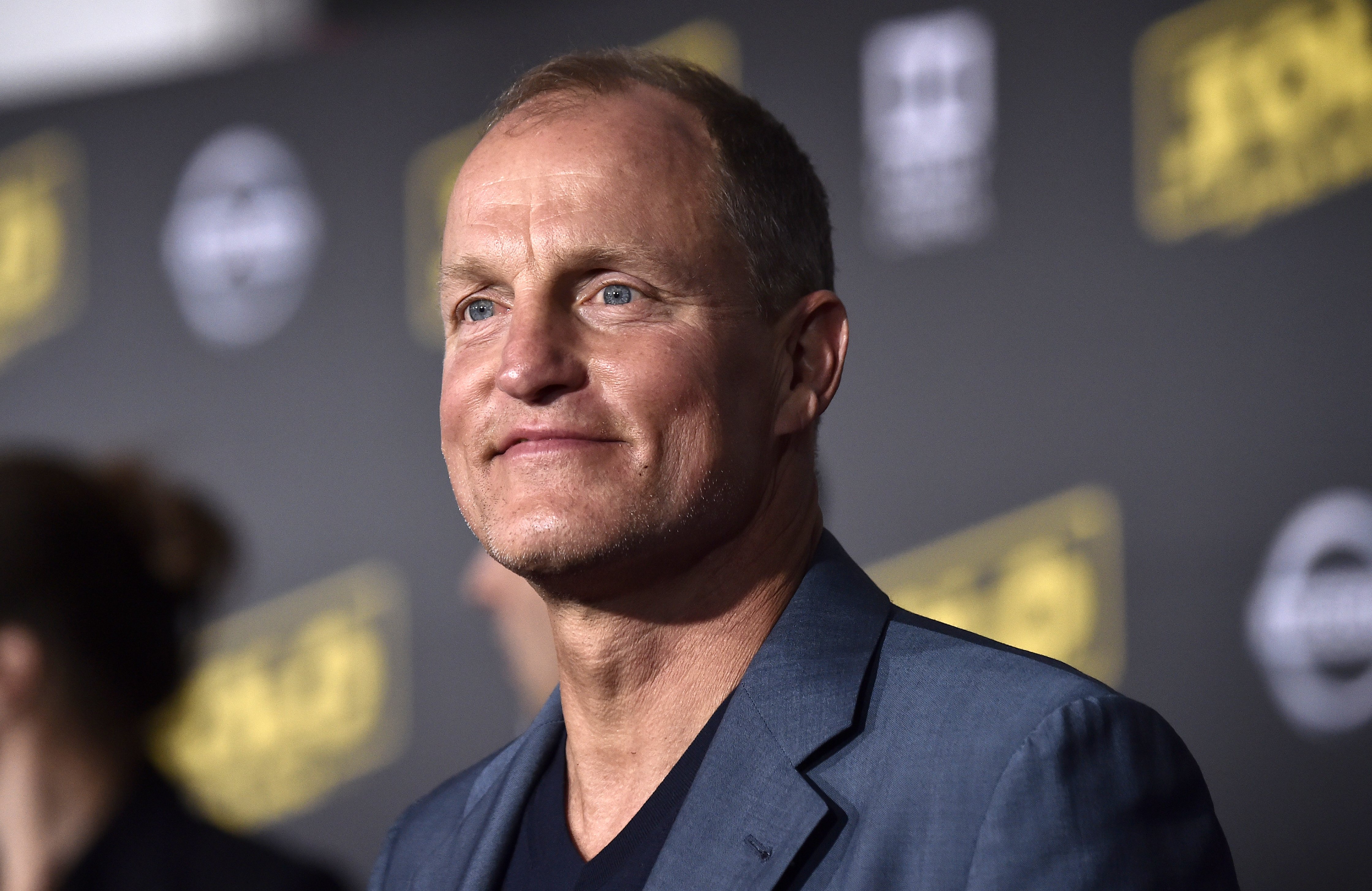 Woody Harrelson attends the Premiere Of Disney Pictures And Lucasfilm's "Solo: A Star Wars Story" - Arrivals on May 10, 2018, in Los Angeles, California. | Source: Getty Images.
Despite Woody's strong environmental convictions, he tries to educate their children and encourages them to think for themselves, rather than telling them what to believe.
"I try not to preach to these kids," Woody said. "Because I want them to think for themselves, and I don't want 'em to get tainted by my own viewpoint. However, they are extremely conscious -- they're way more aware than I was when I was their age."
While Woody grew up in the suburbs of Houston, Texas, his children get to pick their breakfast from the garden, play in the ocean, and find themselves in a loving and supportive environment.
Although the Harrelson's devote their free time to make a difference, Woody maintains an active acting career. After Woody completed filming "Venom" in 2018, the actor took time off to spend with his family in Italy, where they got spotted soaking up the sights of Ravello.
The actor since completed filming the movie's sequel, "Venom 2," set for release in 2020, while he also most recently appeared in the films "The Highwaymen," "Midway," and "Three Billboards Outside Ebbing, Missouri."
The actor's marriage to Laura is not his first. On July 29, 1985, Woody tied the knot with the singer/songwriter Paul Simon's daughter, Nancy, in Tijuana.
The day after the wedding, the couple decided to get a divorce, but the marriage/divorce parlor had already closed by the time they got there, so Woody and Nancy ended up being married for about ten months before they divorced.
Relatedly, a few celebrities have bought properties in Hawaii over the years. One of them is none other than Aerosmith's Steven Tyler.
Although Steven reached iconic status in the music industry, his personal life proved as varied and fruitful as his time behind the mic.
Please fill in your e-mail so we can share with you our top stories!