Donald Trump's Youngest Daughter Tiffany Sends Birthday Wishes to Lara Trump & Shares Family Photo
Tiffany Trump flaunts that she has a strong relationship with her step-siblings as she takes to social media to celebrate Lara Trump, her stepbrother, Eric's wife. 
Tiffany, who is the sole product of President Trump's six-year marriage to actress Marla Maples, posted a short message for Lara, who tied the knot with Eric in 2014, on Instagram.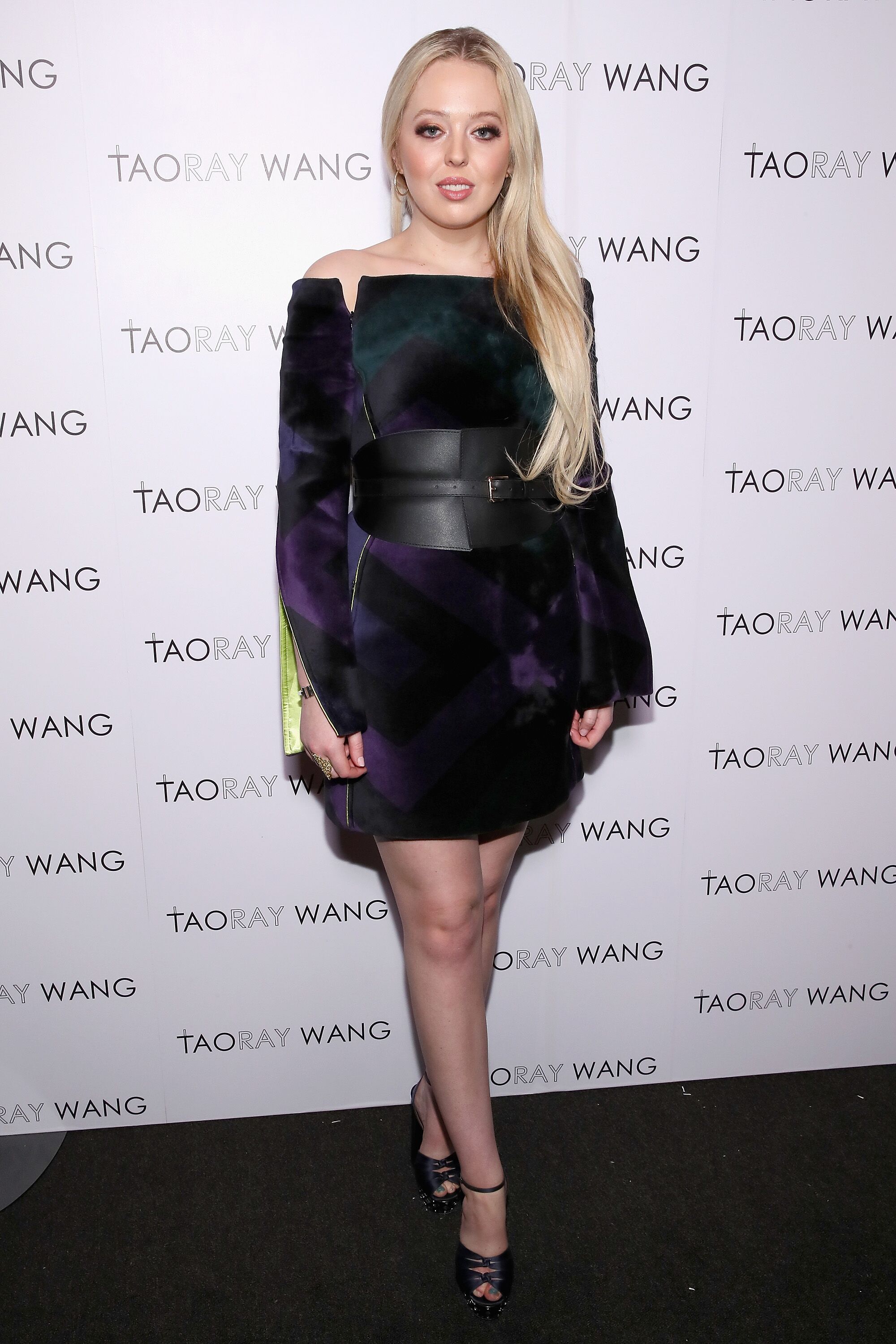 The picture is accompanied by a short but heartfelt message for Lara, who has been married to Tiffany's stepbrother, Eric, since 2014. Alongside a heart emoticon as well as the Libra sign, the caption reads, 
"Happy Birthday @laraleatrump I love you so much!" 
What is, however, most stunning about the post is a picture of Tiffany, Eric, and Lara. The family photo has the trio formally outfitted. 
Lara, who has her little daughter, Carolina Dorothy in her arms, wore a stunning yellow gown while Eric and Tiffany kept to darker hues. Eric wore a black suit atop a grey shirt while Tiffany wore a sleeveless black dress that was belted at the waist. 
The 26-year-old had her blonde mane tied back and let it flow past her shoulders with only a few tendrils left to frame her face. Huddled close with Eric for the snap, it can be observed that they share a resemblance, although it is not a pronounced one. 
Lara, who clocked 37 on Saturday, October 12, also looks very elegant in her yellow short-sleeved number. The trio were all smiles as they posed for the snap, but while they all admittedly make for great eye candy, all eyes seem to be on little Carolina, who is one of the two children born to Eric and Lara. 
While many took to the comments section to wish Lara a happy birthday and compliment Tiffany, a significant number seemingly couldn't get over how adorable Carolina looks in the photo.
Aside from Tiffany's special display, Eric lovingly honored Lara by sharing a picture of her holding their two-month-old baby girl Carolina and himself carrying their oldest child, son Eric L. Trump Jr, over his shoulders. 
He tweeted alongside the heartwarming picture,
"Happy birthday to my beautiful wife! We all love you very much!" 
Happy birthday to my beautiful wife! We all love you very much! pic.twitter.com/gFkpxqHGAj

— Eric Trump (@EricTrump) October 13, 2019
First Daughter Ivanka Trump also honored Lara by posting a picture on Instagram smiling with Lara with the caption:
"Happy Birthday Lara. Love you!"
The emotional displays all serve as evidence that Lara has a close-knit relationship with the Trump siblings. ️