Carson King Raises $3 Million for Charity after His Beer Money Request Went Viral
Imagine asking for beer money and ending up donating more than three million for those in need. Carson King, a University football fan, lived the scenario, went viral and became an inspiration for the nation.
During the college game between Iowa Hawkeyes and the Iowa State Cyclones, King put a homemade sign on display asking for donations to stock up on beer. 
Little did he know that he was about to be bombarded with notifications and donations. The 24-year-old told "CNN" that he was not expecting to make money off of the "joke" sign but gathered $400 within 30 minutes. 
We Did It! Thank you to all the Local Busch Light Distributors across the state for the final $41,000.00, making this last push possible! 3 Million Dollars for @UIchildrens! #ForTheKids pic.twitter.com/GvrsSPoahP

— Carson King (@CarsonKing2) October 2, 2019
KING'S SIGN TO STOCK UP ON BEER
On September 14, the youngster held a sign that read, "Busch Light Supply Needs Replenished" along with his Venmo handle. At the end of the same day, he had over $1000 in his account. 
Shortly after, King realized that the money would be put to better use in the children's hospital rather than the liquor store. He sent out another funny yet meaningful tweet about the developments in the donations. 
With all the donations my @CollegeGameDay sign for @BuschBeer has received, I will be donating all but enough for a case of Busch Light to @uiowa Children's Hospital. We're at over $1,600.00 right now! @CycloneATH @WideRtNattyLt @ChrisMWilliams Venmo Carson-King-25

— Carson King (@CarsonKing2) September 14, 2019
KING'S UPDATE ON THE VENMO DONATIONS
In his tweet, King noted that he would be using the money he received from the donations. He said that he would use only the amount that would buy him a case of Busch Light beer. 
Within days, both Venmo and Busch Beer was on board the good deed train and promised to match the donations coming into King's account. Venmo even sent out a tweet saying that this was their favorite story among all the ones they've heard before. 
We see a lot of great stories, but this is one of our favs @CarsonKing2. Count us in for matching the donation to the hospital, too. #ftk💛@BuschBeer @CollegeGameDay https://t.co/thS8JXOXC3

— Venmo (@Venmo) September 17, 2019
THE AMOUNT JUMPED TO A MILLION
The donation campaign ran till the end of September and gathered a whopping three million dollars from over 35,000 people and two companies donating to the charity. 
However, the "Des Moines Register" reported that it came across two racist tweets written by King in 2012, and Busch Beer immediately withdrew association with King. They came through with their promise to donate $350,000.
A statement from our editor: pic.twitter.com/ZH9AhcrYbg

— Des Moines Register (@DMRegister) September 25, 2019
THE FINAL AMOUNT WAS A LITTLE OVER THREE MILLION
King apologized during a press conference for the absurd humor he considered funny back in his teens. "Thankfully, high school kids grow up and hopefully become responsible and caring adults," he added. The Hospital staff also took to twitter to put their happiness on display for the world to see. 
What a week! We are overwhelmed by all of your generosity, and our hearts are full. A quick message for everyone who has donated to help the kids. 💛 #ForTheKids pic.twitter.com/aJLtAtzF7n

— UI Stead Family Children's Hospital (@UIchildrens) September 20, 2019
King posted a picture on his Twitter of his presentation before the donation, and the massive check for three million, four thousand, two hundred and two dollars was in the frame.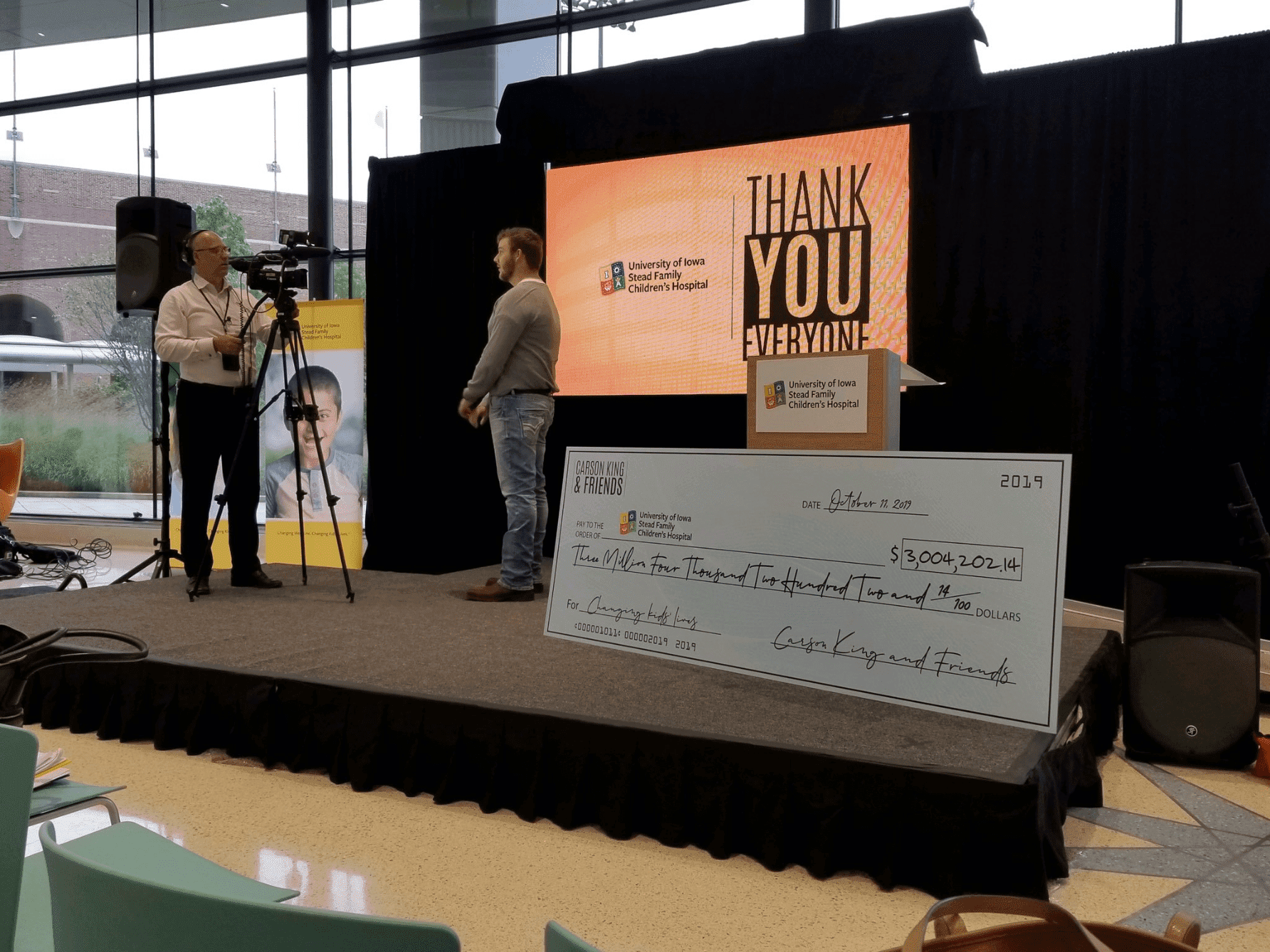 Shortly after, King took to Twitter again and posted a tweet thanking all the people who donated to the cause, the local Busch light distributors, and Venmo. "We did it," he wrote in the tweet.