Sean Spicer of DWTS Dedicated His 'Toy Story' Dance to His Late Father Who Died from Cancer
Sean Spicer paid tribute to his late dad with his dance to a song from the "Toy Story," and afterward called him a great inspiration.
Sean Spicer, the former White House Press Secretary, got emotional after giving an impressive performance to the song, "You've Got A Friend in Me," from "Toy Story 4" on DWTS.
A GREAT INSPIRATION
Spicer dedicated the performance to his late father, Michael William Spicer, saying:
"This is a great opportunity to pay homage to my father, a great man, a great friend, a great inspiration."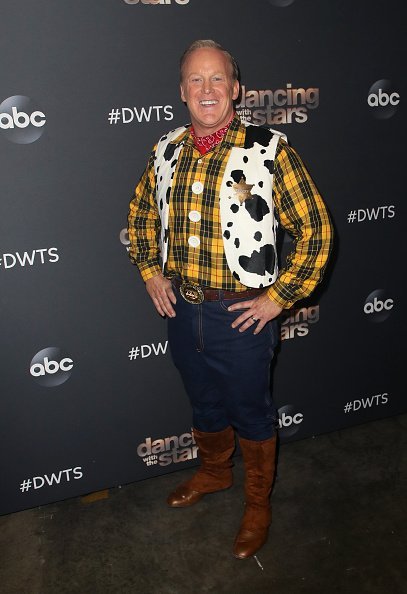 He continued:
"I'd like to dedicate this dance to my dad and all the fathers out there out there suffering from cancer, but still being the best dad, they can be." 
Spicer danced as "Woody" from the Disney movie, and his quick step impressed the judges enough to give him 7 points each, and a total of 19/30.
He lost his father in December 2016, to pancreatic cancer, and interestingly, the father and son, visited Disney World a year earlier after Michael got diagnosed.
A MEMORY FOR ALWAYS
The DWTS contestant revealed to his dance partner, Lindsay Arnold, backstage that the trip was to create memories for himself, and his children after his father passed. He said:
"We wanted to bring the whole family for that Disney experience and create a memory that will last forever, not just for me, but for my children as well."
Spicer was equally glad his children got to see him perform in honor of their late grandfather, and he was not the only one who got emotional after performing on DWTS.
IT WAS AN EMOTIONAL NIGHT
Monday episode of the dancing show, themed, "Disney Night," brought on a lot of emotions from the celebrity contestants who dedicated their performances to their loved ones.
For Karamo, whose partner is the dance pro, Jenna Johnson, his performance of "I Just Can't Wait to be King," from "The Lion King," reinforced his decision to be an excellent father to his sons, Jason, and Chase.
"As a father, watching 'The Lion King,' you start to wonder about what they are going through, and the pressures they are under."
The "Queer Eye" actor continued:
"You want them to be good, and know they can be kings one day… my sons are my world, so I'm dedicating this song to let them know that they are great."
DWTS airs Mondays by 8 pm ET on ABC.