Destiny Rayne of 'The Voice' Chooses between Blake & Gwen after Knockout Round Performance
'The Voice' contestant's, Destiny Rayne and Katie Kadan sing it out in an epic showdown that leaves Gwen Stefani and Blake Shelton fighting for their favourite.
"The Voice Battles" just delivered what some of the judges have called one of the best performances to date.
In the final showdown of the night, "Team Legends" vocalists, Destiny Rayne and Katie Kadan delivered a powerful rendition of Elton John's "Tiny Dancer."
During their performance, Destiny held her own as she came up against Katie and her powerful vocals. Ultimately Legend chose Katie. Reacting her impressive performance John says:
"Katie, whoo…Lord Jesus, your voice just sounds like magic. You belong making records, people need to see you and hear you...The winner of the battle is Katie."
With her spot in the knockout round firmly secured, Katie leaves the stage. As Destiny attempts to make her exit, Blake Shelton suddenly hits the save button. 
Before he can even get a hug from Destiny, the crowd goes wild, when Gwen Stefani suddenly hits her save button. Preparing herself for the battle over Destiny, Kelly Clarkson sit's back with a smile on her face and jokes:
"This is gonna be so fun!" 
Since meeting on the show in, Gwen and Blake have been dating for four years. The two constantly find themselves pitted against each other, Blake pleads with Destiny saying:
"I don't want to fight with my girlfriend, but I'm willing to for you. You deserve a chance and I was willing to use my only save on you."
Not to be outdone by Blake, Gwen makes her bid saying that she would be a better match for Destiny, she explains:
"When you watch someone do what you just did, under the pressure, it proves it's not just about the voice. It's bringing out you and your personality, how do you connect? And that's what I would want to work with you on."
As the argument gets more intense, Blake reminds Destiny that his previous teams have won more seasons of "The Voice" than Gwen has been a judge on the show. In response to his comment, Gwen says:
"Maybe he has the most wins on this show, but I have the longest career. I know how to do this, I'm just saying. It's not just about this show. It's a life choice!"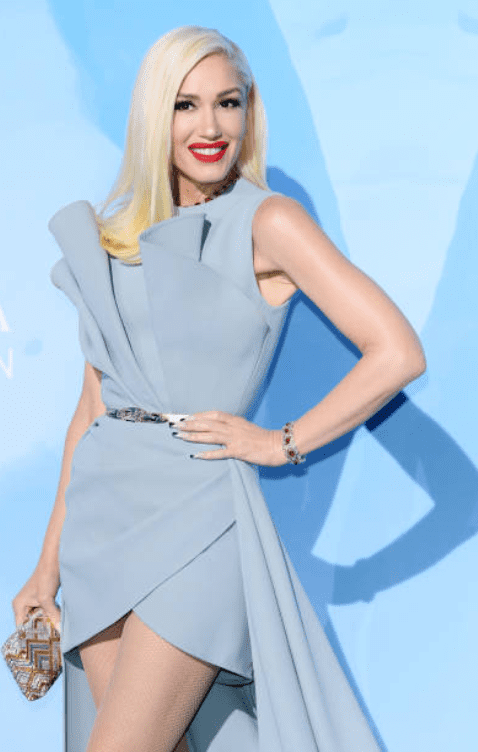 After convincing arguments from the couple, Destiny chooses Gwen, leaving a defeated Blake to slum his head beside his buzzer.
Blake and Gwen have admitted to taking some of their commentary on the show home with them. Now that it has been reported that the couple have bought a house together, let's hope Blake doesn't spend too much time sleeping out the couch.