People: Lori Loughlin Reportedly Tried to Reach out & Encourage Felicity Huffman before She Went to Prison
'Full House' star, Lori Loughlin tried to reach out to Felicity Huffman before she went in to serve her 14-day sentence at an all-women's correctional facility in California.
Since the news of the broke about the national college admissions scandal. Over 50 parents, proctors, coaches and admissions counsellors have been accused of lying and accepting bribes to get students into top colleges such as University of Southern California, Stanford, Yale and Georgetown. 
Celebrities, Lori Loughlin and Felicity Huffman have been identified as suspects in the case. The two have very different charges but it is revealed, Loughlin has been longing to reach out to Huffman about her case.
#BREAKING The suspects allegedly paid bribes of up to $6 million to get their kids into elite colleges, including Yale, Stanford, Georgetown and USC. https://t.co/PMl3FUdEhu

— ABC30 Fresno (@ABC30) March 12, 2019
According to PEOPLE, as Loughlin awaits for her trial, she has been watching Huffman's case very closely. A source close to Loughlin reveals:
"She wanted to encourage her, and see how she was doing. She feels like their fates are tied together now, even though they weren't really friends before."
On October 15. Huffman was the first person charged in the case and is currently serving 14 days at the Federal Correctional Institution in Dublin, California. Reportedly, Loughlin wants to know the details about Huffman's time in prison, the source continues:
"She wants to debrief Felicity after jail to find out what it was like and what her advice would be. She feels like Felicity's time in jail will be an indicator on her own time, and she's extremely curious to know how it goes."
Felicity Huffman has reported to prison to serve a 14-day sentence for paying someone $15K to help scam her daughter into college.

She is among 30+ wealthy parents charged over a major college admissions fraud scheme. pic.twitter.com/fWnCiICV8V

— AJ+ (@ajplus) October 15, 2019
The source tells PEOPLE, Loughlin is hoping that if she has to serve time, Huffman can give her some positive feedback on her stay in prison.
Loughlin and her husband Mossimo Giannulli have been accused of paying college admissions consultant William "Rick" Singer $500 000 to falsely designate their daughters, Olivia Jade Giannulli and Isabella Rose Giannulli as recruits on the USC rowing team, in order to secure their college admission.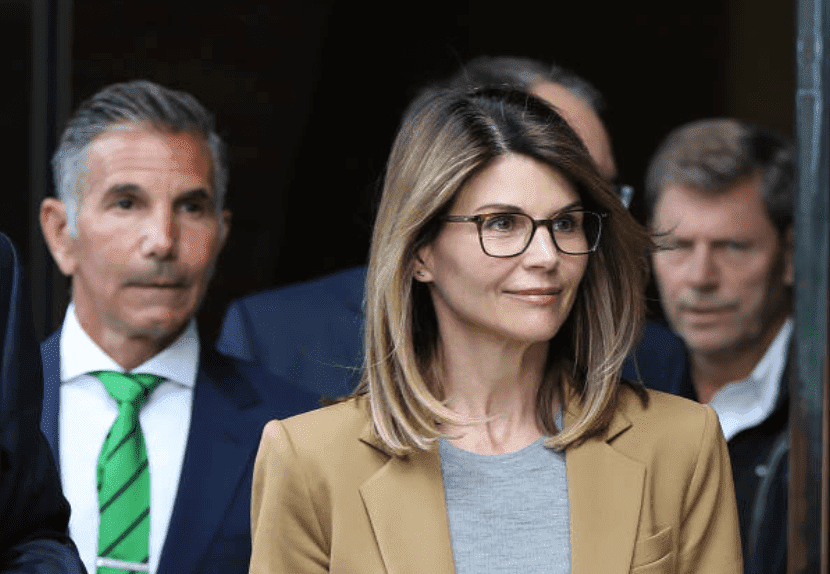 U.S Attorney for of Massachusetts, Andrew Lelling has spoken out about both actresses. He confirms Loughlin's fears by announcing that prosecutors are looking to pursue harsher charges for her case, he explains:
"We will probably ask for a higher sentence for [Loughlin] than we did for Felicity Huffman. I can't tell you what that would be…it's tough to tell at this point."
Despite all the evidence mounting against them, Loughlin and her husband have both plead not guilty to all charges.
Loughlin's trial is set for next year. The couple both maintain their innocence and the source tells PEOPLE, she is hoping to be exonerated of all charges.