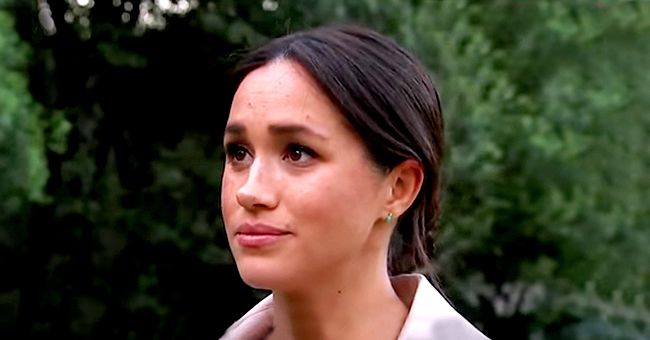 youtube.com/ET Canada
Meghan Markle Praised by Fans after Candid ITV Interview
Netizens can't seem to get enough of Meghan Markle's recently published ITV interview as it came across as one "raw" and brutally "honest" for a British royal.
The former actress has become a subject of great inspiration for netizens because of her honest interview on "Harry and Meghan: An African Journey."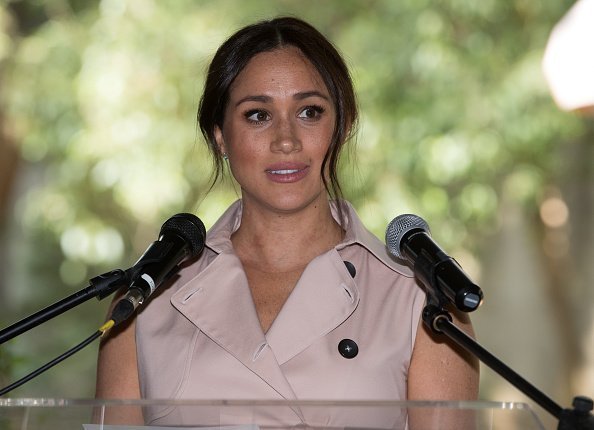 Duchess of Sussex visits the British High Commissioner's residence to attend an afternoon reception to celebrate the UK and South Africa's important business and investment relationship | Photo: Getty Images
Markle, who has been married to Prince Harry for over one year, had a somewhat rare discussion with Tom Bradby on the behind-the-scenes documentary of her and Harry's recently-concluded 10-day tour of Africa.
The Duchess honestly discussed motherhood but, even more importantly, touched on being the subject of public criticism like she has been.
The heartwarming moment came close towards the end of the documentary and had the new mother explaining how the biting criticisms have affected her thus far.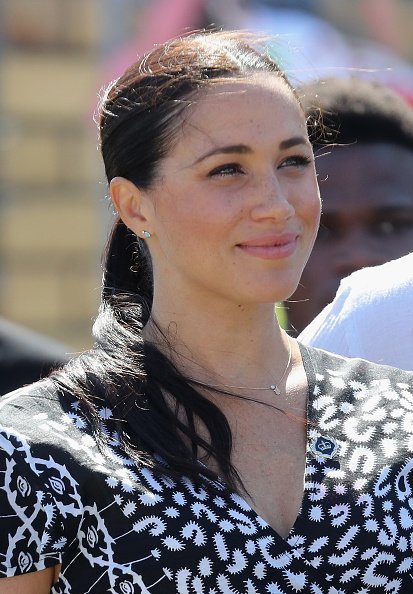 Meghan, Duchess of Sussex visits a Justice Desk initiative in Nyanga township, South Africa | Photo: Getty Images
Sharing on life in the spotlight, she said:
"I've said for a long time to H - that's what I call him - it's not enough to just survive something, right? That's not the point of life. You've got to thrive, you've got to feel happy."
Markle went on to relate her heartfelt wishes for the future. She concluded her heartfelt speech by labeling her husband and child as the "best" and the two most important people in her life.
Following the release of the documentary, netizens have taken to social media platforms to praise Markle for her brutal honesty even while speaking on such a public platform.
One Twitter user, @Nawelli1988 wrote:
"Meghan speaks so beautifully and honestly. Shes doesn't twist her words if anything, she's so gracious and humble. But what shocks is how some brits are so negative towards their interracial marriage and the fact she's mixed race. Get over it. #HarryAndMeghan."
Another supportive fan, @ktmarie1989 tweeted:
"Wow!! Such raw interviews from both Meghan and Harry... it doesn't matter who you are, what your status is, or if you have wealth/privilege behind you... No one has the right to invalidate your feelings #itsoknottobeok #HarryAndMeghan."
MARKLE'S INTERVIEW IS NOW COMMONLY LABELED ONE VERY INSPIRING TO WOMEN
The supportive comments are endless, as many openly admit to swooning over Markle's heartfelt revelation during the interview.
It is this emotional interview that has become one widely known to inspire women to admit that they're "not okay," much like the 38-year-old royal did.
Mirror reports that Markle, who held back tears as she admitted to how the public scrutiny has caused her emotional turmoil, has become a source of inspiration for many other women like her.
"Harry & Meghan: An African Journey" aired on ITV at 9 pm on Sunday.
Please fill in your e-mail so we can share with you our top stories!