Carrie Underwood on the Role That Faith Has Played in Her Life and Marriage
Country singer Carrie Underwood, who rose to fame in 2005 after winning the fourth season of "American Idol," has been open about the role that faith has played in her life.
Born in March 1983, she graduated from high school in 2001 and, even though her singing skills were outstanding, she chose to stop pursuing her dream of becoming a musician.
"I'm not the first person to sing about God."
Her time on "American Idol"
In 2004, she auditioned for the fourth season of "American Idol." Shortly after that, Simon Cowell, one of the most famous judges of the competition, pointed out that she was one of the favorites to win.
On May 25, 2005, Carrie conquered the show after singing "Bless the Broken Road" with Rascal Flatts.
From that point on, her career has done nothing but get better and higher. So far, she has released six studio albums that have reached the highest spots on the Billboard charts and Top Country Albums.
Apart from that, she has taken home several awards and recognitions for her songs, including ACM awards for songs like "Jesus, Take the Wheel," American Country Awards for "Remind Me," and Billboard Music Awards for "Inside Your Heaven."
Impact of faith in her career
Judging by the names of the previously mentioned songs, it is easy to assume that religion has been a crucial aspect of Carrie's career. During a 2012 interview she had with Glamour magazine (obtained by Fox News) she said:
"I'm not the first person to sing about God, Jesus, faith [or] any of that, and I won't be the last. And it won't be the last for me, either. If you don't like it, change the channel."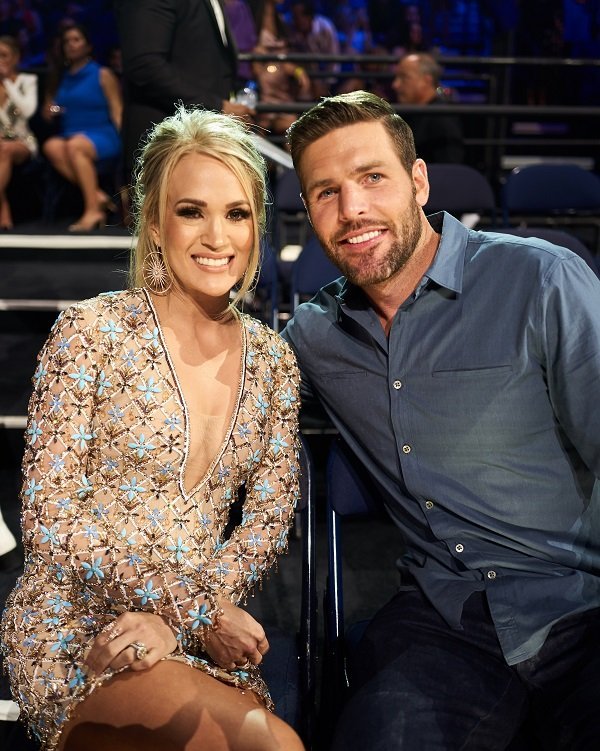 Impact of faith in her marriage
Just like her faith has been essential in her career, it has also played an important part in her marriage to former NHL player Mike Fisher. The pair tied the knot in 2010, and they have been vocal about how their beliefs have strengthened their relationship.
While talking to Oprah Winfrey, Mike admitted that he and his wife grew up in Christian families and that they were "on the same page" spiritually speaking. Apart from that, they confessed that they prayed together.
Her thoughts on experiencing three miscarriages
Unfortunately, not everything in the singer's life has been a walk in the park. During an interview obtained by People, she revealed that she had undergone three miscarriages: two in 2017 and one more in 2018.
Initially, Carrie and Mike understood that it was all part of God's plan, but they eventually grew frustrated and started wondering: "what's the deal? What is all of this?" The singer added:
"I had always been afraid to be angry. Because we are so blessed. And my son, Isaiah, is the sweetest thing. And he's the best thing in the world. And I'm like, 'If we can never have any other kids, that's okay, because he's amazing.' And I have this amazing life."
Carrie pointed out that she felt as if she couldn't be angry about it because of the "incredible" husband, friends, job, and child she had at that point. However, when she got pregnant again and thought she would suffer a fourth miscarriage, she "got mad."
During the same interview, Carrie revealed that, while cuddling with her first son, she thought:
"Why on Earth do I keep getting pregnant if I can't have a kid? Like, what is this? Shut the door. Like, do something. Either shut the door or let me have a kid."
Good news
The singer confessed that it was one of the first times she told God her feelings about the situation. A couple of days later, she went to the doctor to "confirm" the fourth miscarriage, but it turned out that the pregnancy was "great."
Fortunately, Carrie gave birth to her second child, Jacob Bryan Fisher, on January 23, 2019. Just like she did with her firstborn, Isaiah, she gave Jacob a name based on the Bible.
Jacob Bryan Fisher entered the world in the wee hours of the morning on Monday...his mom, dad and big brother couldn't be happier for God to trust them with taking care of this little miracle! Our hearts are full, our eyes are tired and our lives are forever changed. Life is good pic.twitter.com/Fa2wPbicVe

— Carrie Underwood (@carrieunderwood) January 23, 2019
At the moment, the singer is focused on her growing family and her career. In November 2019, she will be one of the hosts of the 53rd Annual Country Music Association Awards next to Reba McEntire and Dolly Parton.
Apart from that, she is one of the nominated artists for Entertainer of the Year and Female Vocalist of the Year. Her latest album, "Cry Pretty," is also nominated for Album of the Year.