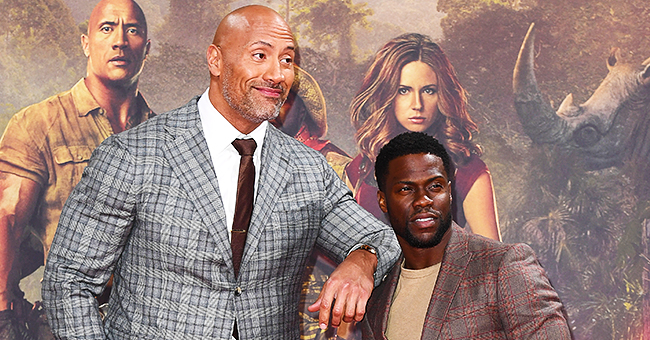 Getty Images
Dwayne Johnson of 'Jumanji' Reveals He's Going to Visit Kevin Hart before Giving an Update on His Health
Renowned actor and bodybuilder, Dwayne Johnson revealed that he would pay fellow actor, Kevin Hart, a visit after he recently shared a clip of himself during a health talk.
A friend in need is a friend indeed, and the actor has in no small way showed that he cares for his friend who survived a car accident last month.
DWAYNE JOHNSON'S INSTAGRAM POST
The "Jumanji" star took to his social media page to let his fans know how much benefits his regular exercise lifestyle has offered him.
Dwayne referred to Kevin as his "son"
During his work out session in his favorite gym, "Iron Paradise," the actor opened up on his scheduled trip to his comedian friend, Kevin Hart.
Dwayne started by revealing the content of his gym bag. In it, he had a "Maui" doll from the animation "Moana" which he featured in.
The bag also contained a headset, a magic ball, a hotdog snack for post-workout, a sample of his new liquor outlet, and even a "Trolls" coloring book page.
Another content of his bag was an action figure of himself, which he used in teasing the comedian. The 47-year-old joked about Kevin always wanting to play with toys; he even referred to him as his "son" and his "best friend."
He said:
"I packed this myself. This didn't come from my babies because I'm going to see my best friend, Kevin Hart, and I always like to bring him a few toys that he can play with….I always gotta take care of my son."
KEVIN HART'S CAR CRASH
Kevin's accident occurred while the comedian, his friend, Jared Black, and Jared's beau, Rebecca, were all in his car.
Although none of the victims suffered any fatality, Kevin's injury required him to go under the knife, after severing his spine.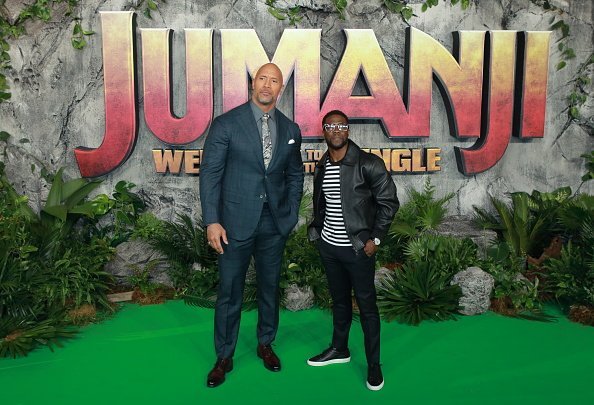 Dwayne Johnson and Kevin Hart attend the UK premiere of 'Jumanji: Welcome To The Jungle' at Vue West End | Photo: Getty Images
Aside from having a good sense of humor, the entertainer is also affectionate towards others, probably that is why he has good friends around him.
After his accident, his lawyer released a statement that expressed Kevin's most profound concern for his wounded friend, Jared. It read:
"I have nothing but love for Jared and wish him and Rebecca a speedy recovery."
Kevin, who's also a "Jumanji" star, further revealed his optimism of recovery through his friend and lawyer. While Dwayne mentioned that "he's recovering from his injuries, he's doing great."
The entertainer's attorney also established that he is recuperating fast, but will put all work on hold until next year. Dwayne has shown that he has a big heart, along with his big build!
Please fill in your e-mail so we can share with you our top stories!