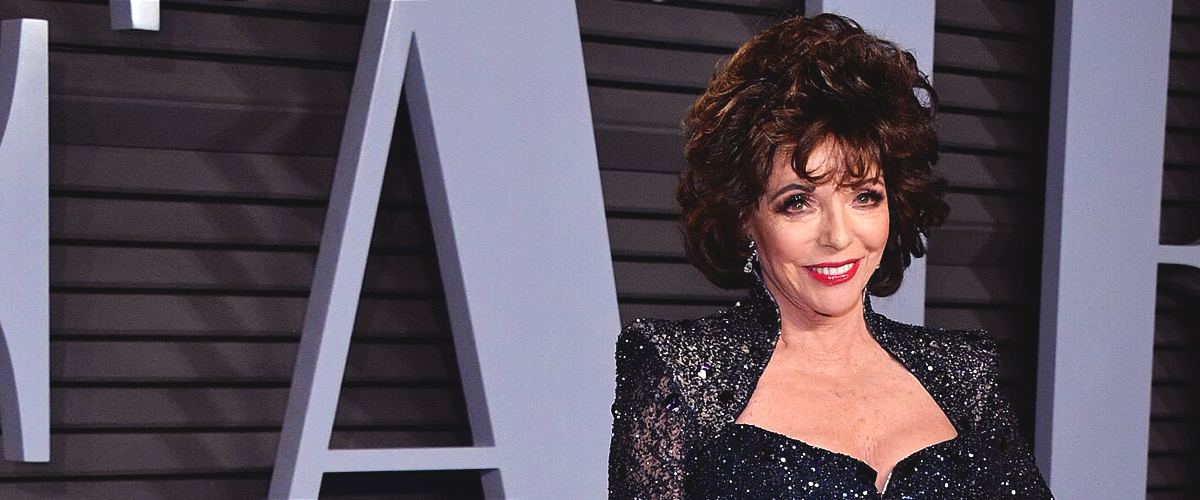 Getty Images
Meet Artist and Portraitist Alexander Newly, the Son of 'Dynasty' Star Joan Collins

Alexander Newly, one of the children of actress Joan Collins, best known as Alexis Carrington in the soap opera "Dynasty," pursued a career in arts, but it has nothing to do with acting.
Born in May 1933, Joan began her studies to become an actress at the Royal Academy of Dramatic Art in London, England, when she was only 16 years old. One year later, she was signed to the British film studio Rank Film Company.
"I was obsessed with drawing and painting snakes."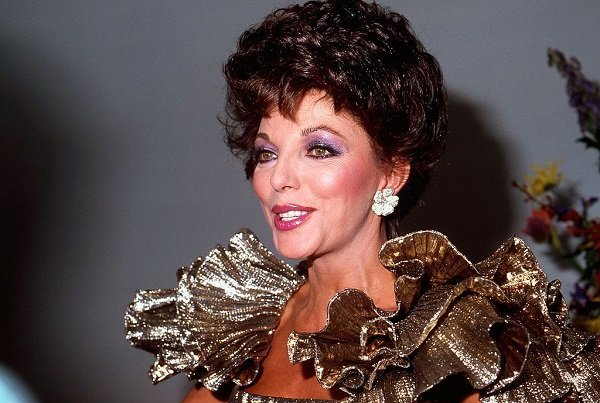 Joan Collins on September 19, 1987 in Los Angeles, California | Source: Getty Images
Joan Collins' career
From that point on, she started getting several minor roles in different films, including "Lady Godiva Rides Again," "The Woman's Angie," and "Judgment Deferred."
It wasn't until 1952 that she got her breakthrough part in "I Believe in You." In the movie, she portrayed a juvenile delinquent, and, due to her outstanding performance, she was given the name of Britain's Bad Girl.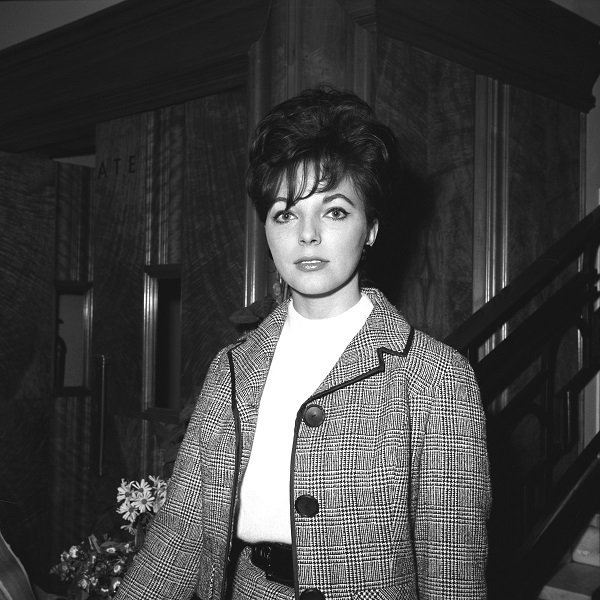 Joan Collins photographed in February 1961 | Source: Getty Images
In 1955, Joan appeared in her first international production titled "Land of the Pharaohs," which was included in Danny Peary's "Cult Movies" book from 1981.
Shortly after her appearance in the film, the actress got a contract with 20th Century Fox. During her time with the company, she landed parts in films as famous as "The Virgin Queen" and "The Girl in the Red Velvet Swing."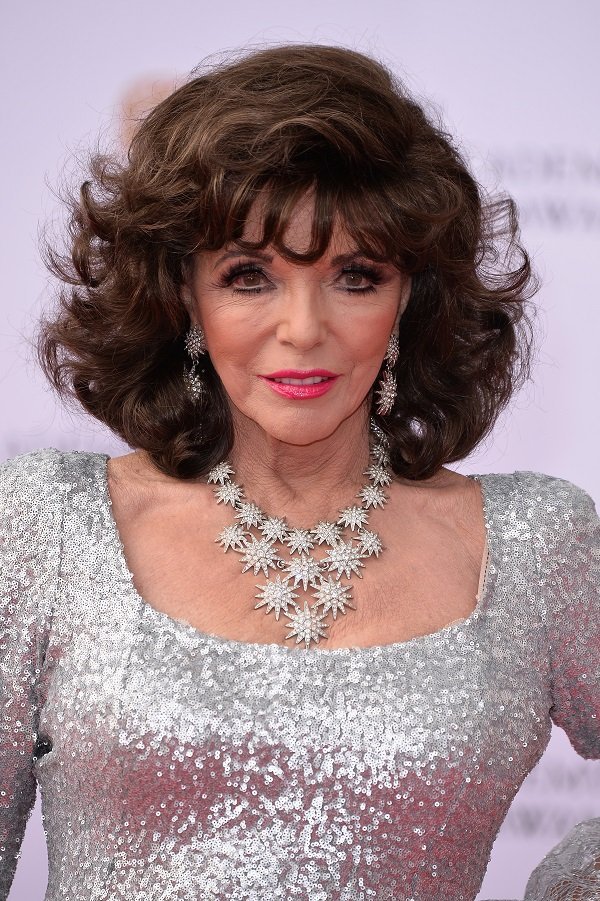 Joan Collins on May 14, 2017 in London, England | Source: Getty Images
Her time on "Dynasty"
Joan's career kept getting more prominent over the years, especially in the States, thanks to the several projects she took on. However, her most memorable role is that of Alexis Carrington on the soap opera "Dynasty."
Her character was the beautiful yet vengeful ex-wife of oil tycoon Blake Carrington, portrayed by John Forsythe.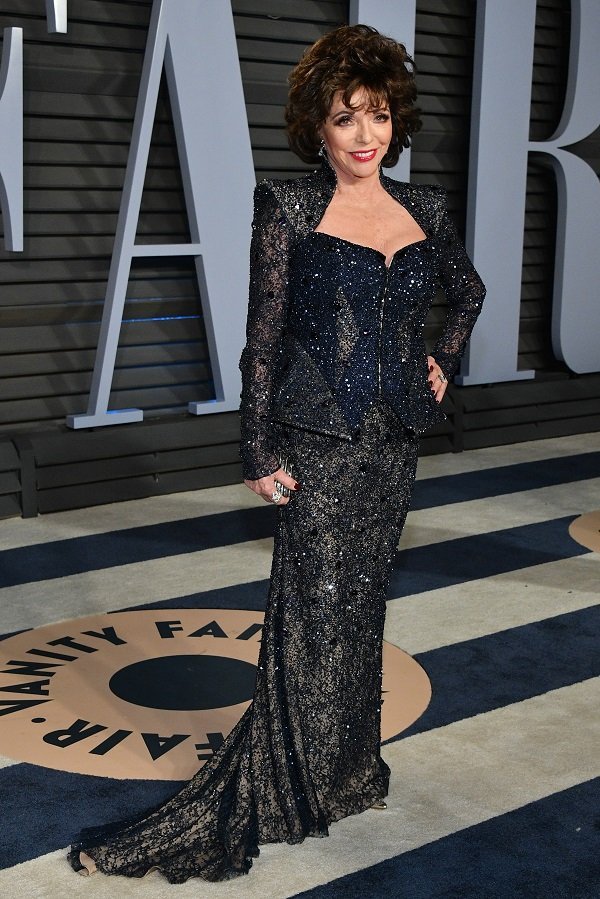 Joan Collins on March 4, 2018 in Beverly Hills, California | Source: Getty Images
Joan's participation in the show was essential for its success, as former ABC executive Ted Harbert once stated:
"The truth is we didn't really believe that we had this thing done as a hit until Joan Collins walked down that courtroom aisle."
Due to her performance, she received six Golden Globe nominations consecutively from 1982 to 1987, winning only in 1983. In the same year, she was also nominated for an Emmy Award for Best Actress in a Drama Series.
As per her romantic life, Joan has been married five times so far:
Maxwell Reed, from 1952 to 1956; Anthony Newley, from 1963 to 1971; Ronald S. Kass, from 1972 to 1983; Peter Holm, from 1985 to 1987); and Percy Gibson, to whom she has been married since 2002.
Joan's son, Alexander Newly
Out of her relationships, she has had three children: Tara and Alexander Newly, and Katyana Kass. Although the three have successful careers, Alexander, also known as Sacha, is the most famous one.
Born in September 1965, Alexander chose to follow in his mother's artistic footsteps but, instead of becoming an actor, he is a contemporary artist and portraitist.
During an interview with The JC, he revealed some details about his life and how he started painting. He pointed out that, when he was eight years old, he became depressed, so his parents took him to a therapist who had art sessions.
The painter said:
"I was obsessed with drawing and painting snakes so I effectively wallpapered her office with these drawings. She was incredibly supportive of my art-making. It allowed me to start having positive feelings about myself."
Alexander's passion for painting
Apart from that, Alexander admitted to being a fan of music great Gustav Mahler. He confessed that he would listen to his pieces on his Walkman whenever he was writing or painting, adding that his earliest portrait was of Mahler.
Alexander stated that art saved his life as it has given him "everything," including a "sense of direction" and "an anchor in the world." Joan's son claimed that if painting and poetry wouldn't have gotten into his life, he "wouldn't be here."
The painter was married to jewelry designer Angela Tassoni from 2004 to 2012. Together, they have a daughter named Ava Grace.
In October 2019, he proposed to writer and musician Sheela Raman. Alexander went on to confirm that their ceremony would take place "next autumn."
Nowadays, he is focused on his work as a painter. Since he is entirely self-taught, Alexander described his talent as the result of hard work and painting "a lot of awful work."
He confessed, though, to having "unyielding determination" and a belief in his ability to improve.
Please fill in your e-mail so we can share with you our top stories!