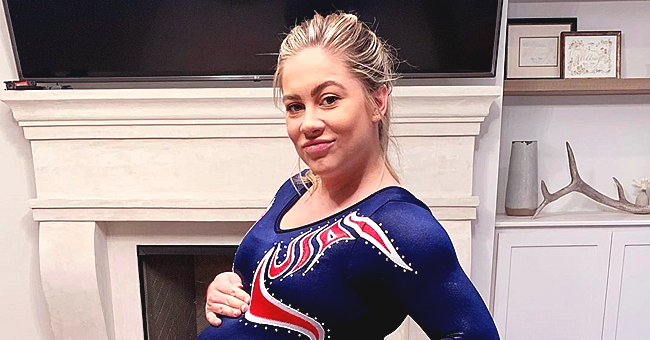 instagram.com/shawnjohnson
Shawn Johnson Wears Her 2008 Olympics Leotard at 40 Weeks Pregnant in a Recent Pic
American Olympian Shawn Johnson is due anytime soon, but that doesn't keep her from having a little fun, her recent social media post has fans in awe.
The famous gold medalist gymnast shared two pictures with her massive fan following via Instagram on Friday, October 25.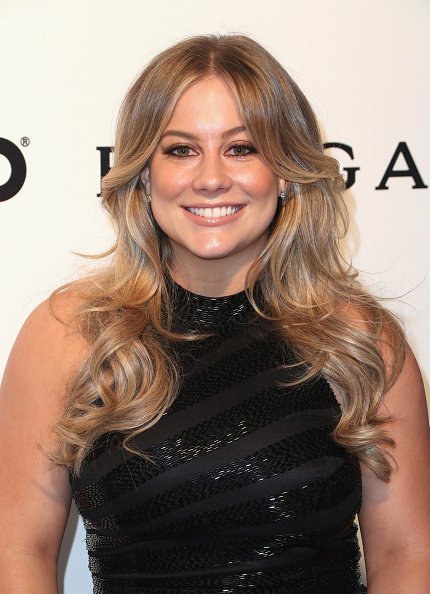 Olympic Gymnast Shawn Johnson at the 25th Annual Elton John AIDS Foundation's Academy Awards Viewing Party in California. | Photo: Getty Images.
40 WEEKS PREGNANT JOHNSON SHOWS THAT SHE CAN ROCK A LEOTARD!
The post features the olympian wearing, most amazingly, a red, blue and white leotard which she wore back in the 2008 Olympics, which was held in Beijing, China.
The first slide is a picture of the star proudly posing as if to show off the fact that she can achieve the feat despite being 40 weeks pregnant!
In the picture, the 27-year-old paired the colorful leotard with black leggings and had no shoes on as she stood in what appears to be a living room.
She had her blonde hair tied up in a messy bun and posed with a smirk on her face while placing her hand on her pregnant tummy as if to emphasize the fact that she would be due anytime soon.
THE PICTURES ARE PRODUCTS OF A DARE
The next slide features a young Johnson showing off her gold medalist and congratulatory bouquet. In the picture, which was taken from 2008, the first Johnson wore the same leotard as in the first picture.
The pictures have since become very popular among Johnson's fans; so far, it has amassed well over 400,000 likes, but no comments since the gorgeous star had her comments turned off.
Albeit welcome, the Instagram update is a very surprising one because Johnson is due to give birth any day now to her first child.
The pictures are, however, the result of a dare made by Johnson's sports star husband, Andrew East.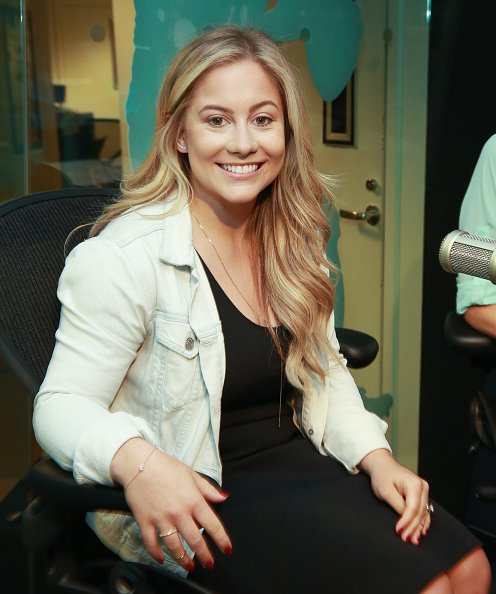 Shawn Johnson at SiriusXM Studio in New York City. | Photo: Getty Images.
THE JOHNSON-EAST COUPLE ARE SET TO WELCOME THEIR BABY ANYTIME SOON
While the gold medalist jokingly shared that the leotard now "fits a little different these days," her baby is "already more rewarding than any medal was."
The baby, whose sex remains unknown, will be the first for Johnson and East after the gymnast suffered a miscarriage in 2017.
The "Dancing with the Stars" champion documents her pregnant journeyed on YouTube and has spoken quite openly about the 2017 tragedy.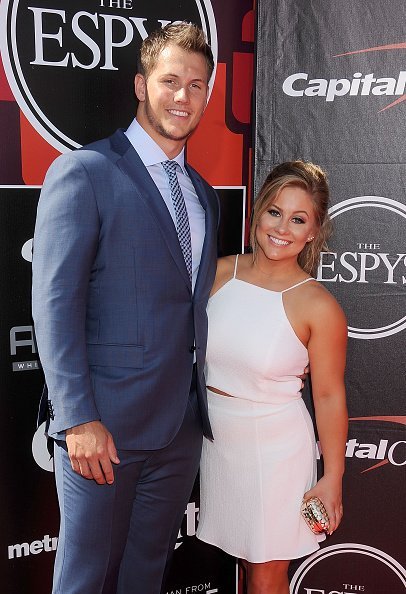 Gymnast Shawn Johnson and her husband, Andrew East, at The 2015 ESPYS in Los Angeles, California.| Photo: Getty Images.
She has continuously discussed how the tragic loss helped her conclude that she and her professional football player husband are now more than ever ready to become parents.
With Johnson's due date expected to be October 25, the couple is expected to debut baby news anytime soon!
Please fill in your e-mail so we can share with you our top stories!