Jinger Duggar's Daughter Isn't Smiling in Recent Photos & 'Counting on' Fans Don't Recognize Her
Fans have always seen Jinger Duggar's adorable 1-year-old daughter smiling in pictures, but this time, they were surprised to see that the toddler looked anything but happy.
The Duggar family is back with brand new episodes of their reality show "Counting On" and fans could not be any happier. 
Jinger Duggar and her husband Jeremy Vuolo have been over the moon ever since their daughter Felicity was born. The duo often shares their delightful moments with her in their Instagram posts. 
Fans love to see 1-year-old Felicity on Instagram, always showering the little one with love through their comments. 
However, a recent post by Jinger's sister Jana prompted fans to be concerned about Felicity because she hasn't smiled in those snapshots like she always does.
FANS REACT TO FELICITY'S EXPRESSION
Felicity wasn't smiling in the photos, but many fans showered the little one with love in the comment section anyways. 
However, there were some users who could barely recognize the 1-year-old.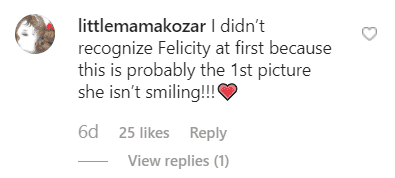 Meanwhile, other fans could relate to Felicity's expression, with one of the fans saying that she looks like someone who realized it's a Monday.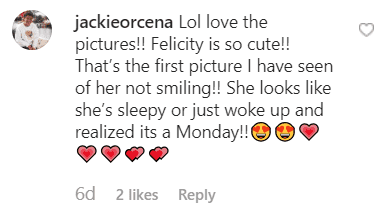 Some of the fans simply thought she didn't look like herself.


JANA OPENS UP ABOUT HER SINGLE STATUS
In a new episode of "Counting On," the 29-year-old reality star opened up about being unmarried at this age. All of the Duggar girls her age are married. 
Jana revealed that a number of guys have asked her out but she couldn't really connect with anyone.
Although marriage has not been in the cards for the reality star, there have been rumors about potential suitors over the years.
One of such rumors is that of Lawson Bates, a fellow Christian fundamentalist from the show "Bringing Up Bates."
Although Jana has never confirmed that they have something going on, the rumors are still going on.
Bates is not the only one who has been linked with Jana. Former NFL player Tim Tebow was also considered a potential spouse for the reality star. 
As far as choosing a husband goes, Jana revealed that she feels like every courtship doesn't necessarily end in marriage.