Donald Trump's Daughter Tiffany Shares Cute Mother-Daughter Moments on Marla Maples' 56th Birthday
Tiffany Trump pays tribute on her mother, Marla Maples, for her 56th birthday with a photo montage of the two of them throughout the years.
Since Marla Maples divorced President Donald Trump in 1999, Marla and her daughter Tiffany Trump have always shared a close bond. In a birthday tribute for her mother, Marla writes:
"Happy Birthday @itsmarlamaples ? Words can't describe how much I love you! May all of your wishes come true! ✨♏"
It is reported, after her divorce, Marla, who is an actress and musician lived a relatively low-key life, until they were thrust back into the spotlight when President Trump took office in the White House, in 2016. 
In response to her birthday messages she has received from family and friends, she thanks the people in life saying:
"Thank you to everyone who has sent the most beautiful and loving birthday wishes my way & that includes you of my heart, Tiffany."
Marla and Tiffany often spend time together travelling around the world. According to Daily Mail, Just months after visiting Mallorca with Tiffany, Marla returned to the island to celebrate her 56th birthday, with her friends.
"[Tiffany] I love the collection you put together in your sweet artistic way. I will post them on my story also??? Again to all... I'm sending my love back your way from beautiful Mallorca Spain where we just finished our first Soulshine Journey ?," she says.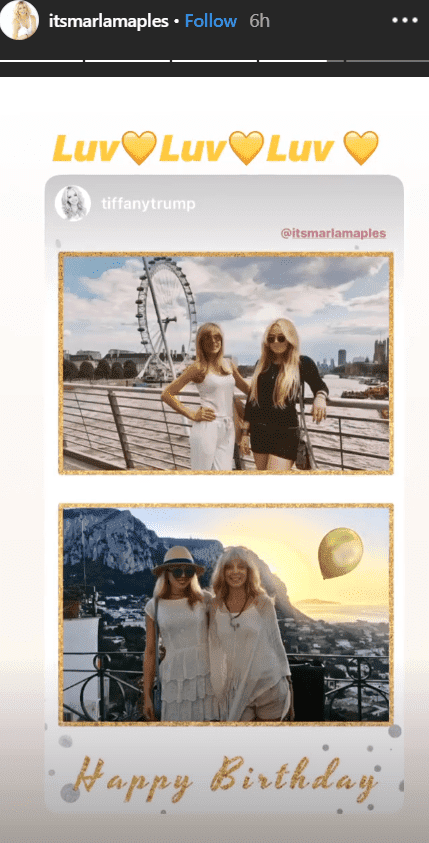 In September, Marla celebrated another milestone when she accompanied Tiffany for her final year at Georgetown University, where she is studying to compete a degree in law. 
In a heartfelt message, Marla praised her only daughter for all the hard work and commitment she has dedicated towards her studies.