Kylie Jenner of KUWTK Slammed after Dressing Daughter Stormi in Her Met Gala Look
Critics mom shame Kylie Jenner for dressing her daughter, Stormi Webster in replica of the Versace gown she wore at the 2019 Met Gala.
Kylie Jenner and her daughter, Stromi Webster, who she calls her "mini-me" often enjoy wearing matching outfits. 
For Halloween, the reality star took it a step further and dressed her almost two-year-old daughter in a replica of the purple Versace gown she wore at the 2019 Met Gala. With a series of images and a video she writes the caption:
"My baby!!!!!!!! ??????????? i cant handle this!!!!"
In the past 24 hours, the post has received over 12 000 000 likes on Instagram. Stormi's costume has received twice as many likes as Kylie's original picture, when she attended the Met Gala, in May.
Many of Jenner's fans and celebrity friends such as Donetalla Versace, Cassie, Chanel Iman and Sofia Richie have responded positively with variations of "OMG" and "cute." 
However, some people don't find the outfit choice appropriate for a young child. Other commenters have condemned Kylie, saying Stormi is to young be dressing in such a provocative outfit. One person says:
"Poor baby, she is not a doll. She looks miserable. Let her play dress up without you overdoing it. Please."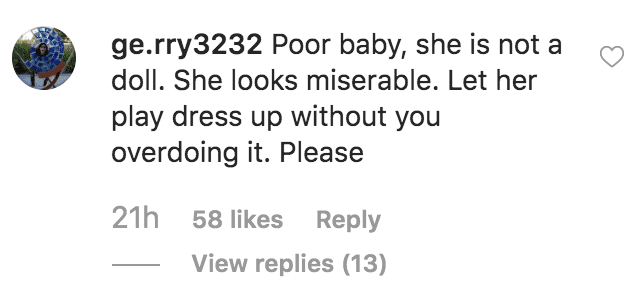 Wearing a long purple wig to match the mermaid style Versace replica, the gown is covered in thick purple feathers at the top and bottom, the commenter admits:
"I can't tell if this is a bad thing or not like the baby doesn't look happy it seems like Kylie went extra for likes but at the same time it's just a Halloween costume idk I don't think it seems right."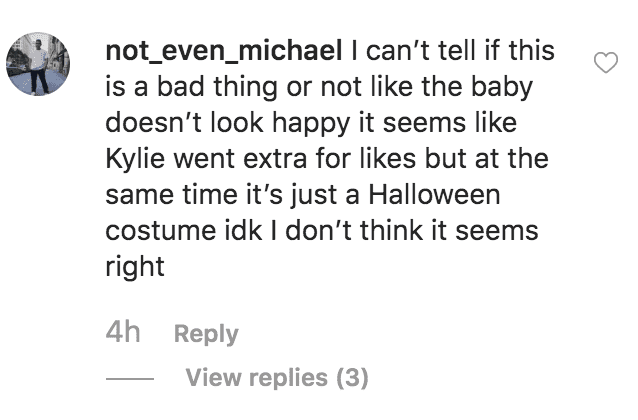 "This is not suitable for a child?," another commenter adds.

Leading up to Halloween last year, Kylie and Stormi wore several coordinated costumes. The mother-daughter duo posed in matching butterfly costumes and in another picture Kylie was a cloud and Stormi was dressed as a thunder bolt.
According to ELLE,  Stormi's MET Gala costume is a custom design made especially for her by the Design house Alejandro Collection. It is likely that Kylie is going to showcase Stormi in several outfits leading up to Halloween.